OCA Magazine is a quarterly and independent magazine, published in London since 2009 by Silk Road Media Group with support of Eurasian Creative Guild (London). It is aimed at English speaking audiences and those who are interested in or residents of the countries of the former USSR and the Eurasian region. The journal reports on events from and outstanding personalities of the Eurasian region (past and present) and the successful projects of international co-operation in Eurasia. It promotes the cultures, politics, events and communities of both regions and encourages a discussion and exchange of ideas between them to develop both business co-operation, tourist activity and cultural relations.
The guests of the magazine are typically diplomats, politicians and cultural workers from CIS and Europe. Previous issues have presented interviews and articles about: the President of Tatarstan Mintimer Shaimiev, the President of Kyrgyzstan Almazbek Atambaev, the leader of the Uzbekistan Liberal Democratic Party Aktam Khaitov, the leader of the Georgian Labour Party Shalva Natelashvili, the Russian special envoy for international cultural cooperation Mikhail Shvydkoy, the culture minister of Tajikistan Sirojiddin Aslov, the Director of the EBRD office in Tokyo Masaru Honma and the Moldovan composer Eugen Doga among others.
WHERE IS THE PRINTED VERSION DISTRIBUTED?
– CIS Embassies,the CIS Embassies in UK
– Universities
– Ministries of Foreign Affairs (MFA) of CIS
– Libraries: the British Library, the Library of Congress, etc
– Regional business communities: CATBIG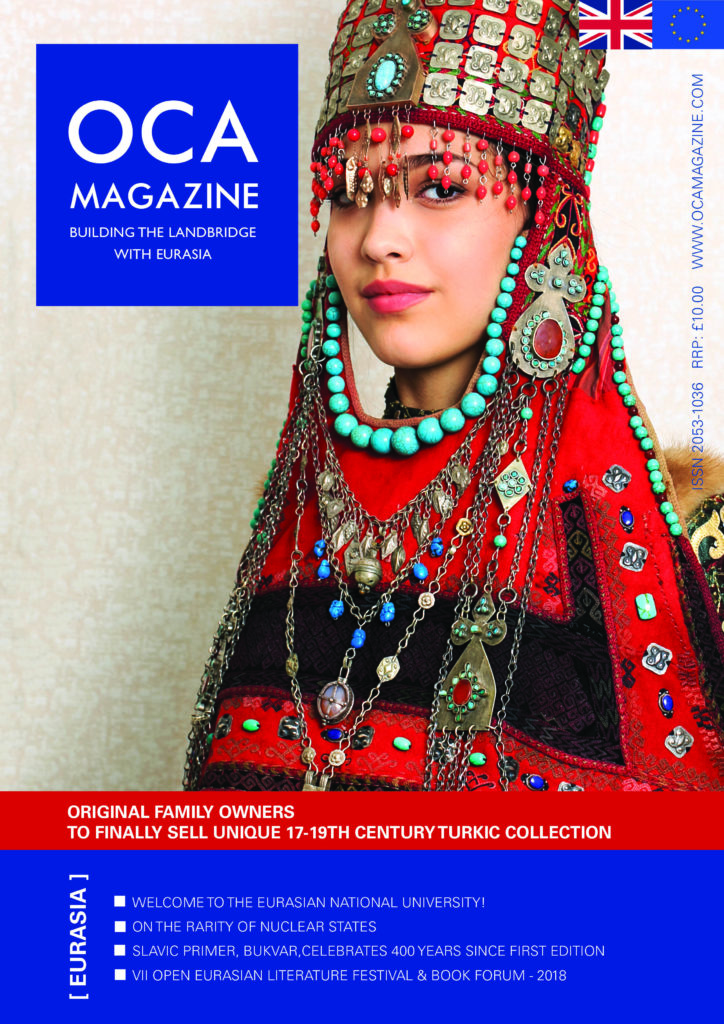 I first came across OCA magazine while on a business trip to Bishkek. Waiting for a meeting in a hotel lobby I found it was not only very informative but very well written. I have to confess I took the copy to finish later! I now get my own copy (online) and always find some gem to make me keep turning the pages. It is not only the variety of articles and in depth interviews but also the introduction to the literary works that the Eurasian Creative Guild and Hertfordshire press produce. I have been fortunate to read many, and my eyes have been opened to the culture, history and the people of the Central Asian region because of this. If you are familiar with this region you will love the magazine, if you do not know the region you will learn to love it through the OCA magazine!
Gareth Stamp, UK
The popular OCA magazine differs from other similar publications in its apolitical approach; the editorial office does not promote any political ideas, on the contrary, the magazine carries out a noble mission of rapprochement of peoples and countries, popularizing national cultures. It interestingly and objectively covers a variety of events as well as informative interviews with heads of state, prominent personalities and articles on creative people of Eurasia. Gradually, the magazine turns into a platform for integration and friendship of peoples, a dialogue of cultures and civilizations. It was a pleasant surprise and honor for me to write a book review of American Orientalist, Professor Steve Starr, "Lost Enlightenment". The Eurasian Creative Guild is also highly regarded among diplomatic circles. The heads of diplomatic missions are trying to collaborate and assist in holding international festivals, exhibitions and other guild forums. I think if the editors of OCA magazine start a new column of conversations with the leaders of embassies and cultural missions, they would have the opportunity to tell a lot of interesting things about the culture and creative personalities of their countries,
Begizhan Akhmedov,
Writer, member of the National Union of Writers of Kyrgyzstan
I find this extraordinary magazine quite fascinating. It is extraordinary in the sense that it does immensely rewarding work. It has been building a bridge between radically different cultures. Nowadays, this very mission is essential and vitally important. I enormously like the idea of it. It is nice being aware that the English-speaking peoples will possibly educate themselves even more about, for instance, the post-Soviet states in particular and their modern life there. Being a part of it makes me feel really full of use.
Anatoli Dzerhachou, Belarus
I want to share my impression of cooperation with OCA magazine. I was asked to write an article about what I would like to talk about. I would like to emphasize - " what I would like to share". It's a very rare opportunity, and I took it with great pleasure and appreciation. My article "BACH'S CHACONNE DELIGHTS SALISBURY CATHEDRAL AND BRINGS MESSAGE OF PEACE TO YEREVAN ", in which I showed a portrait of modern youth. Everyone can read about us, learn about us and we, in turn, get acquainted with the processes of our neighboring countries. We are not blocked in our harbors, we have access to ocean of information.
Yelena Aslanyan, ARMENIA
OCА magazine is very important for the Eurasian Creative Guild, because it's a kind of glue which sticks us together. Anyone can appear on its pages or read about other members' experiences. It helps us stay together, despite anything that happens in the world.
Nadezhda Serebrennikova, USA
As a member of the Guild and an active participant in many of its projects and events, I cannot but leave my feedback on the OCA MAGAZINE. It covers a wide range of topics: from art to science, from politics to tourism, economics to business. It provides useful information, and this leads to solving various problems. But, most importantly, it contributes to the unity of cultures, which allows anyone who seeks to build our common world of good relations and mutual cooperation. Thanks to OCA MAGAZINE magazine, I can get acquainted with many interesting and important events taking place in different regions and share my impressions with my fellow artists, creative unions and meetings. I would like to wish the journal further successful activities and the embodiment of high ideas not only at the Eurasian, but also at the global level.
Mikhail Ananov, Georgia
OCA Magazine fulfils a vital role in social, cultural and business interconnections between Anglo-Saxon nations and Central Asian States. Acting very much like a "New Cultural Silk Road" it opens up some bespoke talents in various spheres from literature to national and regional politics and beyond so reveals untapped opportunities for cooperation. Rephrasing Voltaire: "If OCA Magazine did not exist, it would be necessary to invent it".
Kirill Savrassov, UK
CEO Phoenix CRetro