OCA #21  SPRING 2016  WWW.OCAMAGAZINE.COM
WINNER OF THE OPEN EURASIA AND CENTRAL ASIA BOOK FORUM CONTEST IN THE CATEGORY OF 'ILLUSTRATION'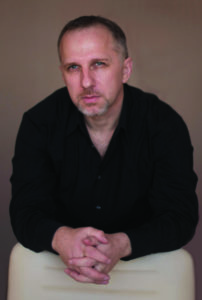 No book is ever finished without at least some illustration or artwork. Even the most simple books will have a hint of creative design and that is why the OECABF contest also includes a category dedicated to those in the illustration business. Last year's winner, Vitaly Bondar of Belarus, gives us his perspective.
OCA: In what field does your work align artistically?
VB: Universalism. Due to the impossibility of unambiguous interpretation of art, just comprehensive assessment forms the objective idea. The ability for different kinds of creativity, breadth of vision, understanding of hidden patterns and multiplication of artisan experience give us great signs that we are developing as an artist.
OCA: Is the fact that you think it impossible for art to be unambiguously interpreted a demonstration of our own human imperfection then?
VB: The imperfection of knowledge puts us into dependence upon the solemn assurances of others. That is why I prefer the designation of basic concepts that characterize my values and antagonism. For example, I am far from the destructive ideas in art, considering the overall humanistic message of religions (Christianity, Judaism, Islam, Buddhism, etc…) is based on the concepts of eternal love and justice. As you know, the problem in their interpretation. Hopefully, the therapeutic, healing qualities of art play an important role for each individual.
OCA: Which artists do you admire?
VB: I enjoy the works of many artists starting from the Renaissance and ending with representatives of non-figurative art. Among the classics I prefer are John Sargent, Giovanni Segantini, Tavik Simon, Luigi Becky, Guy Rose and William Merritt Chase.
OCA: What effect does literary art have on your work?
VB: Visual art and literature have been inseparable companions since the advent of printing. It looks like literature and philosophy form the artist to a greater extent than their surroundings. The first book that moved me to understand the art experience was "Islands in the ocean" by E. Hemingway.
OCA: What does winning the Open Eurasia and Central Asia competition mean for you?
VB: It is a great honour, because for the creator not only is knowledge important, but also confirmation of selected targets. The Open Eurasia and Central Asia book forum and literature festival allows authors to "be heard" and stimulates the creation of new original works.
OCA: What do you think about contemporary art that are closest to you directions?
VB: Unfortunately, modern art is "on decline waves." The radicalism of ideological and aesthetic concepts, the amorality of science, environmental pessimism and lack of legal protection of personality all provide serious obstacles to its recovery. In fact the conflict between so-called contemporary art and its predecessors / opponents doesn't exist, because all have different learning tools.