In an interview with OCA magazine, jeweller Gulsara Davis, a linguist by education, but according to her nature a creative personality, tells of her life in London, to where she moved from Bishkek a couple of years ago and how she is fascinated by the creation of pearl jewellery.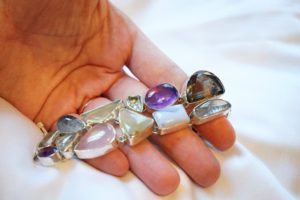 OCA: Tell us a little about yourself. How did you become a jeweller?
My name is Gulsara Davis. I am from Bishkek, Kyrgyzstan, and now live and work in London. I am a linguist. After graduating I became an English teacher in the Foreign Language Department at the Kyrgyzstan State University. I originally came to London as part of my work but eventually settled here. I have always been interested in art and design. I studied in Leningrad during the Soviet era and had the opportunity to spend so much time in all of the museums and galleries – especially the Hermitage – looking at jewellery and gemstones. My mother too was interested in jewellery and had a great friendship with a Bishkek jeweller who would make pieces for her to her own designs.
OCA: Tell us about your first job, what was that? And for whom did you make it for?
My first pieces were made for me and my family. The first piece that I made to sell commercially was a pearl necklace which I made to order for a Russian friend's daughter's birthday.
OCA: Making jewellery is your main occupation or hobby?
It was always a hobby and I think I will always make jewellery just for the pleasure, but it's also been very nice to have it as a business now!
OCA: What materials do you use to make jewellery?
Mostly pearls, although I also work with a large range of semi precious stones. I love pearls for their colour and lustre and they are very tactile.
OCA: Where do you get inspiration for your work?
Well I love living in London and just strolling around places like Bond Street and Burlington Arcade. Looking at all the great design work on show enthuses me, and there is such great energy amongst the people living and working here. It reminds me a little of my student days when I could visit museums and galleries. Some years ago the Natural History Museum staged an exhibition of diamonds including the Kohiinur, the Mulligan, and the black Orlov. I don't suppose I'll ever get to make jewellery with gems like those, but they fired up my imagination and made me think that I could turn my hobby into a business. I've had opportunities to view lots at the Auction Houses – Sotheby's, Christies and McDouglas, which again is very interesting to see some of the historic designs. I particularly like looking at Russian work and developing designs that pay tribute to the Russian history and skills.
OCA: Which jewellery is most in demand today? Who most often buys your work?
The most popular pieces of my work with my regular customers is pearls – necklaces, earrings, bracelets, and brooches are all very much in demand. I try to make everything as a one off and something that reflects the personality of the wearer, so mostly I sell to people I know either for themselves or for them to give as presents.
OCA: Have you exhibited your work somewhere?
I have shown my work at a number of places in London and Hastings as well as Bishkek.
OCA: How do people perceive your creativity?
Well I hope they like it!
OCA: Do you plan to further develop in jewellery business? What are your plans?
Right now my work in jewellery is part time and fitted around lots of other interests and volunteer work that I have. I would like to do more though and am currently researching the possibility of opening a small shop or else developing online sales.