Just hours before former President of Kyrgyzstan, Almazbek Atambayev, was arrested at his home in Bishkek on charges of corruption, Open Central Asia magazine completed an exclusive interview with the man once heralded as bringing a new dawn to the history of the country. In this frank and open interview, we get an insight into the deterioration of the political arena in Kyrgyzstan over the last decade and the events that led up to Atambayev's public reversal of support for current President, Sooronbay Jeenbekov. These may very well be the last freely spoken words of a man whose love and ambition for Kyrgyzstan is now in ruins.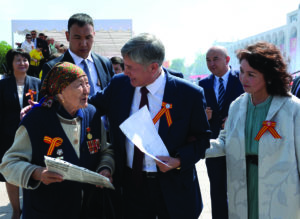 OCA: In 2011 you succeeded Rosa Otunbayeva as President of Kyrgyzstan. How did you feel at this dawn of a new era and what key aims of your presidency did you try and eschew?
Almazbek Atambayev: We had no time for euphoria. In October 2011, I was elected as President, just one and half years after the overthrow of the second family-clan regime and only one year after the tragic events in the south of the country.
During my premiership (since December 2010), we removed some of the acute problems in the country. However many people considered Kyrgyzstan to be a failed state. It was a difficult path to real stability, that took three years of my presidency. Only after this could we embark on the path of sustainable development of the country.
In 2014, we saw the first results of our work. It was the first spring without rallies and mass protests. According to the results of international financial institutions in 2013, Kyrgyzstan was removed from the humiliating list of "poor" countries. And, in the fall of 2014, we organised and held the first World Nomad Games in Kyrgyzstan. It was a grandiose sight for my compatriots who were not used to such events.
You can't imagine how happy people were. Kyrgyz people, whom the media and politicians of neighbouring countries condescendingly called "Busoters" (brawlers), did not take part in rallies, but gradually turned to peaceful creative work. People rejoiced at the success of domestic athletes. We received guests from all over the world. Our youth increased their interest in the history and culture of their own nation. Accordingly, the economy started to grow. And all this was preceded by significant but painstaking work in each of these areas. It is well-known that nothing happens easily in this world.
OCA: What would you say specifically changed for the better during your presidency?
AA: At the national level, we adopted a 5-year development strategy. There were many goals and objectives. But, perhaps, it should be noted separately the five key strategic directions. The first of them devoted to Kyrgyzstan's achievement of energy security.
All my predecessors talked about creating their own energy ring since even our own power plants in the capital of Kyrgyzstan used the power lines of Uzbekistan and Kazakhstan. The solution seemed very simple – develop your own power line! But there were always obstacles.
Despite serious obstacles, we managed to move from words to deeds. Over the years of my presidency, we not only built this energy ring, we also supplied two powerful power substations, increased capacity and thereby provided a reserve of the most important energy resource for the growth of the Kyrgyz economy. Contemporaneously, we embarked on the reconstruction our country's largest hydroelectric station, Toktogul.
We concluded a profitable agreement with Gazprom and with this, we not only ensured an uninterrupted supply of natural gas, but also built good prospects for the development of the gas economy.
The second block of problems was related to transport independence. For 6 years, we built hundreds of kilometres of new roads, overhauled most of the existing roads of the national importance and came closer to improvement of local roads.
Before I left the presidency, we had almost completed the construction of our own transport ring. The new North-South highway will make the transport links between all regions of Kyrgyzstan easier and less vulnerable. It creates the basis for eliminating regional differences and contradictions. Significantly it enhances the tourism potential of Kyrgyzstan. The previously deadlocked Dzhumgalsky, Ak-Talinsky and Toguz-Toruzsky districts have therefore become more involved in economic activity.
For the third key achievement look at trade. I know that the West does not particularly trust the Eurasian Economic Union (the former Customs Union), but for Kyrgyzstan, joining the EAEU was the only chance to integrate into the global and regional economies. Moreover, we managed to create a Russian-Kyrgyz development fund with $500 million from Russia. This is the first large-scale development institution in the history of Kyrgyzstan. We are slowly starting to revive the country's industrial enterprises, that we lost in the 90s. And most importantly, we change the development model from mediation in trade to the production of goods.
Our next strategic achievement, was the creation of a military security system. Unlike in previous years, Kyrgyzstan today has a combat-ready army. Kyrgyzstan is a peaceful country and our army is small, but today, the Kyrgyz army is sufficiently trained, armed and financially secured.
Finally, we improved the electoral system. International observers for the parliamentary (2015) and presidential (2017) elections described Kyrgyzstan as the undisputed leader in Central Asia in terms of ensuring transparency and democratic election processes.
OCA: Did you have any regrets from your time as President?
AA: First of all, we didn't really complete work on the transition from our previous government to a classic parliamentary form of government that could work within our national characteristics. We stopped halfway. Secondly, I didn't approach critically enough the study of the man who became my successor as President, Sooronbay Jeenbekov. It's a pity…. As a result of this mistake, the country slowed down in its development.
There were other mistakes that I worry about. There are people whom I have offended voluntarily or involuntarily. It was not an easy time. That said, during 2011-2017, the team and I did a lot of work. We built a lot. The incomes of the population have increased. The country's gross domestic product (GDP) almost doubled, the republican budget almost tripled in national currency and 1.6 times in US dollars.
Pessimism was replaced by optimism among the people. The people supported me. International partners also gave us support: Russia, China, Turkey, the European Union, the UN, and international financial institutions. Over the years, Kyrgyzstan received $ 1.8 billion in loans, but debts of $ 0.55 billion were also written off. We secured $ 3.5 billion of incoming grants and other free aid to Kyrgyzstan. Without the help of friends and partners it would be difficult to achieve what we did.
OCA: You are known for your approach to calling out and trying to deal with parliamentary and electoral fraud. How bad was the problem in Kyrgyzstan and how well do you think this has been addressed as things stand today?
AA: We sought "fundamentally" to solve the problem of free and transparent elections. Both national revolutions in Kyrgyzstan happened due to falsification of elections by the authorities. And we managed to completely reform the electoral system. Voters are now allowed to vote only with a biometric passport and fingerprints are identified with an electronic database that is reliably protected from hackers. By this, we excluded the practice of one person voting for several voters. We introduced automatic ballot boxes, which excluded another type of violation – the massive stuffing of ballots. Many countries of the world still do not have such innovations, even within Europe. Despite the return to authoritarianism seen globally, we are the only country in almost all of Eurasia according to the V-Dem Liberal Democracy Index, which has improved its position in the ranking of liberal democracy from 2012 to 2017.
However, the electoral system must continue to improve. Today main problem is the bribing of votes. There is a danger that in 2020 the parliament, unfortunately, may already be completely in the grip of the oligarchs.
OCA: You mentioned that you made a mistake in selecting your successor, however you actively lobbied for his election campaign. How do you reflect on that?
AA:The right to choose was ultimately up to the voters. The election system in Kyrgyzstan does not allow falsification of voting results. However, it should be recognised that in 2017 I really wanted Jeenbekov to be elected president. The fact is that since 2015, many people suggested I find a way to be re-elected for a second presidential term. But I had to set the example of a voluntary rejection of the idea of automatically extending the term of my rule in the country. Therefore, it was important to promise people that my course would be continued by new leaders of the country.
Sooronbay Jeenbekov, in all his campaign speeches, promised to continue my political course and transition to a parliamentary form of government, where the real leader of the country is not the president, but the prime minister. The two revolutions of 2005 and 2010 showed that the Kyrgyz people cannot tolerate sole power. That is why a Prime Minister reporting to the parliament is a more acceptable option for Kyrgyzstan than an unaccountable president.
Unfortunately, almost immediately after the election, my successor went the other way. With the help of populism and slogans of fighting against corruption, he managed to generate hope among the people. They believed him at first. But after a year and a half has passed, people have seen that reforms have been curtailed. Rule by one family clan has been reborn. Everything that is connected with me and my name is being blackened. And the political persecution of my supporters has made my opposition.
OCA: Do you intend to resist the regime of your successor?
AA: It is not easy for me and my supporters now. But this is my country! My children and I live here, work here. But I no longer intend to hold governmental positions. We are preparing leaders of a new generation. Today, the situation has fundamentally changed, there is belief again. Although the current president is doing everything to prevent my supporters from participating in the parliamentary elections in 2020, we are full of confidence in our victory. People see and judge everything, as you know, not by words, but by deeds.
OCA: Recently, many publications have written about the "Chinese threat" for Central Asia. Do you think China has plans to colonise the countries around it in Central Asia?
AA: Similarly, they write about the "sinister plans" of Russia in our region. But Kyrgyzstan must develop and we will certainly look for ways to cooperate with neighbouring countries. Moreover, with such huge international partners as Russia and China, cooperation with them brings many advantages to our country. The main thing is that the national interests of Kyrgyzstan should always be at the forefront.
As for the risk of colonization by China or the Chinese, today, just look at Canada. In Vancouver, for example, according to media reports, already 40% of the population are ethnic Chinese, and they constitute the backbone of the city's economic power. Emigration from China, as far as I know, today goes primarily to the most developed countries in the world. In Kyrgyzstan, ethnic Chinese do not stay long, at least that is what the statistics show.
However, every country, including Kyrgyzstan, must monitor the situation in the economy and the demographic sphere, take appropriate measures, and also develop and implement development strategies.
OCA: The main message is that China is bringing countries to their knees through infrastructure projects. How do you respond to accusations made against you about the debt bondage of Kyrgyzstan to China?
AA: I want to remind you that in the 90s, when the World Bank was the country's lender, we suddenly lost our industry in the country, having paid for the PESAK program and their "shock therapy". I think that the real "economic killers" must be sought in the West – not in China. For example, without projects supported by China, there was no need to talk about any energy independence in Kyrgyzstan. China has helped us to solve our main strategic task. China's loans to Kyrgyzstan were not classified. They are open and accessible.
As for the debt bondage into which Kyrgyzstan allegedly fell, – this is a lie. Judge yourself: Kyrgyzstan's gross domestic product (GDP) grew from 2010 to 2017 by $ 3.4 billion. At the same time, the external debt of Kyrgyzstan increased by $ 1.3 billion. The total debt of our country to China is $ 1.7 billion.
If in 2010 the country's external debt amounted to 58% of GDP, then in 2017 we were able to reduce this figure to 55% of GDP. The global average ratio of this indicator is even close to 80-90%. Over the years, we have significantly increased GDP and, in addition, have achieved the write-off of a significant part of external debt – $ 0.55 billion.
OCA: What are your feelings about the situation that evolved to ultimately remove your ex-presidential immunity?
AA: Firstly, the parliamentary decision to remove an ex-president's status of immunity from me does not have legal force – the law establishing or aggravating responsibility has no retroactive effect. Secondly, the parliament removes from me only the status of ex-president, but the procedure for depriving political integrity is not spelled out in it. That is, from the legal side, all of this is not valid and unconstitutional.
Today I was summoned to come as a witness in the case of criminal authority by Batukaev. I have nothing to hide in this case, I have already told everything to the media and now I am preparing written evidence. But, I remember how they treated Sapar Isakov and Kuban Kulmatov, my supporters, who also went to the GKNB allegedly for a simple interrogation, and afterwards they were arrested. The Constitutional Court is now considering our interrogation complaint. It is the court, who will put an end to this and to how much further events will develop.
OCA: Since you stepped down as President, where do you see Kyrgyzstan's path for the future leading?
AA: An image of the future of Kyrgyzstan is in the national strategy for sustainable development of Kyrgyzstan until 2040, the basis of which we managed to adopt before I left the presidency. As before, I would like to see Kyrgyzstan as an economically developed democratic country with a parliamentary form of government in the future. We have all the opportunities to become an integration platform for the Central Asian region.