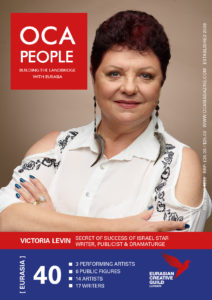 COVER STORY
Victoria is a writer, poet born in the Chita region. Graduated from Moscow State Technical University. Bauman. Author of two novels and seven collections of poetry. She has been published in magazines in Israel, Russia, Germany, Bulgaria and others. Also she's a Winner of the Russian Literary Prize medal. Laureate of several international competitions and festivals. Since 1997 he has been living in Israel, working as an engineer in the aircraft industry.
OCA: Tell us about yourself and your activity / work?
VL: I used to position myself as a poet. Poems have been written along all my life, with little interruptions. Now the emphasis is shifting towards prose and journalism. In addition, I am happy to do translations from several languages. Currently, I have more than twenty books, four of which are from the field of big prose, there is a collection of fantasy, a collection of journalism, the rest of the books are collections of poems. I actively participate in contests at various venues, festivals, and participate in several literary unions and associations. And if in a few words – then I live a full-blooded literary life.
OCA: What is "Eurasianism" for you?
VL: "Eurasianism" for me has a broader meaning than the unity of cultural values of Europe and Asia. I am a persona of the world! Therefore, for me – this is the unity of creative people from different countries, regardless of geographical and mental characteristics, of the whole world.
OCA: What are your favorite artists?
VL: Due to my high mobility, I often meet people with creative professions. And these people then turn into personal friendships that last for decades. Among the many favorite outstanding figures of our time, I want to mention Mikhail Kazinik – a popularizer of music, a person of encyclopedic knowledge; writer Boris Akunin – a man whom I adore the accuracy and imagery of his words; poet Joseph Brodsky, who for me always remains living in modern poetry and against which I compare my present day work.
OCA: Have you taken part in the events of the Eurasian Creative Guild (London)?
VL: Yes, in October 2018, I was lucky enough to attend Creative Week in London. Memories of this event still warm my heart! Wonderful people in magnificent London, new friendships that I made there, museums and exhibitions, a sensitive audience of highly intelligent people. Unforgettably! I presented my books "Not like everyone" and "Run away from Turner".
OCA: What does the Eurasian Creative Guild mean to you, and how did it affect your creativity / activity?
VL: Staying in London then, in October 2018, definitely expanded my creative horizons! I even wrote poetry in one gulp and read it on stage at the final meeting of Creative Week. And the remembrance of the wonderful people I met there, for a long time it excited my imagination! And then impressions gave way to reflections on the intersection of cultures, on the ways of developing the creative world, on the global, sometimes inexpressible, unity of the world and differences in mentality and worldview … All these thoughts came to me after talking with representatives of Asian countries during my unforgettable week in London.
OCA: Do you have any personal project that you would like to talk about?
VL: Currently, I started to work on the ECG expert council, the vice-chairman of the Journalism section. So the plans are huge! From personal plans – to continue a series of autobiographical novels, two of which have already been written, and the next three are still ripening in my head … I want to quickly open the "closed borders" and attend my favorite international festivals, where I will meet with my favorite poets and writers who also dream to return to our beautiful wide communication!
OCA: What projects have you participated in and in which do you plan to participate?
VL: I have a very wide range of projects and literary employment! Principle: fly wherever you call and where there is an opportunity to enrich yourself and hang out creatively (in the good sense of the word). From each trip – I put new fresh ideas into the creative piggy bank and grow into new acquaintances in the creative world. Therefore, I try to participate in contests that I find on the Internet, and if I go to the finalists, I'm going there without hesitation for a long time! Previously, when I worked in engineering positions on serious aircraft construction projects, this was not possible. Now, in retirement, I can take advantage of such a gift of fate and attend creative forums and international literary festivals.
OCA: What would you wish the members of the Guild, just starting their career?
VL: I wish you openness to the world and new ideas! Many are talented, but not everyone has the ability to develop their talent and make a "literary name". Listen to professional advice, read good authors, expand the circle of literary communication, try your hand at competitions and festivals. The world will never appreciate your work written "within the table" and will never know about your potential if you yourself do not declare yourself! Therefore: write, participate, act!