Prior to 2020, Uzbekistan was one of the fastest growing travel destinations in the world, with the surge in visitors arriving beyond even the highest expectations of those within the Central Asia tourism scene. It was an exciting time to be creating product and leading sales of Uzbekistan holidays for a company organising tours for the UK and European market. With travel as popular as it is, it's not too often you find yourself around the foundations of a tourism boom, and the few years of astronomical rise in arrival figures was a joy to witness. Of course, we now find ourselves in a position looking at desperate recovery, rather than mere growth.
Considering the devastation throughout the tourism sector over the past year, it's been difficult to fully concentrate on what can actually be done, particularly for a reasonably new destination on the global scene. With how quickly travel & tourism became a part of Uzbekistan's infrastructure, the sudden absence of visitors has been harshly felt, with us now approaching the third peak-season for the country without tourist arrivals. However, as more and more vaccines arrive and become common place all over the world, optimism will grow that borders can reopen, and tourism can return to the landlocked countries of Central Asia.
The phenomenal visitor statistics pre-2020 for Uzbekistan are certainly a bright memory for us to follow and be an essential ally in the challenges of recovery. The enormous growth of arrivals had its foundations laid at the end of 2016, when Shavkat Mirziyoyev became President, and tourism was mentioned as an integral component of his plans for the country. The exact numbers, according to The State Committee for Tourism Development of the Republic of Uzbekistan, are still staggering when seen today. In 2017, visitor arrivals had risen to 2.69 million people annually, by 2018 this had become 5.35 million, an astonishing 99% increase in one year. A further 26% increase the following year led Uzbekistan to an impressive 6.75 million arrivals for 2019. Unfortunately, we'll never know what could have been achieved in 2020, but it's fascinating to know the forecast for 2025, pre-pandemic, was 11.81 million arrivals.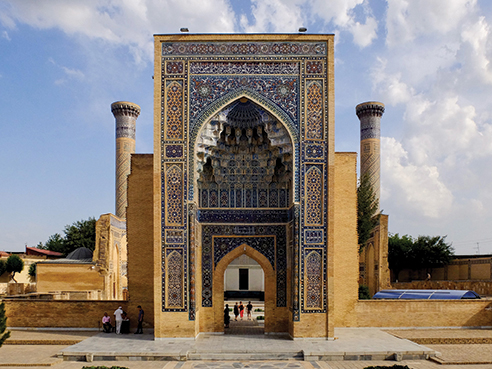 Focusing on recovery for autumn 2021 onwards, there are a number of aspects to be optimistic about for the rebuilding of the tourism scene – both domestic and international – in Uzbekistan. With 86 countries, as of 2020, being visa free entry, this enables those looking for their next destination to easily choose Uzbekistan. The continuation of previous top arrival figures from the other countries which make up Central Asia, plus Russia, Turkey and China will be vital for immediate increase in figures, with the attraction of the Silk Road remaining high amongst the UK market too.
The potential of winter sports within the country is an incredibly exciting prospect, especially with Amirsoy Mountain Resort, and one which grows from strength to strength, even during the past year while only those living in Uzbekistan could enjoy the perfect slopes. Expanding the peak seasons of spring and autumn with options for skiing will have a stirring effect on visitor numbers from the end of 2021 and beyond. As for the electronic music scene in Uzbekistan, its evolvement amongst the younger generation is creating a stimulating environment, and none more so than with the Stihia music festival, and its unique Aral Sea location. The US-based film director George Itzhak's spirited documentary last year, Waiting for the Sea, has certainly assisted in further recognition outside of Uzbekistan, and all adds to the curiosity of those looking for a new destination.
Sustainability is, and was, a buzz word circling tourism, and one which Uzbekistan sets up for very well, especially amongst the traditional production of silk and ceramics which can still be seen today throughout the country. Rather than the mass-manufacturing factories of so many other countries, Uzbekistan can showcase its sustainable production through local workshops which continue to create products through traditional processes. Visits to these special places are already an integral part of tour itineraries, most notably at Yodgorlik Silk Factory, and the ceramic workshops of Gijduvon and Rishtan. Pilgrimage tourism is also another aspect which Uzbekistan will be focusing more on in the future, with a view to capture the eye of tourists from both Indonesia and Malaysia.
Excitedly, even during the closure of the country's borders, we've seen an experienced travel company set up an office in Uzbekistan, highlighting the continued potential of tourism within the country. ICS have been a leading DMC in Asia for over 23 years, and their faith in Uzbekistan for the future lends great credibility to the country as a must visit destination. Carsten Schmidt, Group Director of Operations and Product at ICS says "When you look into options for expanding your portfolio, there is an overwhelming variety of amazing destinations. For a very long time I had my eyes on Central Asia. With its collection of ancient cities, there is hardly any other country in the world that reflects the charm of the old Silk Road as much as Uzbekistan". Such words can only increase confidence in what to expect for Uzbekistan as borders reopen and we all move ahead in recreating the success in arrival figures, alongside the overall satisfaction of those visiting.
As we see the vaccination process gather pace around the world, I have high hopes for Uzbekistan to continue its rise in popularity, which was only stopped in its tracks by the pandemic we're currently living through. Knowing how much Uzbekistan already has to offer through its monuments of imposing beauty, illuminating Silk Road history, adventurous road trips (or by rail), and fine traditions of dance, costume and art, its tourism scene is one that looks ready to grow once again.
Words and photography by Gary Meynell
Gary Meynell is a travel consultant specialising in Central Asia for the UK and European market. He is also the co-founder of The Central Collective, the curated guide to Central Asia.