The British Museum has announced that it is working closely with colleagues in the Art and Culture Development Foundation (ACDF) under the Ministry of Culture, and the staff of the Embassy of the Republic of Uzbekistan in London. On 30th September 2020 the Museum signed a Memorandum of Understanding with the ACDF and agreed to explore possibilities of developing joint education initiatives, training professionals in arts and culture, discussing exhibition projects, advising on stolen or trafficked items of Uzbek origin, and other matters as appropriate.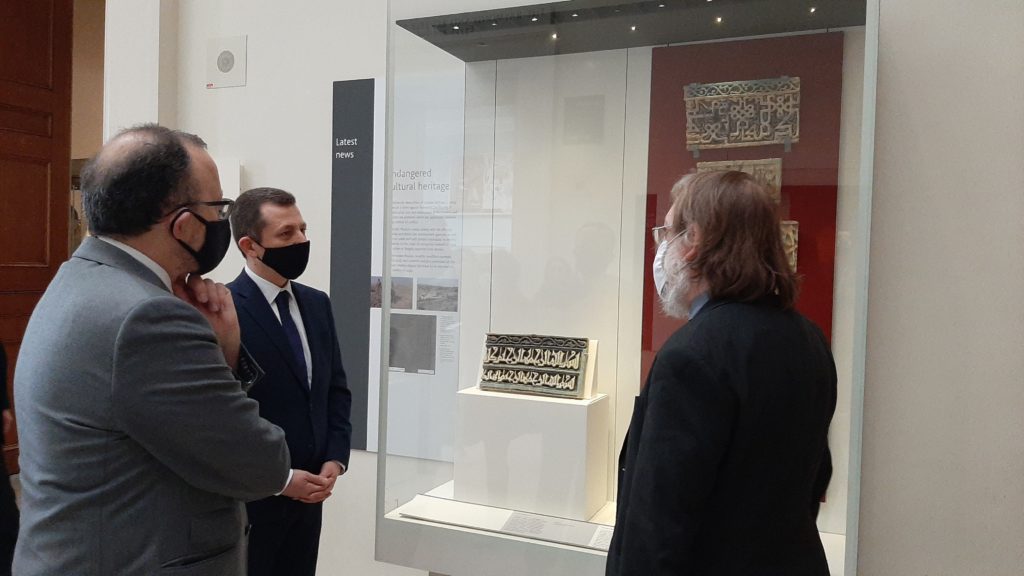 The issue of trafficking is a particularly serious and sensitive matter, and the British Museum is the lead organisation in the UK for advising UK law enforcement agencies if they have concerns over any items. The Museum has successfully intervened twice in the case of Uzbekistan, once in the case of a beautiful monumental calligraphic glazed tile illegally removed from a 13th century monument at Vobkent, near Bukhara, which was a memorial to the prophet Job and known as the Chashma Ayub. The tile was identified in a well-known London gallery but the owner immediately brought it to the Museum once its provenance was established. It was officially handed over at a small ceremony held at the Museum in July 2017 and returned soon after to Tashkent, where it is being held at the State Art Museum of Uzbekistan until it can be restored to the monument from which it was taken.
In January 2020 a group of further calligraphic tiles were stopped and seized by a Border Force officer from a passenger entering London Heathrow airport and identified by a large panel of international and Uzbek experts contacted by the Museum. Some of these tiles are very similar in style to examples known from the famous Shah-i Zinda near Samarkand and they date to the late 13th or early 14th centuries. They were exhibited at the British Museum with the permission of the Ministry of Culture and are now being returned to Tashkent with the generous assistance of the Embassy in London. This was a good opportunity to share knowledge and experience across the different organisations involved, including law enforcement and experts, and the media attention and display of such items at the British Museum send a strong signal to the world, as well as its many UK and international visitors, about the strength of collaboration by all the parties concerned.
Finally, the Museum announced its contributions to an album highlighting its Uzbek collection, which will be published shortly in a series entitled "The Cultural Legacy of Uzbekistan in the World Collections".
by Dr St John Simpson
Archaeologist and Curator, British Musem