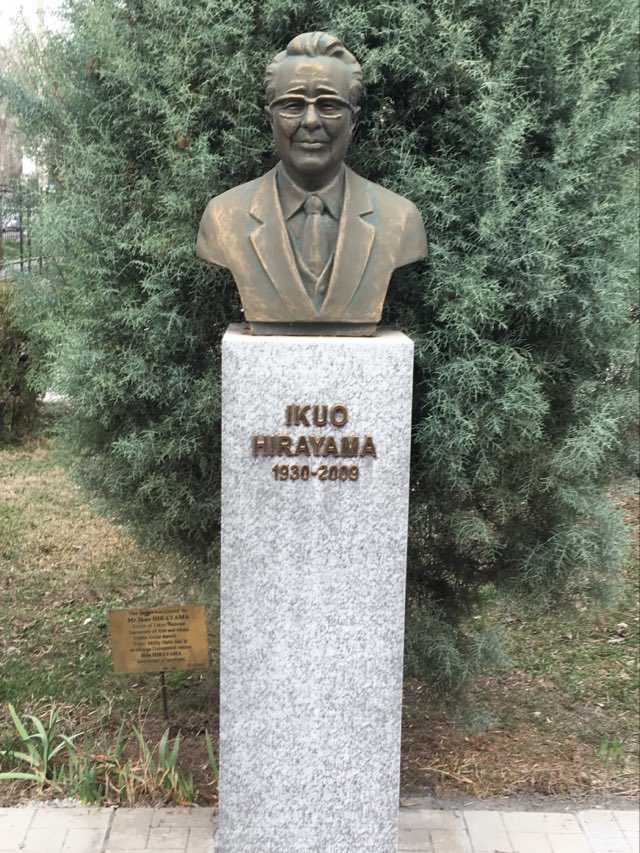 THE 'SILK ROAD' BETWEEN JAPAN AND UZBEKISTAN
One of the highlights of Tashkent's rich array of historical and art museums is the Ikuo Hirayama International Caravanserai of Culture. The exterior alone is remarkable, with its two looming buildings surrounded by a garden of cypress trees. However, going inside the building and learning about the life and artwork of its namesake, Ikuo Hirayama, is what truly leaves a lasting impression.
Mr. Hiroyama led an extraordinary life capturing the mystique of Uzbekistan and the Silk Road in his traditional Japanese-style paintings. Today, his legacy continues with the work of the Ikuo Hirayama International Caravanserai of Culture and its aim of bridging Japan, Uzbekistan, and the Silk Road through artistic and cultural exchanges.
Ikuo Hirayama: A Biography
Ikuo Hirayama was born in 1930 in Setoda, Hiroshima Prefecture, Japan. His childhood love of drawing would set the course for his future career in art. Another major event in his formative years – surviving the atomic bomb that fell on Hiroshima in 1945 – would shape his commitment towards peace activism.
He went on to study art and graduated from the Tokyo University of the Arts in 1952, where he specialised in nihonga, or Japanese-style painting. Initially, Mr. Hiroyama focused on Japanese and Buddhist motifs in his artwork. However, in 1966, he visited Turkey as part of an artists' delegation that set out to examine ruins in the country. This trip sparked Mr. Hiroyama's fascination with the cultural heritage of the Silk Road, and he would later visit several countries associated with the historic route.
He was especially fascinated with Uzbekistan and the other then-Central Asian Soviet republics and captured the intrigue of the region in his artwork. Mr. Hirayama was able to depict some of Central Asia's most iconic images – say, elaborate madrassas or traders traveling on camelback – and paint it in the nihonga style's distinctive combination of detailedness and delicateness.
Mr. Hirayama collected various artifacts from his Silk Road journeys – many of which are currently on display in the Hirayama Ikuo Silk Road Museum in Yamanashi Prefecture, Japan – and campaigned to preserve and restore numerous historical sites that he had encountered in his travels. In the course of his career, he worked alongside such illustrious organizations as UNESCO, the Tokyo National Museum, and the Japan Art Academy Exhibition to promote artistic and cultural treasures from all over the world. Mr. Hiroyama passed away in 2009, but his influence continues to link Japan to Uzbekistan and the Silk Road through the Ikuo Hirayama International Caravanserai of Culture.
The Ikuo Hirayama International Caravanserai of Culture
Ikuo Hirayama's fascination with the Silk Road extended beyond the visual beauty of these countries. He was also dedicated to reviving the rich traditions of this legendary route. He placed special emphasis on Uzbekistan, as he viewed it as "the historical and spiritual center of the Silk Road [that] connects the countries of the East and West."1 Furthermore, Mr. Hiroyama's experience as a survivor of the Hiroshima atomic bomb instilled a commitment in him towards promoting international peace. He believed that cultural diplomacy was a particularly effective tool in learning about other nations and forging friendships based on a mutual understanding and respect towards one another.
Mr. Hiroyama's admiration for Uzbekistan, as well as his wish to see a Silk Road renaissance, gained increased salience following the Central Asian states' declaration of sovereignty in 1991. He viewed this event as a golden opportunity for "integrating Uzbekistan with worldwide cultural and scientific society."2 Thus, he wanted to do his part to expedite this process by forging closer Uzbek-Japanese relations.
In 1999, Mr. Hiroyama met with Tursunail Kuziev, the Chairman of the Academy of Arts of Uzbekistan in Japan. They discussed the idea of creating a cultural center to display the history of the Silk Road and strengthen Uzbek-Japanese ties. Their objective became a reality when the Uzbek government helped fund and establish the Ikuo Hirayama International Caravanserai of Culture in 2002. Since its opening, the institution has strived to "popularise" the cultural heritage of Uzbekistan, Japan, and other Silk Road countries"3 through its various activities.
The institution serves as "both a museum and a scientific and cultural center."4 The site features two main buildings: one building contains a library, conference hall, and working areas, while the other one has a laboratory, scientific facilities, a vestibule for cultural events, and exhibition halls. As for its functions, the Ikuo Hirayama International Caravanserai of Culture holds art exhibitions featuring the artwork and artifact collection of Mr. Hiroyama. It also sets up cultural events, including master classes, concerts, symposiums, and educational courses. The institution organises archaeological expeditions and uses its laboratory to examine excavated items from those ventures. The grounds of the Ikuo Hirayama International Caravanserai of Culture also feature a cypress-filled Friendship Garden and a "Hiroshima Peace Stone" made from a piece of pavement in Hiroshima that now serves as a symbol of peace. Despite the relatively young history of the center, it has already formed connections with global museums and research institutions to uncover the history of Uzbekistan and the Silk Road and share that heritage with the rest of the world.
At first glance, Uzbekistan – the centre of history's greatest continental trade route – and Japan – a historically insular island nation – seem to have no common ground. However, thanks to the initiatives of Ikuo Hirayama, these seemingly two distant countries became connected to one another via art and culture. Just as the caravanserai of yore served as a meeting place for traders to share their customs and ideas with one another, the Ikuo Hirayama International Caravanserai of Culture allows for Uzbek and Japanese cultural exchanges that can subsequently spread the heritage of the Silk Road to the rest of the world.
by Marin Ekstrom
1. Ikuo Hiroyama International Caravanserai of Culture, official website, http://www.caravanserai.uz/
2. Ikuo Hiroyama International Caravanserai of Culture, official website, http://www.caravanserai.uz/
3. Ikuo Hiroyama International Caravanserai of Culture, official website, http://www.caravanserai.uz/
4. "International Caravanserai of Culture," Uzbekistan, Adventour, https://www.advantour.com/uzbekistan/tashkent/caravanserai-of-culture.htm