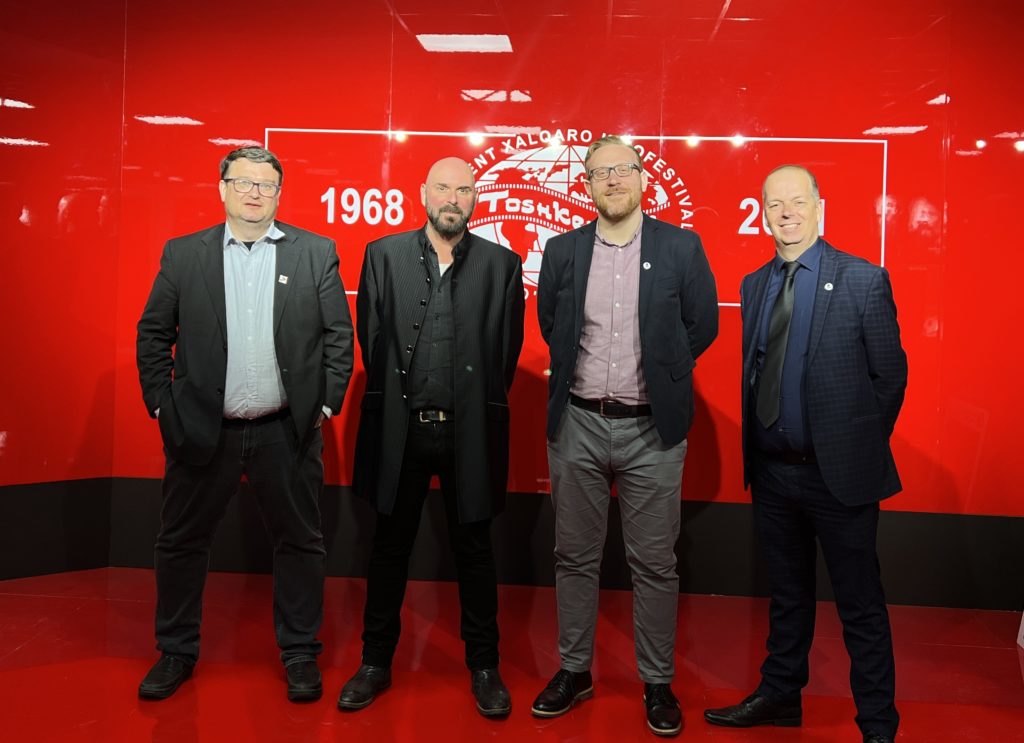 Revival of the Tashkent Film Festival
In September 2021 Marat Akhmedjanov invited myself and two film related companions to represent the UK at the Tashkent Film Festival in Uzbekistan, a festival returning after a 24 year absence. Like a moth to a flame I was drawn to the event, as were my fellow travellers Oliver Guy Watkins and Peter Blunden. I think its fair to say there was a level of "imposter syndrome" with our attendance to the festival, while attendees had been promised, there had been little clarification of whom would be attending, so to very quickly find ourselves in the company of Steven Seagal, Luc Besson, Rob Minkoff, Franco Nero, Gerard Depardieu to name but a few was slightly overwhelming, the repeating question "why am I here?" playing over and over in our heads.
Tashkent Film Festival clearly wanted to make an impression, no sooner had we arrived at Uzbek Film, there was a feeling of extravagance. To the left of the main building was a media hub, where 100 or so frantic looking people dashed around from one area to another, checking over profiles, doing social media posts and feeding data to other parts of the building, in some area's interviews were being conducted. After we had a number of short interviews, I glanced over to a monitor where my Internet Movie Database file was being examined, one thing was for certain, they wanted to be up to date with everyone's background.
Having attended the media hub, we moved to a vast hall where Franco Nero, Rob Minkoff, Steven Seagal and many other film industry representatives addressed the regional press launching the festival. This opulent main hall told the story of Uzbek cinema through images of movies that had so much importance to the people of the country. The afternoon events went so swiftly, that we were soon encouraged to return to our hotel to prepare for the evening events, having travelled across the time zones for ten hours over two flights, this was a welcome opportunity for some downtime.
Our first night at the Tashkent Film Festival was like a strange dream, hours of confusion, culture changes and jet lag made us feel as if we had been teleported onto the red carpet with little understanding of how we got to be there. Once there we were interviewed by one, two, three different reporters in close succession, before having our first encounter with the wonderful Ali Hamroyev, who spent much time talking to us about film, England and the wonder of life. Hamroyev a filmmaker of some sixty plus years had the wisdom of age, but the spritely inquisitive nature of a teenager, his contribution to Uzbek and Russian cinema the thing of legend, as important a soul as the likes of Scorsese, Kubrick or Friedkin. Like ourselves he could not grasp why we were there, not because of status, just because people from the United Kingdom in Uzbekistan are without a doubt a rare jewel. Hamroyev, was followed up by another fascinating encounter with the documentary filmmaker Aliaskar Fathullin, the Uzbekistan equivalent of Michael Apted, a man who's filmmaking truly charts the story of a nation of change.
The night was a bizarre experience for a westerner, an opening ceremony so grand it makes the likes of the Eurovision Song Contest look like a low budget talent show. After the initial opening ceremony, accompanied by the Tashkent Film Festival anthem, succession upon succession of performers appeared on stage, representing culture, dance and song. Intermingled with Uzbek culture was important cultural classics from world cinema, including operatic numbers from the Fifth Element and the empowering ballad of The Umbrellas of Cherbourg. The night led us into even more understanding that we were in a different culture as we settled down for a midnight dinner at the Hyatt Hotel with Minkoff, Nero, Seagal and a few hundred others.
Tashkent Film Festival had a unique viewpoint for a festival. While it acknowledges legends of cinema both at home and away, its focus was on empowering the young and new filmmakers. Having invited film students from around the world, all expenses paid, they were tasked to create a film in 5 days, then show that film to not just an audience, but a judging panel that included some of the greatest film makers on the planet a judging panel chaired by Timur Bekmambetov director of Night Watch, Wanted and Abraham Lincoln: Vampire Hunter.
Having attended some of the largest festivals in the world, Tashkent Film Festival immediately catapulted itself into one of the worlds biggest challenger film festivals, an event so grandiose that your glass will never run dry, your plate never be empty and your heart anything less than amazed. Every venue, every "opening" of a new and exciting building dedicated to the moving image, grander and more co-ordinated than the last, each day leading to a more out of body experience than the last, which ultimately culminated in the crescendo that was our final night.
After 7 exciting days of film, nothing truly prepared us for our final night at the Festival, rather than arriving to a door, our car took us down a red carpet where we exited the vehicle straight into the world's press. When we arrived, we addressed the nation live on Z'or TV. This truly discombobulating experience, put each of us on the back foot, giving us a a feeling of euphoria and elation that literally kept us alert for the entire night and well into the following day.
Much more than the festival of course is a capital and a country, a country where alien speaking Englishmen were made to feel like kings. It did not matter that we never knew Uzbek or even Russian, everywhere we went we were greeted by open warm hearts of the countries youth, thrilled to be talking in English to real English men, to talk of the country they love, a country that is evolving at such a rapid pace that each and every day gives them a real feeling of passion for their country, a thrill to be alive in this time. Uzbekistan is a country that is open to the world and Tashkent's Film Festival is a festival that with much care, attention and cultivation has the ability to become one of the world's leading film festivals, and where better to enjoy the medium of a film, than in a country so incredible it feels like a living movie.
by Spencer Hawken