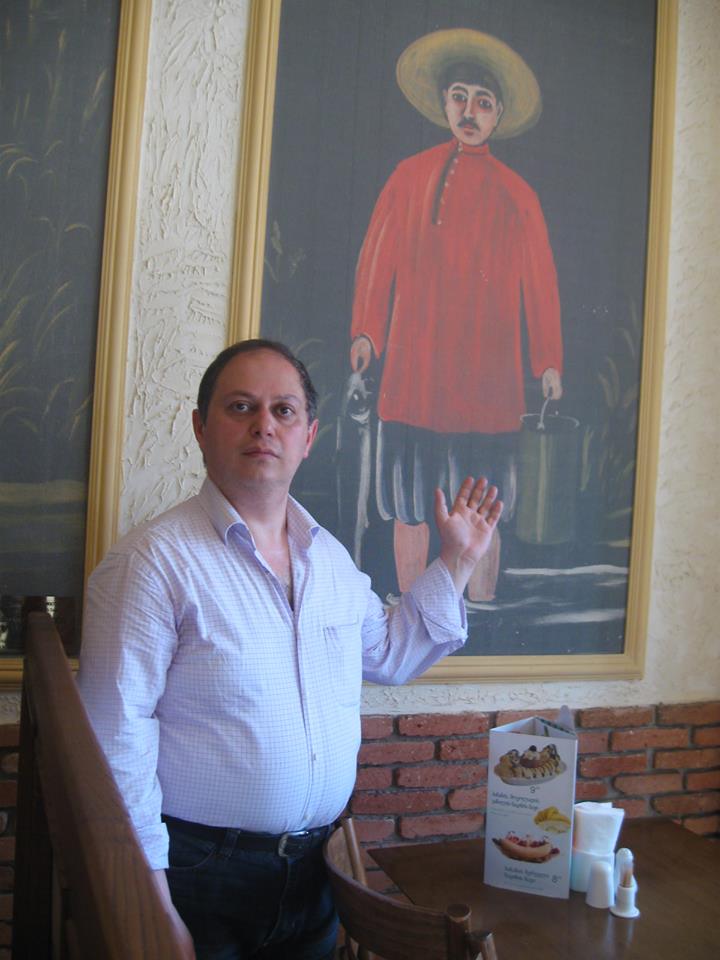 LISTEN TO YOUR INNER VOICE
INTERVIEW: MIKHAIL ANANOV
OCA Magazine: Tell us about yourself and your creative work.
Mikhail Ananov: I'm a poet, a poetry translator, prose writer, playwright, literary critic, journalist, publicist, theorist, sonetologist and I am also engaged in mathematical modeling in the field of poetic art.
I'm a member of several creative unions, including international ones: Union of Writers of Georgia, Pushkin Society of Russian-Language Writers "Arion", the Vernatun Union of Armenian Writers of Georgia, international club of science fiction of Crimea "Fandango". I'm also a member of the Advisory Board of the Eurasian Creative Guild. I'm one of the founders and a manager of a literary theatre "Arion".
I'm a author of poetry collections "Above the Abyss of the Worlds", "The Ghosts of Eldorado", "Selenastra" and two scientific works in the field of literature theory: "The Cryptography of the Poetic Form" and "The Atomic Model of the Sound Order". I am also a translator of collections of Armenian poets Mikael Akhtyan, Stanislav Melkonyan, Anaida Bostanjan and Okro Okroyan.
My poems were translated into Armenian and English.
I am Diploma-recipient of the V International Forum "Golden Knight", in 2014, a winner of the VIII International Festival in Brussels held by the Eurasian Creative Guild in Brussels in 2019.
I won the Order of St. Elijah Chavchavadze in 2017, the Grand Prix of the Lermontov competition in honor of his 200th anniversary in 2013, the poetry competition of science fiction writers in Feodosia in 2016.
OCA: What does "Eurasianism" mean to you?
MA: In my own understanding, it is a convergence of the two cultures of Europe and Asia which blurs the border between us, as representatives of two different peoples in our views and in spirit. In the past this border was obvious, but things are changing over time and our relationships are becoming much better and making it worth presenting ourselves in the new world. And I should say that the Guild plays an important role in it.
OCA: Name your favourite artists
MA: Among classic writers it is of course Alexander Pushkin who I treat as my 'teacher'. He's a great personality and I'm striving to reach him like striving to reach the sun. Another my 'teacher' – Edgar Poe, a master of the psychology genre. I recommend all artists to read his book called 'Philosophy of Art' in which he step by step and in detail describes the process of creating a masterpiece.
Indeed, I also admire artists from other spheres: painting, music, theatre, film. My favourite artists are also Rubens, Mozart, Shakespeare, Coppola
OCA: Have you ever taken part in the events organised by the Eurasian Creative Guild (London)?
MA: Yes. I took a part-time participation in the VIII International Festival of Eurasian Creative Guild held in Brussels where I presented my speech to the participants. I also participated in a contest of small prose and even became a diploma winner in the nomination "Generals of the world for peace" for the story "A very interesting guy", dedicated to Vladimir Vysotsky.
I write tales and plays for children of different ages. In the 30th anniversary issue of our "On the Hills of Georgia" almanac my play was published in "The New Little Humpbacked Horse" poems. There is a story behind it: the director of the theatre named after Griboedov – Nikolai Sventitski, whose dream was to bring together all the characters of Russian tales, asked me in person to write it.
OCA: What does Eurasian Creative Guild mean to you?
MA: It means a lot to me. Over the past few years, not only the number of members in the Guild has risen, but also the number of countries that represent it, the number of projects, events and so on. In addition, it allows an absentee participation in festivals which is some kind of bridge between us that strengthens our relationship and facilitates creative approaches to solve problems. We live in worrying times and I have no doubts that our meetings help to bring more kindness and warmth to our world.
OCA: Is there any personal project that you would like to tell us about?
MA: I have quite a big project: I want to found a rock band which would not only perform its own songs but also translations of famous English songs. First steps are already made. Besides, I'm translating rock poetry including songs of Deep Purple and Animals. I told Marat Akhmejanov about my plans and he promised to introduce me to the producers of Deep Purple. I also talked about this with John Farndon who got really interested in it.
OCA: Tell us about creative societies in Tbilisi.
MA: The first society represents Russian-speaking writers led by Nika Dzhindzharadze who gathers creative people in the House of the Caucasus and organizes musical poetic evening events. The guests are people from many countries.
I want to talk about 'Arion' briefly. Apart from theatrical productions, there are also various literary contests, quizzes, events and celebrations. At one of such events, I met Marat Akhmejanov and this motivated me to join the Guild.
The second society is Tbilisi Armenians which has quite a wide audience. Their cultural centres are Hayartun and the House of Hovhannes Tumanyan where they organise all kinds of events.
The third society is Georgian writers and cultural workers. They have many cultural centres, including the Writers Union, and I often join their events as a poet and a translator of Georgian poetry. My daughter Anna joins me in the events, performances, theatrical productions, melodeclamations, musical, poetic and creative evenings.