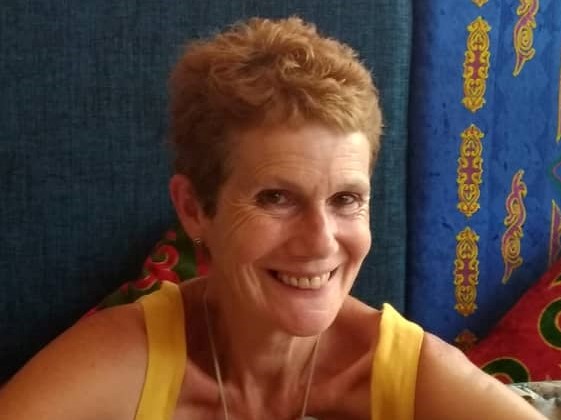 DON'T BE IN A HURRY TO SUCCEED
INTERVIEW: LAURA HAMILTON
OCA Magazine: Tell us about yourself and your creative activity
Laura Hamilton: As director of the prestigious Collins Gallery at the University of Strathclyde, Glasgow, from 1988 until its closure in 2013, I originated exhibitions and events related to contemporary Fine and Applied Art by artists from throughout the world. Now freelance and employing skills gained in the writing and publication of numerous catalogues and monographs, my focus has turned to editing English translations of Central Asian literature, in tandem with memoirs by UK authors.
OCA: What is "Eurasianism" for you?
LH: I would define 'Eurasianism' as a term which unifies a vast and divergent collective of peoples, their heritage and culture, both past and present. As a westerner, from whom that world has long been hidden, it is a new and exciting concept imbued with intrigue and romance.
OCA: Who are your favorite artists?
LH: I found the deeply- rooted and significant role of cultural heritage in Central Asian life, hauntingly and beautifully encapsulated in 'Farewell Gul'sary' by Chinghiz Aitmatov and 'Howl' by Kazat Akmatov; and have enormous admiration for acclaimed Uzbek author Hamid Ismailov, to whose books I return again and again. However, straddling the two spheres of visual and literary creativity, it is impossible for me to name the many, many other artists and writers whose work has left an indelible mark. There are also, too many authors to mention, whose work I have edited and who deserve global recognition.
OCA: Have you taken part in the events of the Eurasian Creative Guild (London)?
LH: Following Marat Akhmedjanov's generous review of my exhibition 'From Quilts to Couture in Kyrgyzstan' in 2011, for the OCA magazine, I began editing for Hertfordshire Press, and in due course, joined the Eurasian Creative Guild. I have attended Open Eurasian Literary Festivals in London, Almaty and Stockholm, as well as events in London, Glasgow, Edinburgh and Bishkek. I participated in judging the annual Open Asia Competition and after serving as Chair of ECG from 2017-19, now sit on the Guardian Council.
The Guild is a unique and ever-evolving organization that provides a warm welcome, support and stimulating opportunities to creative people working in all genres and at different stages of their careers. It is a uniting force, an extended family of sorts, which nurtures the development of close collaboration and firm friendships.
OCA: Do you have any personal project that you would like to talk about?
LH: I have edited some fifty works in translation, the most recent of which is 'Er Toshtuk'; one of an ongoing series of classical Kyrgyz epics. Much as I enjoy these historically rich and wonderful legends, I look forward to revisiting contemporary literature. It appears that Guild members have many new exciting projects in store, which will hopefully, be translated into English!
OCA: What would you advise for people who're just starting their journey of creativity?
LH: Based on experience, my advice to anyone embarking on a creative career is twofold: Don't be in a hurry to succeed; take time out to think, and invest time to revise and if necessary, rework what you've done until you're truly satisfied.
Astonishingly, there are artists who don't visit galleries, writers who don't read, and translators who don't access texts written by native speakers! There's an unlimited wealth of information waiting to be discovered, guide and inspire you; so, use it to your advantage…
I wish you all the best of luck!