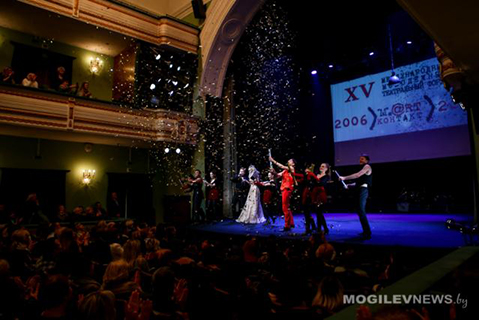 M@RCH CONTACT INTERNATIONAL FORUM
The International Youth Theatre Forum "M@rch.Contact" dates back to 2006. The city of Mogilev of the Republic of Belarus plays host each year. To date, the Forum is one of the most anticipated cultural events in Belarus in the theatrical arena. In its fifteen-year history, the Forum has gathered participants from more than twenty countries. On its stage it has shown at least two hundred performances, which have been watched by over forty thousand spectators. Theatre troupes from Belarus, Russia, Ukraine, Poland, Lithuania, Latvia, Israel and many others have taken part in the festival.
The opening of the theatre forum takes place on the stage of the Mogilev Regional Drama Theatre, the oldest theatre in the region, founded in 1888. It is noteworthy that during the First World War (1914-1918), the Russian Emperor Nicholas II was in Mogilev. Since there were few cultural institutions in the city, he regularly visited the city theatre, and the place he usually had occupied has since been called the "Imperial". By the resolution of the Council of Ministers of the Republic of Belarus in 2008, the building of the city theatre was included in the State List of Historical and Cultural Values of the Republic of Belarus.
The infrastructure of "M@rch.Contact" is quite extensive and diverse. During the theatre week, in addition to the main venue, guests are invited to the Mogilev Regional Puppet Theatre, the Mogilev Concert Hall, the Regional Centre for Creativity, as well as improvised open-air scenes on pedestrian streets of the city.
At the theatre festival, performances on the topic of mass culture and the global Internet, personality formation, love and relationships in the family, relations between parents and children and much more are offered to the audiences. The program of the forum is extensive and grows every year so that every participant can find a performance to their taste. To the attention of foreign guests of the city and the country, national Belarusian productions with local flavour and entourage are presented, fascinating with their depth and understandable simplicity even to the most sophisticated viewer.
Within the framework of the youth forum, master classes are held for actors, directors and other employees and students of the theatre sphere, along with discussions held in the format of creative meetings to exchange opinions and discuss productions.
The founders of the forum are the Ministry of Culture of the Republic of Belarus, the Mogilev Regional Executive Committee and the Mogilev Regional Drama Theatre. In 2022, eleven creative teams from Belarus, Russia, Moldova, and Armenia took part in the forum. The theatre forum, which combines the best of traditional theatre productions and innovative live communication with the audience, allows you to plunge yourself into the atmosphere of creativity and stage magic, meet new people, as well as become acquainted with a new country and its distinctive culture.
By Irina Yegorova