HOW BRITAIN BECAME THE JURISDICTION OF CHOICE FOR DIRTY MONEY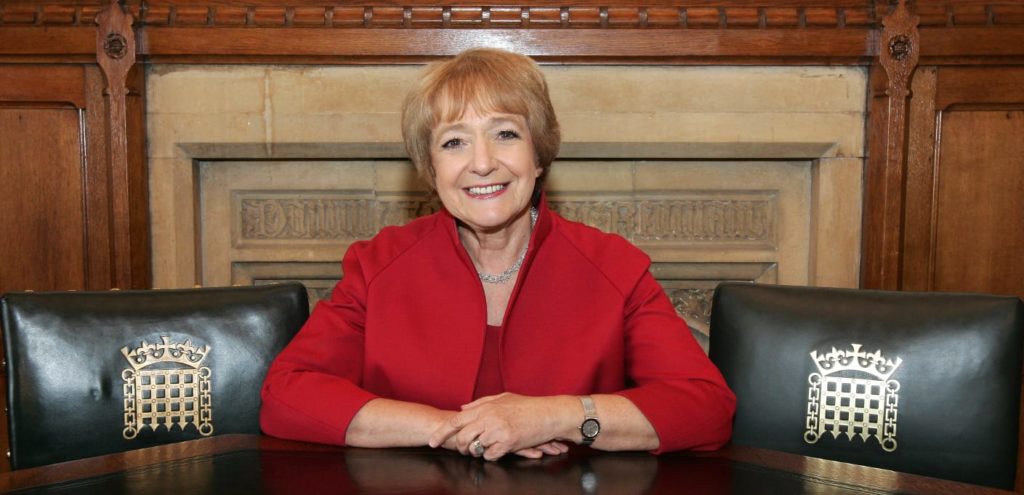 AN INTERVIEW WITH DAME MARGARET HODGE
A long-serving politician for the British Labour Party and holder of many ministerial positions during her distinguished career, on February 3rd Dame Margaret Hodge caused a stir in the House of Commons by calling on the government to sanction Kazakh oligarchs. Whilst positive changes to the hierarchy appear to be afoot, in her speech Dame Margaret highlighted how the UK is seen as the 'jurisdiction of choice for dirty money,' leaving numerous figures connected to the old elite, including Timur Kulibayev, Dariga and Dinara Nazarbayeva and Kairat Sharipbayev 'laughing all the way to the bank.' OCA Magazine decided to find out more…
OCA Magazine: Obviously, Ukraine is at the forefront of everyone's thoughts at the moment – in terms of sanctions, do you think the British government is doing enough?
Margaret Hodge: No, I think we should go further, and I've given a number of lists to the foreign office of people I think should be sanctioned. Another problem is that we've frozen the assets of some of these people, not seized them. I think that's a challenge for the government, to seize assets which are often being stolen from the populations, whether you're talking about Kazakhstan, Azerbaijan or Russia. To the extent that sanctions can have an impact in the medium term – and I think we've got to be much tougher on cutting our oil and gas supplies from Russia – this has got to be much more vigorously pursued if it's to be at all effective in curtailing the worst excesses of what Putin is trying to do.
OCA: You may not be aware, but you're now famous in Central Asia because of the statement about Kazakh oligarchs you delivered to the House of Commons. Looking at Kazakhstan in the wake of events there in January, given that the UK is among the top five countries in terms of investment, and approximately 500 British companies operate there, what impact do you think sanctioning Kazakh individuals would have on this?
MH: Obviously, it was those events that led to people talking to me about the activities of the kleptocrats, the ruling elite in Kazakhstan; it was in the wake of the response of the ruling elite and the bringing in of Russian troops to overpower the demonstrators that my attention was drawn to what was happening there. My speciality is the campaign against dirty money. If we're serious about trying to exert our influence to clamp down on kleptocracies and to prevent Britain becoming a hub for dirty money, there may need to be an adjustment to where we invest. It goes to the financial services sector here in the UK and it will go to investment in Kazakhstan. We have to make sure there's an ethical dimension to how we invest around the world, and I think if anything has come out of this dreadful Ukraine crisis it's an understanding that there are ethical and moral dimensions to how we operate, both nationally and internationally, that must impact on where we invest, who we make friends with, and who we allow to trade in the UK. I think there's going to be a cultural shift as a result of this crisis. It's sad because it will create more a divided world, but on the other hand, where our investment can support democratic movements and the fight against kleptocracy, we should do that.
OCA: According to a KPMG report, 162 people control around 55% of Kazakhstan's total wealth, and now some of Kazakhstan's infamous elite live in London, whilst others own properties here. Transparency International identified £600 million worth belonging to those with links to the Kazakh elite. What can be done to combat this?
MH: I think this is an area where Britain has allowed itself to become the jurisdiction of choice for dirty money. It doesn't have to be like this. There are actions on four fronts we could take in the UK. First, we need to look at regulation. Since the time of Margaret Thatcher, both Labour and Conservative governments have deregulated the financial services sector too much, so we need to look at our regulatory framework and there are various things that need to be done. So, for example, when people set up a company here but put forward a letter box name for the beneficial owner, we have to reform Companies House so we can check the information and know who the beneficial owner is. We also need to give Companies House the power to interrogate the data and raise red flags. A new register of ownership where properties are owned by foreign entities is another example we've got to look at. We've also got to look at those who enable financial crime, the accountants, lawyers, advisors, the banks, all of whom collude, and in the worst cases, facilitate and enable financial crime. We have to hold those enablers to account.
We also need greater transparency throughout the system. One example in the recent sanctions would be that there's no transparency about who owns trusts. So, Alisher Usmanov has been able to hide assets he holds in the UK in trusts. Sunlight is the best disinfectant, so that needs to be built into the system. We need tougher enforcement, because even where the agencies exist, they're either starved of resources or there isn't the political will for them to pursue dirty money in the way they should. The other thing is we've got to hold all of this to account for the public through parliament, and there's got to be much better systems of accountability. If we start doing these things, Britain will become a less attractive place in which to try and launder your illicit, ill-gotten gains. So, there has to be a root and branch reform to start turning the tank around.
OCA: Why did it take so long for the government to proceed with the Economic Crime Bill, and does it go far enough?
MH: This was promised by David Cameron in 2015-16, and my reading of it is that because of the impact Brexit has had on our GDP and the economy the government ran away from tackling the financial services sector, which facilitates a lot of this dirty money. I think they were worried about challenging the financial service sector when they knew the economy was going to be hit by Brexit. I also think there's a very close relationship with too many of the political class and those in the financial services sector, and you see that throughout the system from political donations to public appointments. Does the legislation go far enough? No, it's badly drafted, and it only deals with the tip of the iceberg. To take Usmanov as an example again as just passed his assets to his daughters, it doesn't cover family members or trusts, and it talks about freezing not seizing. This is why the forthcoming Economic Crime Bill will be our opportunity to see whether the government is serious about stamping out dirty money.
OCA: What can you tell our readers about the Tier-1 Investor or so-called 'Golden Visa' scheme which allowed figures such as Madiyar Ablyazov a path to British citizenship?
MH: That was brought in by the Labour government and the idea was to attract investment into the UK, but I thought it was ill thought through and really badly implemented as neither the Home Office, who were granting these golden visas, nor the banks that were taking the money checked on the individuals and where the money was coming from. Both thought the other was doing it, so nobody did. At its height, 60% of the visas granted were given to either Russians or Chinese. So it became a brilliant route for criminals and kleptocrats to bring their stolen wealth into the legitimate system. There's a long-promised report analysing who was let in; it's sitting somewhere in a government office and needs to be published. At that point, they could pick it up through sanctions, but we're still waiting.
OCA: Is there anything else you'd like to add about how we can stop Kazakh kleptocrats 'laughing all the way to the bank' in the UK? For example, we have Unexplained Wealth Orders [UWOs], but the agencies tasked with implementing them are patently underfunded.
MH: They're not just underfunded, they haven't got the expertise. One important thing we did in the Economic Crime Bill is cap the amount people who challenged UWOs could claim from the government if the case was lost. I think we need to fund these agencies properly and staff them with the best people, either pay them enough or bring in private expertise to support them. UWOs have only been used four times, two of which have failed, and this was heralded as the big answer to the campaign against dirty money. We need a comprehensive approach to stop what's happened from Kazakhstan and elsewhere, and it's not just the former USSR. You can see from the Panama papers how dirty money floats around from regimes all over the world. If we get it right internationally for Russia and Ukraine, we'll get it right for many, many other places too.
By Stephen M. Bland