INTERVIEW: HIS EXCELLENCY MAGZHAN ILYASSOV,
AMBASSADOR TO THE UNITED KINGDOM OF GREAT BRITAIN AND NORTHERN IRELAND
Diplomatic relations between the Republic of Kazakhstan and the United Kingdom of Great Britain and Northern Ireland were established on 19 January 1992, with the Embassy opening in the UK in 1996. Thirty years on, relations continue to be as strong as ever. On 6 October 2022, Magzhan Ilyassov was appointed as the new Ambassador to the United Kingdom. His appointment, by President Tokayev, comes at a time when enhancing trade, economic and investment co-operation between the two countries could not be more important to both sides. OCA Magazine's Editor-in-Chief, Nick Rowan, had the pleasure of discussing some of Ambassador Ilyassov's priorities and experiences since arriving in the UK.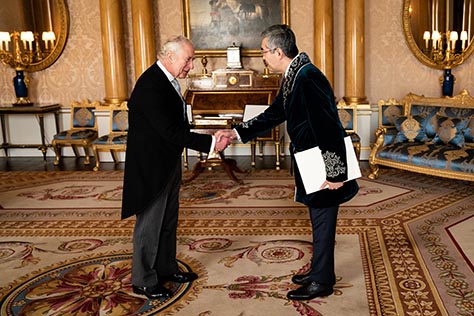 Ambassador Ilyassov has always known he wanted to be a diplomat. Born in Almaty, Kazakhstan, and having been schooled at one of the few Soviet and Kazakh universities that was intensively teaching the English language, a life of diplomacy was a natural path. Ilyassov worked his way up the diplomatic ladder, from the Ministry of Foreign Affairs, promoted to several departments within the presidential administration for 19 years, before being appointed as ambassador of Kazakhstan to the Netherlands in 2016. During his time there he was also the Permanent Representative of Kazakhstan to the Organisation for the Prohibition of Chemical Weapons, which involved much multilateral diplomacy on very challenging chemical weapons cases, including the Skripal poisoning in the UK. In 2020, Mr Ilyassov was promoted to New York as Kazakhstan's Permanent Representative to the United Nations, before he arrived in the UK in October 2022.
I wanted to start by understanding what drove Ilyassov to a career in diplomacy. He starts without hesitation, "I saw that Kazakhstan in 1991, after the collapse of the Soviet Union, became a truly independent country. Before then all real foreign politics and diplomacy was controlled by Moscow. There was no real foreign policy of the Republic of Kazakhstan whatsoever. I graduated from my high school in 1991, so attended the last school class of Soviet Union before it disintegrated. I saw this happening, and I said to myself, 'Well, we have independence. We have sovereignty, we will exercise our own foreign policy.'"
Ilyassov's arrival in the UK came during a year of huge global upheaval and uncertainty. It was a time where diplomacy was more important than ever. However, his arrival also came just a few weeks after the death of Her Majesty the Queen and that meant that he was one of the very first ambassadors to present their credentials to the new King Charles III. I was keen to hear more about his experience at Buckingham Palace.
Ilyassov's eyes light up. "It was exciting, because not every day do you present credentials in a beautiful setting with its royal protocol. I was proud to wear national costume at the ceremony. We were properly briefed on what to do – how many steps to take, when to bow, and so on. When the doors opened, I saw His Majesty for the first time and proceeded with the presentation of my credentials. He was actually the least protocol driven person in the whole setting, because the ceremony itself revolves around the King. He was there very confident, very welcoming and very well briefed. His Majesty asked about my family and settling in London. We spoke about global challenges to the environment and the future of green energy. The King vividly remembered his visit to Kazakhstan all the way back in the nineties. I briefed His Majesty about several joint projects between Kazakhstan and the UK, including one that successfully helped to save the endangered steppe Saiga antelopes."
Although King Charles is the head of state, he is typically briefed to be apolitical, but I wondered whether such topics were broached. "We generally touched upon politics," Ilyassov comments. "In a very royal way he said that in these turbulent times, we need more understanding, more diplomacy to solve the things that are going on around the world. And that was his message."
Ilyassov couldn't resist officially inviting the new King to visit Kazakhstan again. "I said, 'Your Majesty, the invitation is always open.' He chuckled and said, 'Well, we'll see how it goes.'"
We move on to explore how Ilyassov sees his new role. It's a nice bridge because he recalls how he put it to King Charles. "I told His Majesty that my mission here is also to make sure that people in UK remember that Kazakhstan is not just a former Soviet republic," he recalls. "We had history before the Soviet Union. We had our own history and a statehood 500 years before that."
Ilyassov's mission is more than just reflecting on past glories, however. "Kazakhstan is a country of great opportunities," he starts. "A country that is well on its track with political and economic development. We are the powerhouse of the region. Last year we celebrated the 30-year anniversary of our bilateral relations with the UK, which was one of the first countries to recognise Kazakhstan's independence. For 30 years we've been building very robust political, trade, economic and cultural relations. We have very intensive contacts at the top political level. We have 600 British companies and joint ventures operating in our country, so my mission here is to build upon that platform. I also want the UK business community to know that there is much more than oil and gas in Kazakhstan: for example – mining, agriculture, transport, logistics, and education. My task is to upgrade already fruitful relations to the level of a truly strategic partnership."
One of the topics of reform that is most live is that of political reform happening in Kazakhstan today with upcoming elections a key focus. Ilyassov is well briefed and clear. "The political reforms that President Tokayev started last year are very systematic and well structured. We are going step-by-step following the tragic events of January 2022, which triggered the need to reconsider and take appropriate measures both in internal politics and the economy. We had a national referendum on whether to amend our constitution. We had presidential elections and re-elected President Tokayev. There were six candidates running, with two women for the first time. Now the President has a full mandate for the next seven years. One of the amendments was that from now on any president can only be elected for one term of seven years. There is no second term, so no need to think about re-election and being populist. Then we had elections to the Senate recently, and now we are looking to the upcoming elections to the lower chamber, the Mäjilis, which will eventually complete the institutional transformations and redistribution of authorities and powers." It is clear that Ilyassov believes this eventually will lead to a more responsible and responsive government.
The Ambassador is also keen to put the record straight on how current events in the region are on the radar of the country's government. "We are very clear on the situation on Ukraine. We do not approve what's going on. And our President was very clear that Kazakhstan will not recognise Lugansk and Donetsk. We are not Russophobes, we just do not approve of the war in Ukraine. Kazakhstan is an independent, constructive and objective country when building relations with partners around the world, be they our neighbours, like Russia and China, or further afield like the UK."
I ask if current geopolitics make this a more urgent and new priority, but Mr Ilyassov immediately corrects me. "I don't see it as new and urgent because Kazakhstan from the very beginning of its independence has exercised multivectoral diplomacy. Since 1991 we were very open and clear that we want to build good relations with everyone around the world."
As the interview approaches its conclusion, I ask about his cultural mission in the UK and bringing Kazakhstan's culture to new audiences. I press him to try and name the one thing we should know about Kazakhstan and his answer is refreshing. "We have a lot of cultural roots, and some fundamental values that we will always keep, but we are not an outback country somewhere in Central Asia where people live in tents and ride camels. People in the UK should understand that we're very modern and have much more in common than we have differences. For example, I discovered a year ago, the whole new world of modern Kazakh Indie pop. We have many young singers; they all sing in Kazakh language and the tunes are very modern. This shows where we are after 30 years of independence. So, we will continue focusing on that and, hopefully with the help of the Eurasian Creative Guild, we can organize some great events to help the UK audience to discover some new music waves from Kazakhstan."
I agree wholeheartedly with this refreshing approach and leave the ambassador the last word. "I think we are really writing a new chapter," he says with optimism. "A lot has been done, but there is more to do. My counterpart in Astana, British Ambassador Katie Leach, is very proactive. We are working together very closely. I hope that the work we're doing will eventually sink into the local political and cultural circles so that by the time I'm done, people will stop calling Kazakhstan, just a former Soviet republic."
Nick Rowan
Editor-in-Chief at Open Central Asia Magazine