OCA #22 SUMMER 2016 WWW.OCAMAGAZINE.COM
Maide Akan is a young writer, illustrator and eco-designer of Astana, Kazakhstan. She is just 11 years old and composes, writes and illustrates stories about Aysu who is a brave Kazakh girl who not only loves nature and animals, but also leads a bitter struggle with the environmental problems of our time.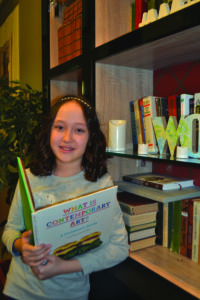 In anticipation of Expo 2017 in Astana, in the autumn of this year, the British publishing house "Hertfordshire Press" will publish the first book by Maide Akan under the name «Aysu and the Magic Bag». The book tells the amazing story of Aysu, a girl whose life is no different from ordinary children, until one day Aysu meets a magical bird. The bird is a fairy of nature, and tells Aysu about the many problems with environment, eventually asking for her help.
That is how the amazing adventures of Aysu begin as she seeks to protect nature and win the struggle for a clean environment. The book launch will be held as a part of the "V Open Eurasia and Central Asia Book Forum & Literature Festival".
In addition to attending school, like any other child, and her literary activity, Maide Akany is founder and designer of her own brand: eco-AYBAG. The company manufactures environmental bags for children and adults with a unique design from one of Maide's illustrations. The eco-brand was created under the slogan "Protecting environment is a task not only for adults, but also children".