Azat Akimbek is a distinguished expert in art and antiques and a well-known philanthropist in Kazakhstan. He is renowned for his unique collections of antiques from Central Asian, Caucasian and Russian heritage. Azat holds a special award 'The Honorary Arts Worker of the Republic of Kazakhstan'. In 2011, Akimbek was awarded the 'Barys' State Order in recognition of his outstanding contribution to promoting arts and cultures of Kazakhstan and Central Asia, together with his generous philanthropic contributions to art projects.
I met Azat Akimbek last summer in his Salon 'Antiques' situated in a bustling area of Almaty. Immaculately-dressed and courteous, he offered us tea in a beautiful Uyghur teapot. The two-hour conversation had flown in one moment. I felt blissfully lucky to hear a fascinating story of Azat-aka: a tragedy of being brutally de-rooted from his motherland in Xingjian (East Turkestan), finding a new life in Kazakhstan and reconnecting with his past and identity through his insatiable passion for art and history.
Akimbek was born in Kuldja of East-Turkestan Republic in West China. His origins can be traced back to the tragic history of the Uyghur dynasty of Khakim-Beks established in 1762 by his great grandfather, Khalzat-khan. Earl Akimbek is the only remaining successor of this ancient aristocratic dynasty. His grandfather, Earl Djakhangir Khakimbek-Khodja (1871-1957), was a hereditary ruler and a vice-president of the East Turkestan Republic in 1944-1951. Following the establishment of the Mao Zedong's regime, thousands of families had to abandon their homes and flee for their lives. Both his grandfather and father were repressed by the Mao regime in the 1950s. In 1955, in a tender age, Azat had to flee to Kyrgyzstan with his mother and close family. Later, the family settled in Almaty. In spite of turbulent events and a dangerous journey, Akimbek's grandmother managed to keep the family's ancient Uyghur carpets, jewellery and other valuable familial keepsakes.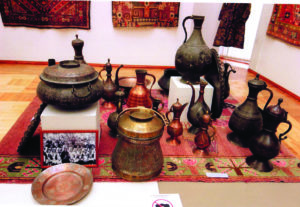 Azat's admiration for the beauty of his grandmother's gift – the ancient Uyghur jug – gave him an incentive to start collecting Uyghur artefacts. That is how he found the passion of his life – collecting arts and antiques. He used to travel to the most remote corners of the former Soviet Union to collect precious pieces. Some items were abandoned in sheds in dust until they caught the eye of this expert who could appreciate their value. Opening borders with the SUAR in the 1990s released new opportunities for Akimbek whose links with Xinjiang traders helped to give new life to ancient artefacts from East Turkestan.
To prove his unique ability to recognise the originality of antiques by his eye, Azat successfully passed a tough exam at the world-famous auction house in Paris, Libert & Gastor, and received the title of its Honorary Member in 2000. Since 2010, Akimbek has been collaborating with the Christie's Auction House in London. In Europe he is known as a reputable expert on Central Asian art and antiques.
In the course of 46 years, Azat Akimbek has collected seven collections, including unique pieces of art of Kazakh, Turkmen, Tajik, Uyghur, Uzbek, Caucasian, Russian and Chinese origins (related to a very wide span of time). His most famous collections include 200 Oriental manuscripts of XII- XIX centuries, ethnographic costumes and rare jewellery from Central Asia and Caucasus (XVI – XX centuries), and his collection of vintage armoury that mentioned in the 2010 Kazakhstan Guinness Book of Records. In 1977 – 2016, Azat's various collections were presented in 70 exhibitions in the CIS as well as in Turkey, Japan, France and Hungary.
Azat is very proud of his Uyghur collection. In 1977, the Kazakhstan State Museum of Arts named after A. Kasteyev hosted his first exhibition demonstrating the beauty and sophistication of the ancient Uyghur workmanship. In 2016, the Kasteyev Museum hosted exhibition displaying over 1000 exhibits – the most complete and versatile private collection of Uyghur Applied and Decorative Art in the world. The show was a detailed depiction of a daily routine of an ancient Uyghur peasant displaying his tools, clothing, shoes, house and kitchenware, ornaments, outfits for special occasions and jewellery.
This collection is an outstanding presentation of the Uyghurs' craftsmanship in East Turkestan, the bustling trade hub in the old net of the Silk Road routes (particularly, Kashgar, Kuldja, Yarkend, Khotan and Turfan). The region was the object of fascination for European explorers and scholars including Marco Polo. Both Russian and British Empires were competing for power and influence over Central Asia. A number of expeditions led by British, Russian and German explorers was sent to East Turkestan at the end of XIX- beginning of XX century. First information about Kashgar appeared in British publications in 1860-1870, leading to naming one of the streets in East London Kashgar Road.
The First Russian expedition to East Turkestan was led by Sergey Oldenburg in 1909-1910. His materials are held in Hermitage (St Petersburg). Later, a number of Russian diplomats and collectors contributed to this collection. British adventurer and expert on Central Asia, Sir Aurel Stein (1862-1943) carried out four expeditions to West China and Central Asia in the period of 1900 – 1931. Some artefacts brought from his expeditions are held in India and Pakistan. The majority of the Steins' material is now shared between the British Library, British Museum, and the V&A Museum. Many artefacts, however, are kept in offsite location due to space shortage.
Earl Azat is keen to follow the footsteps of famous art collectors who donated precious collections to their nations – Sir Hans Sloane (his private collection became the founding collection of British Museum in London), the merchant Pavel Tretyakov (the founder of the Russian Art Gallery in Moscow), and The Rothschild Family (that donated their Waddesdon Bequest collection to British Museum). Azat Akimbek cherishes a hope of bequeathing his priceless private collection to the nation of Kazakhstan and establishing a unique Uyghur Museum. Undoubtedly, it would greatly contribute to the preservation of a unique material culture of the Uyghurs and further studies of diverse cultural heritage of the Silk Road.
WWW.OCAMAGAZINE.COM OCA#27 DECEMBER 2017 By Rosa Vercoe
Acknowledgments
I would like to express my gratitude to Klara Isabayeva, the Head of External Relations of the Kazakhstan State Museum of Arts named after A. Kasteyev and curator of Akimbek's exhibitions, for providing valuable information, advice and photographs of art works.