The name, Rauza Yeraliyeva, has finally become a true discovery for the fine arts circles of Kazakhstan! It is surprising, perhaps, that the formation of her creative biography began only after an eighty-year threshold. All this time after receiving art education in her distant youth, she did not sit back, wholly devoting herself to her beloved work – painting.
By her own admission, Yeraliyeva painted for herself, believing this to be an inner task for her close associates and family. Meanwhile, the stacks of her works were accumulating, developing into ever greater artistic quality. Thanks to the efforts of the artist's daughter, after consulting with experts, it was decided to organise the first solo exhibition of Rauza Yeraliyeva at the country's leading art venue, the A. Kasteyev State Museum of Arts in Almaty. The exhibition, without exaggeration, created a real sensation: On the opening day, people did not leave for a very long time, returning again and again to the review of the works, and spending a long time discussing the most liked ones.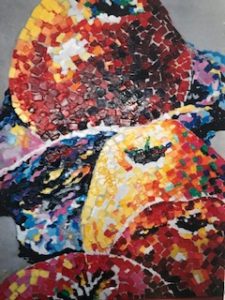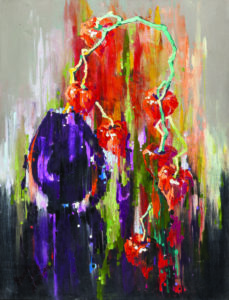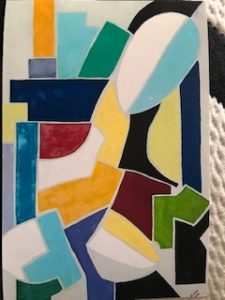 The exhibition occupied a fairly large area, which is rare even for already well-known artists. There were many offers to buy the works, which has also not been typical of late in such exhibitions as the art market has remained stagnant for some time. So, what is the secret of such excitement being generated around the paintings of this hitherto little-known artist? Perhaps the first and most important of them should be attributed to the ability to choose and utilize the space freely. Yeraliyeva has never been bothered by the throes of art known to many artists. She painted easily, completely without straining to search for topics, technology and style. Everything came from the inside and freely. The reason for painting could be anything that was "at hand": a beloved family, a landscape outside the window, a luxurious service or everyday dishes of fruit and vegetables appealing in their appetizing forms. Sometimes her fantasy carried her away to eastern legends, Kazakh traditions or secular stories.
One of the paradoxes of her work is democracy in a completely non-political sense. As a rule, for the works of each artist there is a certain category of connoisseurs. The works of Yeraliyeva are admired by people outside of social status, level of education, professionals or amateurs and most importantly beyond any age limit. Young fans are attracted by their freshness and modernity and the creativity of the artist's vision. The older generation, by subtle lyricism and romance of perception. Professionals by a variety and originality of artistic techniques and innovation of style. Yeraliyeva may have spent most of her life in the rigid ideological framework of the Soviet era. But it did not affect her.
Unlike most of her fellow tradesmen, she never painted for the social order, obeying only the needs of her soul. In her work there are no politicized motives, which is often what many of her contemporaries used. Yeraliyeva's oeuvre is truly cosmopolitan. She manages to avoid another extreme, which has become especially active lately: manifestations of nationalism in a radical form, when the values of one culture are exalted over others. She is completely abstracted from concepts of this kind. In her works there is a genuinely harmonious combination of modern art trends with the certainty of the origins of the Kazakh and Eastern heritage. At the same time, her work cannot be entered into the historical or ethnographic framework, which could become an obstacle for the author's full self-expression. Yeraliyeva's paintings are a wonderful symbiosis of the achievements of Western and Eastern civilizations. Her favorite portraits are the images of her three daughters and they do not bore the audience with their repetition, as in each new work the artist's fresh, innovative interpretations are quite obvious. They are distinguished by the stylization of the image, more decorative than visual approach; facial features are barely marked and fairly conditional, and at the same time a portrait resemblance is always achieved.
Made on a tree in an unusual vertical stretched vertical format – there is a rather decorative approach than using the usual easel painting. Numerous images of fairy trees are executed in the same style: a whimsical unique outline of a field and garden flowers; a magnificent still life of the author's favorite, apples and peppers. The artist sculpts the form in a very peculiar way, which creates a luxurious mosaic effect, using stained glass, a precious inlay in her paintings. They unwittingly reveal a female hand, able to admire and reveal the natural beauty of everyday objects. "Amber Crystal", "Bohemian Glass", "Teapots" are aesthetically expressive on their own, and the iridescent polyphony of colour and the temperamental play of colorful strokes give a certain fleur of fabulousness and aristocratic nature to the objects painted.
A different impression is left by Yeraliyeva's works depicting folk festivals, where through the list of dishes, serving, intriguing ethnic identity is seen. Almaty is the city of apples and it is quite logical that it is not possible to pass by this topic without comment. The simplicity of the plot does not make the paintings by the artist in any way ordinary. A riot of colors in the transfer of ripe fruit, striking in size (this is a uniqueness of local varieties), the sun's glare on their liquid sides literally brings a salivating appetite to the audience. The artist is inventive in choosing a format – this is a kind of diptych of two components in an already elongated horizontal configuration.
Although she did not purposefully do so, almost all her paintings fit perfectly into the modern interior. Her artistic genre of "Nude" takes a special place in her work. The very approach to this topic of an oriental woman is evidence of the artist's courage and even charisma. At the same time, she is not shy to be even somewhat sentimental, accompanying her paintings with lyrical opuses. It is surprising how many unexpected angles the artist finds in the interpretation of nude female nature. They are all completely different. In some there is a certain lack of clarity through the fragmentation of the solution, a barely outlined silhouette of the body, and the fragmentary strokes of the painting. This is the eternal secret of women. In others, we admire the storming energy that breaks through the picturesque layers of colors, and subtle sexuality, without which it is so difficult to take place in this world. Tenderness and touching, subtlety of perception, inherent only to a woman is manifested through a restrained, almost monochrome color gamut. Overall, the artist boldly appeals with a bright, almost defiant, pictorial flavor that she tames in order not to leave the rails of the laws of artistic harmony.
Living a long creative life, Yeraliyeva was not satisfied with what she had already been achieved. Her art is therefore attractive because at every stage of her journey she changes. An amazing paradox: she is always recognisable and at the same time something new is constantly being discovered that is radically different from the previous works. Her perception of the world is alien to all sorts of stagnation and conservatism. She is an addicting person and because of this, her recent experiments in the field of abstractionism and symbolism are quite in the spirit of modernity, with which she always keeps pace. And most importantly: her art is always relevant, because it is always and in all positive!
by Mariya Zhumagulova, Fine Art Expert