"Viking Extraordinaire", Sölvi Fannar, doesn't believe in following just one career path, in fact he has actively pursued several. He has acted in films, played music professionally, modelled, been a sports athlete, dabbled in poetry, and even spent time as a health professional. Recently, he is better known for his work in films, especially working as the agent for actor and strongman Thor / Hafþór Júlíus Björnson (The Mountain, from Game of Thrones).
Fannar's talents stem from his upbringing in Iceland, where his parents, themselves talented, nurtured a multi-faceted childhood. Singing in a prestigious Icelandic children's choir at the age of 12, he got his first taste of acting in a feature film. After that there was no turning back, later studying at the Icelandic Film School. A big supporter of ECG events, his presence always visible, OCA decided to catch up with the big man himself.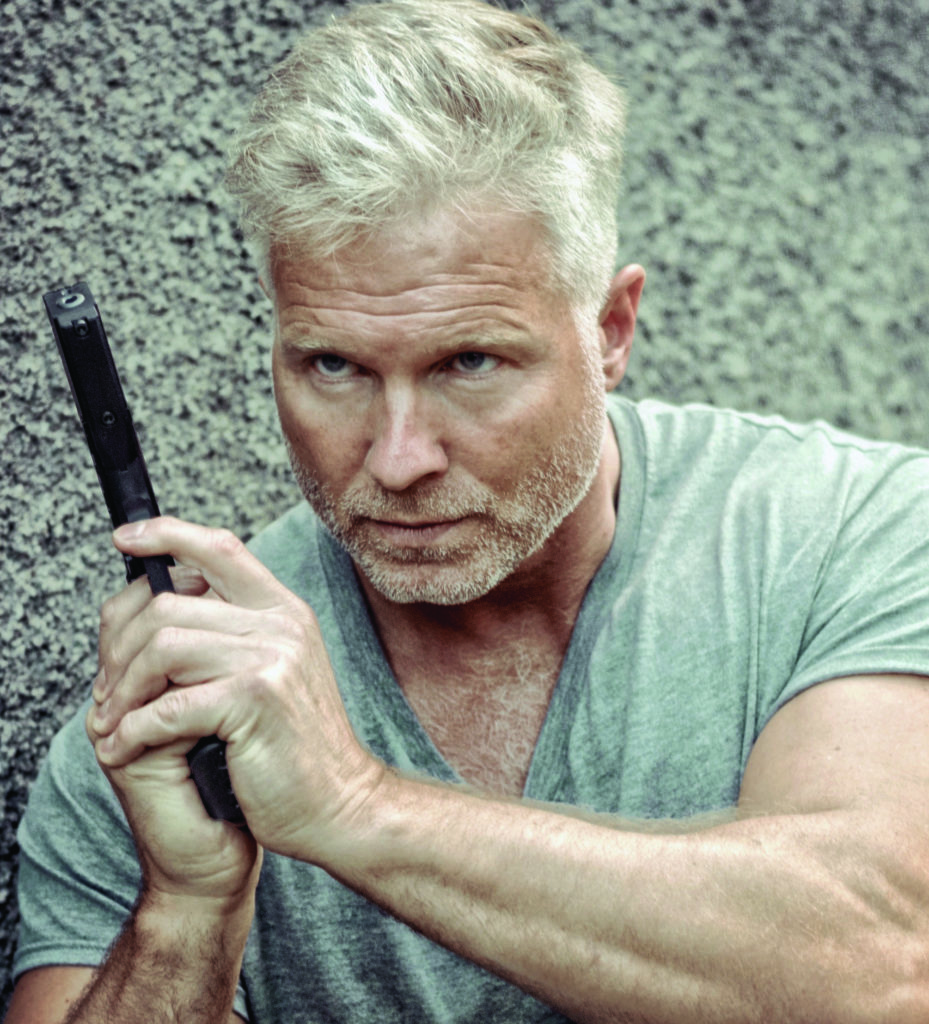 OCA: You've been described as the "poet, trapped in a caveman's body". How did that come about?
Sölvi Fannar: I've been called many things actually. "Renaissance Man", "Iceland's Bruce Lee" and more, but "the poet, trapped in a caveman's body" is actually a poetry book that I'm writing. It contains very personal poems that in essence map a big part of my life, mirroring what I was going through and experiencing at the time and putting into words the state of mind I was in then – as well reflecting with hindsight. But in the way that we so often persuade ourselves to believe that we are alone in what we are going through, the opposite is actually closer to the truth as we collectively share experiences, even though each one of us does so in their own way as becomes evident when we discover how others express themselves, be it through art, photography, writing or otherwise.
OCA: Talking about bodies of cavemen, you've done sports for a long time and have even competed in World Championships. That is quite an unusual activity for poet, surely?
SF: I've been training since I was nine years old, beginning in karate and judo but then also competing successfully in breakdance, Tae Kwon Do, bodybuilding, strongman, gymnastics, discus and shot put. Internationally I also competed in the Scottish Highland Games and MAS wrestling. There have been many memorable moments. To name a few, I became a champion bodybuilder after only three months of training and achieved second in the stone throw by less than an inch behind the world champion in the Scottish Highland Games. Of course competing in breakdance is great fun although what they are doing in breakdance now is simply unbelievable.
As a board member of the Eurasian Creative Guild, I've not only gotten to travel to places I would never have otherwise seen, where I've held seminars on topics such as filmmaking while managing to intertwine that with competing in an ancient sport called MAS wrestling, first at the World Championship in Yakutia, and later in Kyrgyzstan. As it happens the Vikings also did a very similar sport a thousand or more years ago and called it 'Keflisglíma', so it was an incredible opportunity for me despite little time for preparations.
I ended up doing a lot of other things in Yakutia, for example a photo sessions for the 'First Yakutian'. There is a beautiful legend that the first Yakut was a child born to a Viking warrior, who sailed up the Lena river, and a local woman of Turkic origin. I was also invited to be a judge in Miss Yakutia. And of course the MAS wrestling World Championships in Kyrgyzstan during the World Nomad Games was a once in a lifetime experience. Being a competitor as well as a guest of honour allowed for fantastic networking opportunities and seeing the region.
OCA: You have been working as a professional actor as well as a producer in the Eurasian area for some time but we have heard you're starting to work in the US as well. What should we expect to see you involved with in that space?
SF: It's actually very exciting. I'm involved in the development of an American project called The Dimension that intertwines the ancient world of Vikings & Norse mythology with futuristic SciFi action. Both being an associate producer and having a great part is invigorating. I'll be working alongside Hafthor Julius Bjornson (The Mountain in Game of Thrones), producer Skip Williamson (The Underworld Franchise, Crank 1 & 2, and Gamer) and the fantastic team at DreamState Entertainment to create a multi-media franchise, which will include future films, podcasts, and a graphic novel series.
OCA: On top of your passion for acting, you also do many other things, including being a health professional, how is that compatible with what must be an already very busy schedule?
SF: Even though I got involved with acting and performing early on and had parts in several films throughout my life, my main focus was on sports and fitness and health counselling. It started out with me helping my dad get into great shape in 1988 and soon after that a lot of people asked me to counsel them for health. Later I studied to become a trainer as well as a functional medicine practitioner. I started my own firm, wrote books on health related matters, did lectures and seminars, had my own spot on national TV and wrote a column in a major newspaper. It was actually not until a few years ago that my youngest daughter pushed me to audition for a place that became available studying to be an actor at the Icelandic Film School. I applied and got in. It was during these studies that I was invited to work on Game of Thrones. It was a great opportunity to get to work on one of the most amazing TV shows ever created and of course I learned a lot as well. You cannot but learn when you get to work with such a dedicated group of seasoned professionals.
Since then I've done several feature films where I've had good parts. One of the more memorable one is called Operation Ragnarök, where I am also an executive producer, and the distributor is in Iceland as well as China. My character is Egill Sturlaugsson who is the Team Leader of the Icelandic Viking Squad along with five other characters of the Squad who also happen to be in my novel called Quis Custodiet Ipsos Custodes (Who Guards the Guardians) that will, if everything works out, come out at the same time as the film which is coming out in the next few months.
Another one is Three Dots and a Dash where I play a 'brutal' Russian mafia boss which was great fun since it's a comedy and the director wanted me to go all out, that one should be coming out later this year but judging from what I've seen from it, it's going to be hilarious. There are several films I'll be working in later this year and in 2020 – and in two of them both as an actor as well as an executive producer. I also compose and produce music and am currently working on a soundtrack for my upcoming sitcom, Knightime. In the Viking spirit, I'm always looking for new challenges.
OCA: Recently you were interviewed by the BBC attending the Eurasian Creative Guild Film Festival in London. What were your impressions?
SF: Indeed, the interview was regarding the Eurasian Creative Guild Film Festival in London which was held very successfully right alongside the Romford Film Festival. In the interview I discussed the great efforts of a film called Kaddish that won the Grand Prix. I was lucky enough to get to hand the award to the producer, writer and director, Costa Fam (Konstantin Fam), since I had the honour of being a member of the jury.
Sölvi Fannar can be found on his Youtube channel:
youtube.com/solvifannar;
and on his website: solvifannar.com.