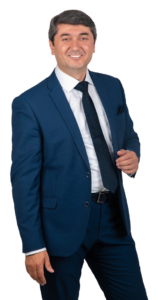 SAIDMUROD DAVLATOV
Business mentor, owner and co-owner of 23 types of businesses, Davlatov has individually trained 292 entrepreneurs and coached 30 US dollar millionaires over the course of five years.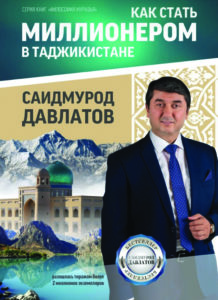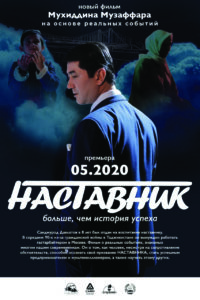 The premier of the movie, The Mentor is set to be held in Moscow in 2020. The plot is quite simple and is based on real-life events. It's not just another success story; it's a story about a boy who was sent to a mentor for instruction at the age of eight. In the mid-1990s, the civil war in Tajikistan forced him to become a migrant worker in Moscow. The events of the movie will be familiar to many our contemporaries from the CIS, especially those from Central Asia. It is the story of a man who, despite many obstacles, managed to fulfil his potential, to become a successful businessman and multimillionaire and then go on to teach others.
If 20 years ago I had been told there would be a film about me and what one can do with what I know today, I would never have believed it; but the simple truth is that the film really is about me.
I want to challenge the widespread belief that there are no opportunities for Western companies to do business in Central Asia. I will tell you about the peculiarities of doing business here using both examples of my own experiences and those of my students, 30 of whom have become US dollar millionaires over the course of just five years.
I believe that the path to progressive global change begins with the right system of education, one, for example, like the British system.
I see that the UK and countries in Central Asia have recently developed strong ties. For about a decade now, the Union Jack has appeared at the entrance of numerous educational centres in almost every city across the region. This means that the values of the British system of education resonate with local people.
Young people are interested in the British system of education and would like to understand the nuances of British culture. Because of its system of education, the UK has become a part of everyday life in Central Asia. English is already widely taught using British teaching methodologies. It is quite natural that over time students will want to continue their studies in the UK.
In this sphere, I see what is also lacking in many other areas, such as doing business and in production: a true partnership. Of course, there have been certain breakthroughs, but not as significantly as in the sphere of education.
I would advise business professionals from the UK and from other countries not to waste the opportunities that cooperation with the nations of Central Asia offers today. It is a very promising and rich region with large reserves of numerous raw materials. Unfortunately, the region produces very few finished products and in most cases the production process stops at the stage of working with raw materials; the ratio is 10% to 90%. At the same time, though, the prime cost of raw materials is low, there is little intensity to the competition and labour is relatively inexpensive.
There are free trade niches in almost every country, be it Kazakhstan, Kyrgyzstan, Uzbekistan, or Tajikistan. These economic zones have been established to make doing business easier, providing benefits and exemption from some taxes. It is highly profitable, therefore, to do business in these zones. Many agricultural enterprises manufacture natural products and can guarantee supplies in large volumes. High-quality food is needed by everyone everywhere, whilst textile production is also very promising.
If all of the advantages named above, plus low prices and the mentality and work ethic of local people are augmented with Western technologies, it will be possible to achieve a truly revolutionary breakthrough. With this in mind, I would recommend that all business professionals launch production facilities in Central Asia. Here you will find benefits, raw materials, a willing workforce and exceptionally favourable conditions. Later, the finished goods can be sold all over the world.
The financial tools available to local companies are inefficient as they do not yet employ the technologies and principles of modern European management. Many European banks have negative interest rates on loans and pay dividends to borrowers, but local banks only issue loans at high interest rates.
I think that the next 20 years will be hugely profitable for British businesses which choose to invest in Central Asia. Managers of British companies think quickly, efficiently, and on a grand scale. Thus, they have an undeniable competitive advantage.
Running a business in Central Asia today is akin to going back to the 1990s, but with state-of- art technologies at hand. What I managed to achieve in the course of 20 years, today I could have done in two. I have described this in detail in my two books: How to Become a Millionaire in Tajikistan and How to Become a Millionaire in the CIS States.
In my opinion, Central Asia is the best place in the world to do business today. I say this as a person who has been teaching and advising local entrepreneurs for over 20 years. I know the difficulties and struggles they encounter well. I instruct my students on how to set up business processes. They have already made significant progress, with one of them running a business with a turnover of 30 million US dollars.
I advise and help my students choose the right direction, and this is where I benefit from having long-standing relationships with a huge number of businessmen across the region. I have scrutinised all the pros and cons of various production areas and can help business professionals from the UK. I am extremely well-acquainted with the local opportunities and can help to establish strong, mutually beneficial ties in any city or state in the region.
Don't hesitate; come to Tajikistan, Kyrgyzstan, Kazakhstan and Uzbekistan and see for yourself. In Central Asia today, people have first-hand knowledge about corporate management, and local businesses understand and accept the principles of transparent entrepreneurship; principles which are beneficial to everyone.
I will be glad to offer my advice.
Please feel free to email my agent, Karina Galoyan:
karina.galoyan@davlatov.tj