My trip to Tajikistan in the summer of 2019 was one of my most memorable adventures ever. I've been travelling full-time for the past 9 years and seen some stunning destinations, but not many countries have touched me like this little Central Asian country did.
What exactly makes Tajikistan so special?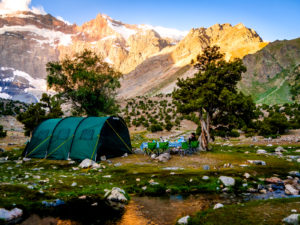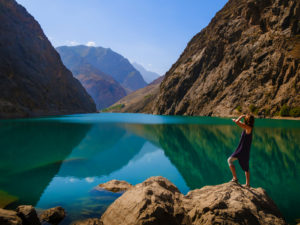 93% of the country is covered in mountains, making it a perfect destination for outdoor lovers. It's home to the Pamir Highway, one of the world's wildest and highest roads, and the beautiful Fann Mountains. Almost every day my breath was taken away by the extremely scenic landscapes, lush river valleys and azure-coloured alpine lakes.
Tajikistan is one of the few countries in the world where tourism hasn't left its traces yet. I love seeking genuine experiences in non-touristy places and that's exactly what you can still find in this off-the-beaten-path destination.
Part of me wants to keep this destination hidden from the outside world. It might be a bit selfish but I love the fact that, when I was travelling through the country, I barely met other tourists. It made me feel like a real explorer.
Even taking public transportation was an adventure on its own. While there's definitely room for improvement concerning the tourist infrastructure in the country, I love that it's still challenging as a traveller to get from one place to the other. This sets Tajikistan apart from popular destinations and makes the country so authentic.
Tajikistan is also one of the best trekking destinations people haven't heard of. If you'd normally go on a multi-day treks in destinations like Nepal and Peru, you would typically have to share the hiking trails with many other hiking enthusiasts. While hiking through the mountains of Tajikistan, however, you'll often get the feeling you're alone in your own little patch of paradise.
I especially enjoyed my hiking trip to the Kulikalon lakes and the Allaudin lakes in the Fann mountains. The 3-day trek itself wasn't too challenging as I'm quite used to trekking in mountains but it took me ages to hike across the mountain passes as I constantly wanted to stop to photograph and take in the fantastic scenery.
Words fail to describe the beauty of this region. The sense of awe I felt in the presence of such dramatic landscapes was overwhelming. Rugged mountain peaks stretching up to touch the sky. Juniper forests surrounding turquoise and aquamarine lakes that shimmer like jewels against a dusty backdrop. As far and wide as I could look, I was surrounded by this majestic beauty and I just couldn't get enough of it. This region is truly a little heaven on earth!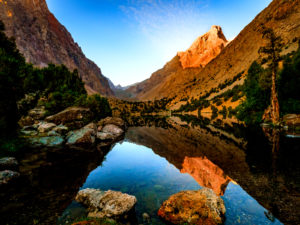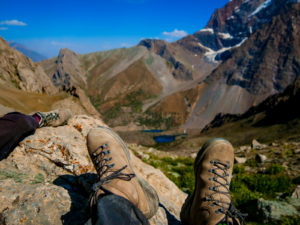 Another thing I absolutely loved about Tajikistan is its people. The Tajiks are genuinely happy to meet foreigners and will welcome you like an old friend. Never before have I been greeted by so many waving hands and big smiles. Whenever you get invited to a family's home, tea and biscuits are waiting for you and your hosts will do their utmost best to offer you something delicious. The Tajiks go to great lengths to make sure you're well taken care of. They turned hospitality into an art!
So while I hope that Tajikistan will forever be as unspoiled, untouched and unique as it's now, I also don't want to deny its beauty to others. Every traveller who decides to visit this little corner of the world will be greatly rewarded!
About author
Cynthia (35) is a Belgian travel photographer, Panasonic Lumix Ambassador and travel blogger. She writes for the outdoor and adventure travel blog Journal of Nomads together with her Canadian travel partner, Niko.
Instead of rushing through places and ticking off countries on a list, they prefer to spend some quality time in the places they visit. They travel very slowly so they immerse themselves in the local culture while learning more about the traditions and daily lives of the people they meet.
Follow them on Facebook: https://www.facebook.com/journalofnomadsaworldodyssey
Instagram: @journalofnomads
YouTube: Journal of Nomads