Michael Gifford joined the Foreign and Commonwealth Office in 1981, with his first ambassador role coming in 2004 when he served as the British Ambassador to Yemen. He then moved to be the Deputy Head of Mission in Cairo before becoming the Ambassador to North Korea in October 2012.  Following intensive Russian language training he was appointed as British Ambassador to Kazakhstan in 2018 where he continues today. OCA Magazine had the opportunity to get a further insight into Gifford's career and plans during his tenure in Kazakhstan.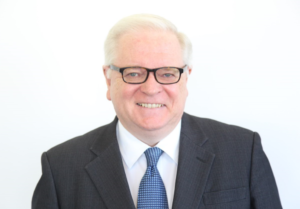 OCA: Please tell us a bit about your background and why you decided to join the Foreign Office in 1981?
Michael Gifford: I grew up in Hastings in East Sussex. I didn't have a burning ambition to become a diplomat; there isn't any tradition of it in my family.  But after completing my education I looked at jobs in the private sector and the Civil Service was also an obvious place to apply as well. The Diplomatic Service was a separate competition and entry procedure and I was lucky enough to be accepted. Looking back, it was one of the best decisions I made – and I hope the Foreign and Commonwealth Office feels the same!
OCA: You have been posted to what many people might call tough places. What skills do you think help to bring out the best in an Ambassador's role?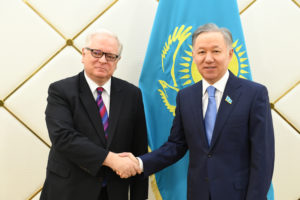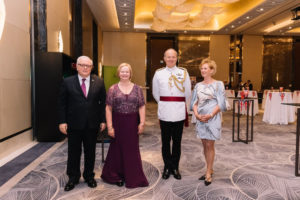 MG: British diplomats work worldwide, because Britain has a global foreign policy.  I have been lucky enough to work in some important and interesting countries, including Egypt, Yemen, North Korea and now Kazakhstan, where I took up my present position in January 2018.  I would not characterise any of my previous jobs as 'tough' because that is an oversimplification of often complex problems.  Levels of security and prosperity differ widely from country to country and each posting brings its own challenges.  Diplomats need many skills, including resilience, a thorough understanding of a country's history, language and culture, a clear view of the UK's interests in their patch, and the energy to get out there and promote and defend those interests.
OCA: What have you learned from your previous postings that you have taken   into your current posting in Kazakhstan?
MG: Standing up for our values has been a constant theme, whether that is respect for the international rule of law, promoting democracy and human rights, or the vital importance of global free trade.  In June, Kazakhstan will host the next WTO ministerial meeting, which will be a great opportunity for the UK and our international partners to defend and promote the rules governing global trade, on which our shared prosperity depends.  Climate change is another very important topic. Five years on from Paris, COP26 in Glasgow in November is the next big moment for raising global climate ambition and action. We want to work closely with Kazakhstan and others to make real progress on this vital issue in 2020 and beyond.
OCA: Given the government's desire to build trade with new trading partners, what are your priorities for helping the UK in doing more business with Kazakhstan?
MG: In my two years in this job, it's clear to me that British firms are already well established in Kazakhstan in oil and gas, mining and financial and professional services.  Our two-way trade is a very healthy £2.5 billion a year.  We want to take that further, including in sectors such as renewables and waste management, water infrastructure, healthcare and agriculture.  British companies offer world class expertise and cutting-edge technologies and services which Kazakhstan needs as it economy develops.  There are many new opportunities opening up, including with the Astana International Financial Centre.  The City of London is a global centre of experience and excellence in many specialised areas such as Fintech and Islamic finance.  And privatisation of significant state-owned Kazakh government assets present key opportunities for the London Stock Exchange.
OCA: Culturally Kazakhstan and the UK are very different. What can each culture learn from the traditions and ways of life of the other?
MG: It's fair to say, I think, that the UK is better known in Kazakhstan than the other way round – although that is changing fast as Kazakhstan establishes and promotes its distinct and vibrant national culture.   Many thousands of Kazakh students choose to study in Britain at all levels, and I've been struck by the fact that the UK issues more student visas for Kazakhstan each year than we do for Brazil or Australia. Each personal connection or visit – for business or pleasure – creates new understanding and trust, whether that is expressed through educational links, art, music, or simply new friendships.
 OCA: How do you see the form of government in Kazakhstan developing and what could be learned from the UK's democracy?  Should Kazakhstan be a leader of the world, or just the region or just a follower, and what are the benefits and risks you see in such a choice?
MG: A set of big questions!  Kazakhstan is the leading regional state in Central Asia; it is finding its own role in the world and is developing fast.  A sovereign, prosperous and independent Kazakhstan, acting as a force for good in the world, is very much in the UK's interests.  We share Kazakhstan's ambitions to promote international peace and stability, for example through UN mechanisms such as peacekeeping operations.   In terms of Kazakhstan's domestic development, we strongly support President Tokayev's new programme of political and social reform: without continued positive change on issues such as judicial reform, corruption and media freedom, further economic progress will remain elusive.
OCA: What is your favourite thing to do while living in Kazakhstan?
Talking to young Kazakhs always inspires me. They have such a pride in their country and a high level of ambition for the future, which are both great to see. I also enjoy visiting various regions of the country to see at first hand the enormous diversity of landscape and culture which exists outside Nur-Sultan.
OCA#34  WWW.OCAMAGAZINE.COM Interview prepared by Saniya Seilkhanova