www.ocamagazine.com #35 summer 2020 text and photos by Pavel Podzorov pavelspne@tut.by
The modern world is complex and diverse, it is full of opposing trends. Never before our earth has been subjected to such political and physical overloads. Never before has man taken from nature so many resources and never been so vulnerable to the power that he himself created.
Taking into account the events happening in the world at this moment, the most important role in uniting all people, regardless of nationality, colour and country of residence is culture and art. A common culture is the main thing that s able to bring people together in spite of all the ideological and social inequalities. We are united by art, which is eternal. We feel connected by the beauty of the music, classic movies and great books.
Art was created by people back in the Middle Paleolithic era. Even then, people painted. Over time, it began to be appreciated – that was the way art was born. Art is also associated with games, rituals, ceremonies, and martial arts. Artworks create a person who can enjoy beauty. Due to its diversity, art combines itself in all forms of social activity and knowledge through which a person can express his/her attitude to reality.
American actor and musician, Hollywood star – Stephen Seagal has been known in Russia since the days of the USSR. A whole generation has grown in films with his participation. This is the reason why many young people in Russia (and other countries) became interested in martial arts. Martial arts are part of self-defence systems; it was developed mainly to conduct hand-to-hand combat. Currently it is practiced in many countries around the world in the form of sports exercises that aim at physical and spiritual improvement.
Steven Seagal was born on April 10, 1952 in Lansing, the capital of Michigan (USA), in the family of a mathematics teacher. According to some reports, his parents came to America from Russia, or rather, modern Belarus (Bobruisk at that time was on the territory of the Russian Empire). At the age of seven he began to practice karate, at the age of 15 – aikido, when he was 17 he moved to Japan to study with the masters of martial art. In 1975, he became the first American to open his own aikido school in this country (he developed his own style of hard aikido). In 1977 he was recognised as one of the best masters in Japan, in 1982 he became a master of oriental martial arts (aikijin).
In 1984, Seagal came back to the United States. In 1988, at the age of 36, he starred in the Hollywood action movie "Above the Law" as a policeman who knows aikido art. In subsequent movies, Seagal was working not only as an actor, but also as a co-author of the scripts and co-producer and director of battle scenes. By 2018, he had played about 50 roles in which he demonstrated martial arts skills.
Steven Seagal is also a musician. Together with the band Thunderbox, he released two albums – Mojo Priest (2005) and Songs From The Crystal Cave (2006). In total, he has performed about 130 reggae songs.
In the early 2010s, Seagal worked as a deputy sheriff in Texas, New Mexico and Louisiana. He is actively involved in charitable activities around the world: he supports environmental programs, organizations to fight HIV / AIDS and animal welfare, participates in projects aimed at helping starving and sick children, provides assistance to Tibetan monasteries, and donates to religious organisations.
Stephen Seagal has been to Russia several times and in recent years has strengthened his ties to the country. So, in May 2013, he visited Chechnya where he met with the head of the republic, Ramzan Kadyrov. In June of that year, he also visited the city of Beslan (North Ossetia), where he laid flowers on the graves of those killed during the 2004 terrorist attack. He has been seen in Red Square at the May 9th parade celebrating 70 years. And in 2016 Russian President, Vladimir Putin, gave him a Russian passport.
In April, Stephen Seagal was appointed special representative of the Russian Foreign Ministry for Russian-American humanitarian relations. Seagal commented on his appointment, "I have always tried to do my best to help Russian-American relations become better. I have been working tirelessly on this for many years informally, and now I am sincerely grateful for the opportunity to do this officially."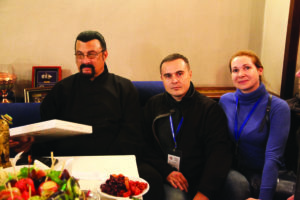 In 2018, under the leadership of Seagal, the First International Aikido Festival was held in Moscow. The festival was organized by the Aikido Federation of Russia. The event was attended by more than 100 masters from 17 countries: Russia, Kazakhstan, the DPR, Belarus, USA, Azerbaijan, Belgium, the Czech Republic, Finland, France, Iran, Italy, Israel, Japan, Mexico, Norway and Poland. Within the framework of the Festival, a scientific and practical conference was held dedicated to martial arts bringing people together, in the name of peace and security.
At the opening ceremony the First Deputy Head of the Presidential Administration of Russia Sergey Kiriyenko gave his speech. Representatives of the Ministry of Sports, Roscosmos Corporation, honoured athletes also made welcoming speeches to the organisers and participants.
Participants, including this author, were able to ask Seagal questions directly. Most interesting was his response to the question: "What is the meaning of life?" For him, every day you need to become better than you were yesterday to develop and improve yourself. The practice of martial arts is a great way to do this.
This small example shows that martial arts, as well as art and culture in general, have no borders and nationalities.