INTERVIEW: AMBASSADOR WILLIAM MOSER
William H. Moser was nominated by President Trump as the United States Ambassador to Kazakhstan in 2018 and sworn in in 2019. He has been a diplomat since 1984 and has experience of Kazakhstan from his previous posting in 1996 when he served in the then-Embassy in Almaty as a management officer and then as energy attaché. OCA caught up with Ambassador Moser shortly after the US inauguration of Joe Biden.
OCA Magazine: You have significant experience working with Eurasian countries. What were your first impressions of Kazakhstan and its culture when you first arrived?

William Moser: During my three years in Kazakhstan in the 1990s, my family and I fell in love with Kazakhstan, both its people and its culture. In fact, I frequently joke that I really learned Russian from Almaty taxi drivers during those years! However, my first impressions of a new Kazakhstan in then-capital Almaty are very different from my impression upon arriving in 2019 as U.S. Ambassador in Astana, now Nur-Sultan. I think Kazakhstanis can be proud about how their country has developed since independence.

More importantly is what hasn't changed: my admiration for the strength and richness of Kazakhstani culture, their world-famous hospitality and their openness to visitors. I have always felt welcome in Kazakhstan.

We're celebrating 30 years of diplomatic relations between the United States and Kazakhstan this year in a series of events we are calling "30 Years Together." We have much to commemorate: our co-operation on nuclear non-proliferation, together cleaning up the hazardous waste left behind from the Soviet era in Semipalatinsk; American private investment, including tens of billions of dollars in the oil and gas industry, which has helped transform Kazakhstan's economy; and, our security co-operation, exemplified by the recent successful repatriation operation bringing back Kazakhstani citizens from Iraq and Syria. Many things have changed over the last 30 years, but our unwavering support for Kazakhstan's sovereignty, independence and territorial integrity will continue to be the bedrock of our strong relationship and Enhanced Strategic Partnership.

OCA: What do you think that the culture of Kazakhstan has that sets it apart from the other countries of Central Asia?

WM: Central Asia is such a unique and beautiful region – and my hope is that more and more Americans discover this by coming to visit. This is especially true for Kazakhstan, where even each region of the country has its own distinctive culture that I've enjoyed getting to know. From the poetry of Abai, to the musical traditions of the dombra and throat singing, there is a rich tradition that is every Kazakhstani's birthright. There are a number of legends associated with Kazakhstan's incredible natural landscapes. Every place I've visited in Kazakhstan (and I am proud to say I travelled extensively before the pandemic) has a wonderful local folktale associated with it.

OCA: What are the main spheres of economic or trade co-operation between the United States and Kazakhstan, both today and in the future?

WM: Historically, U.S. investment in Kazakhstan has been primarily focused on the oil and gas sector, where U.S. companies have been doing business since the earliest days of Kazakhstani independence. Together, Chevron and ExxonMobil are heavily invested in all three of Kazakhstan's largest oil and gas projects – Tengiz, Kashagan, and Karachaganak. We are extremely proud of the contributions these companies have made to Kazakhstan's remarkable economic development over the past 30 years. Several Kazakhstanis have risen to senior management levels in these companies.

Looking to the future, and as Kazakhstan looks to diversify its economy, we see enormous opportunities for U.S. companies to contribute to that effort. Of particular interest right now is the agricultural sector, and we have been very excited about the news that Valmont plans to build a factory for irrigation equipment here, and that Tyson Foods is developing animal husbandry interests in the economy. But we also see opportunities in other sectors, such as mining, transportation/logistics, information technology, and tourism. One of our main roles in the Embassy is to work closely with the Kazakhstani government to help create the right conditions to attract more U.S. investment into Kazakhstan.

OCA: How do you see our two countries growing closer together, especially in these times of uncertainty?

WM: U.S.-Kazakhstan relations have benefited from thirty years of co-operation and people-to-people exchange. Our ties are stronger now than they've ever been.

There are many excellent examples of how our two countries continue to grow closer together. Just focusing on how the United States has been a friend and partner of Kazakhstan during the COVID-19 crisis, we have delivered more than $6 million in direct assistance to combat the virus. From purchases of needed Personal Protection Equipment, to providing laboratory equipment, our partnership has remained strong during this difficult period.

But all of this assistance only builds on the firm foundation established during our long-term co-operation. The United States' Centers for Disease Control and Prevention (CDC), for example, have been working with Kazakhstani scientists and medical professionals since 1996. CDC has run a program to train epidemiologists in Kazakhstan since 2003 and thus far we have trained 107 Kazakhstanis, many of whom are now in leadership positions in the government's response to the COVID-19 pandemic. Last year we expanded the program and four of the five COVID-19 vaccines in development in Kazakhstan are being researched in Kazakhstani labs built with assistance from the American people.


OCA: Would you agree that the bilateral relations between the U.S. and Kazakhstan are at their best ever currently? What do you think could still be improved?

WM: Yes, I would agree with that statement. But you're also correct that in every relationship there can be improvements. It is only because we have such a strong bilateral relationship that we're able to have frank discussions with each other on difficult topics.

Human trafficking is a good example. The United States knows that we and our partners can never stand still in the fight against modern slavery. For the last two years in a row, Kazakhstan was on the Tier 2 Watchlist of the Department of State list, which means that there are significant improvements which need to be made. We are committed to working with the Government of Kazakhstan to implement key recommendations and make these important changes to stay ahead in this fight, prosecute traffickers, and protect vulnerable groups.

OCA: The culture in Kazakhstan differs markedly from the U.S. What have you learned that might be of interest for our readers who may be from Western countries?

WM: I really encourage your readers to come to Kazakhstan to see for themselves the beautiful country and experience the culture first-hand. While there may be many differences between our two cultures, there are actually more similarities than many of your readers may think. For instance, we showcased in photographs some of the similarities between traditional Kazakh nomadic culture and Native American culture. National Geographic also showed the incredible similarities in culture and landscape between the United States and Kazakhstan in a beautiful exhibition. The United States and Kazakhstan share many traditions from having an open and large countryside – "big sky" country as we call it in the American West.

OCA: What's the perspective/plans of the U.S for developing democracy in the countries of Eurasia?

WM: A key element of the United States' Central Asia Strategy is to promote rule of law reform and respect for human rights in Central Asia. Meaningful citizen input, inclusive political systems through elections, transparent policy formulation, rule of law, and respect for human rights make countries more stable and prosperous.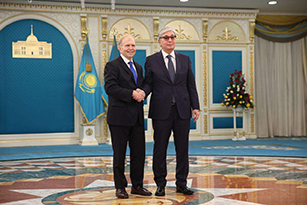 The United States values its relationship with Kazakhstan and will continue to encourage a broadening of opportunities for political participation for Kazakhstan's citizens, and the free exercise of fundamental freedoms for all the people of Kazakhstan.
OCA: How do you think the recent events in the US around the departure of Donald Trump as president might negatively influence the development of democracy in the Eurasian countries?

WM: In short, it won't. Despite the violent storming of the U.S. capitol building on January 6, Congress completed its constitutional duty that same day, and we had a peaceful transfer of power on January 20. Democracy can be difficult, and it can certainly be messy, but our country has also demonstrated its resilience.

There are always some adjustments and changes in every new administration, however, we have had a strong relationship with Kazakhstan now for 30 years and that will continue.

OCA: How do you think the confrontation between the United States with China and Russia might affect Kazakhstan?

WM: The United States was the first country to recognize Kazakhstan's independence, and the United States and Kazakhstan have enjoyed 30 years of co-operation and partnership. We continue to value this partnership and close relationship. Nothing will change that. Our policy is to ensure that the nations of Central Asia have the freedom to choose from a variety of options and partners in pursuing their own national interests.
Regarding Russia and China, President Biden has been clear that we will seek co-operation when it is in the interests of the American people – it's not just about "confrontation." At the same time, we will not be shy about speaking up when we see other countries violating the rights of their own people, using chemical weapons, engaging in unfair trade practices, and other behaviors harmful to international security. I am proud of the open relationship we have with Kazakhstan, which allows us to discuss regional and global issues frankly. We also seek to improve the region's connections to the global economy so Central Asian nations do not have to depend on any one country for trade and development.