Flame International Awards' are thrilled to come back to London.
'Flame' Family and Friends, Creatives, Celebrities, Followers, Networkers, Influences and all Beautiful People. After this long period of lockdown and COVID restrictions we will finally meet again under one roof and celebrate an amazing event.
The hottest event of the Year is in the heart of London at the Hard Rock Hotel, Marble Arch.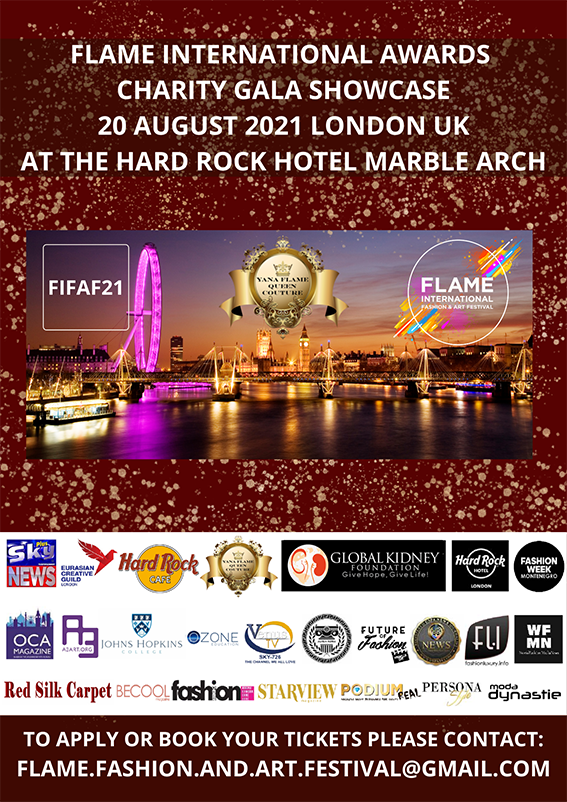 We bring to you a Spectacular Show with exclusive performance of various artists, designers showcase, awards, live auction, raffle, a fantastic dj, music and dance with lots of fun and surprises, with celebrities and high profile people on board from around the globe.
Organiser and famous designer 'YANA FLAME QUEEN COUTURE ' will showcase her unique collection of Haute Couture designs and Bikinis.
FIFAF21 is a unique creative-driven project, and one of the most classy and prestigious events held in London. It is an exclusive platform for all creatives from around the globe which this time is being held at the iconic 'Hard Rock Hotel'.
This August promises to bring us the hottest expression of brilliant international talents and an amazing experience for everyone.
A 'CHARITY GALA SHOWCASE' by talented designers and beautiful models will hit the runway with their fabulous collections.
Performers will rock the floor with rhythm and movement and the sound of their voices will touch your soul.
A live auction of paintings and a raffle with great gifts waiting for you.
This amazing event will bring to you an amazing opportunity to meet high profile people, great networking with like minded successful and famous people from the world of fashion and art industries, influencers ,fashion and art show business industry, TV, media ,magazines and celebrities.
Doors open for guests, networking, red carpet and drinks at the bar at 18:00
Charity Gala Showcase starts at 19:30
Afterparty
Dress Code: Black-Tie / Smart / Glamorous /Red Carpet
No denim / shorts or trainers
OTHER DETAILS:
To apply for 'AWARDS' or to ' NOMINATE' contact us directly via email (the information about awards and nominations is at the bottom, please scroll down applications accepted by 10 August)
To apply to take part as a 'DESIGNER' or 'EXHIBITOR' or to apply for a 'BUYER' or 'PRESS PASS' please contact us by email at: flame.fashion.and.art.festival@gmail.com
If you would like to discuss exhibiting a pop-up space at the show or showcase or if you have any questions please do not hesitate to contact us directly via email.
To Donate or Support us: https://gofund.me/2464652a
FB page: https://www.facebook.com/FlameFashionArtFestivalEn/
Instagram: #flamefashionfestival
YouTube channel https://youtube.com/channel/UCHrIJh3nk7qoAzPOG0v8H_Q
Event video https://youtu.be/uV7bNQ-xM5M
Eventbrite online tickets sale link:https: https://www.eventbrite.co.uk/e/flame-international-awards-charity-gala-showcase-london-uk-tickets-164762343605?aff=GUILD
GET INVOLVED, SUPPORT OR SPONSOR YOUNG TALENTS AND YOUNG DESIGNERS.
Would you like to get involved as a performer, artist, helper, volunteer, partner or sponsor of the project, if so please contact the organiser via email at: flame.fashion.and.art.festival@gmail.com
If you have any questions please do not hesitate to contact me or other project associates via email: flame.fashion.and.art.festival@gmail.com
AWARDS NOMINEES:
BEST FLAME INFLUENCERS in the industries of:
Influencer / Entrepreneur / Blogger / Development /
Business woman / Business man / Marketing / Media / Charity /
Culture / Architecture / Production / Fashion / Art
AVANT-GARDE PEOPLE AND CREATIVES:
Goth & Glam Drag Queen / King /
LADY / SIR: Extravaganza / WOW / Elegance / Unique / Glamorous /
Avant-garde / Fashionista
DESIGNERS:
Best Flame Festival Design 2021 / Best Haute Couture Collection /
Best Pret-a-Porter Collection / Best Creative / Ethnic Collection /
Best Elegance / Bridal Collection / Best Accessories Collection
BEST FLAME CREATIVES in the industries of:
Film / Movie / Theatre / Beauty / Music / Sport / Media /
Art Curator / Dealer / Photographer / Martial Artist / Singer / Artist /
Dancer / Performer / Young Musician of the Year /MUA / Hair Stylist /
Body Art Painter / Actress / Actors / Writer / Musician / Composer /
Book Writer / Film Producer / Film Director /
Young Singing Sensation of the Year
MODELS:
FLAME Top Model of the Season FIFAF21 /
BEST FLAME MODEL Male / Female / Kids / Junior / Teen /
Adults / Mature / Plus Size
ATTENTION ! Application accepted by 10 of August
To apply or book your tickets for the Gala please contact:
flame.fashion.and.art.festival@gmail.com
Participation fee to apply for your Award
is £120 via bank transfer(be provided as required) or via PayPal to https://www.paypal.me/yanaflame (yana.flame@gmail.com) please use the option of sending to friends or family or a 10% charge will be put on top of your payment.
For applying you will need the following:
Payment in advance and your portrait photo for creating a poster of you in the Flame International Awards 2021 applications accepted by 10 of August
Name, surname and nomination category.
Thank you.
Flame Festival Team @flamefashionfestival
Ticket options for Awards and Charity Gala Show (performance of various artists, designers showcase and awards ceremony) included:
SUPER VIP+AWARD £200 available till 10 august
Included reserved first row seat + drink on arrival + Award
PREMIUM+AWARD £150 available till 10 august
Included reserved second row seat + Award
VIP £120
Included first row reserved seat
Gold £60
Included reserved second row seat
Silver £50
Included third row seat
Tickets are NOT REFUNDABLE
Book your tickets for the Charity Gala Show please contact:
flame.fashion.and.art.festival@gmail.com
Eventbrite online tickets sale link:– https://www.eventbrite.co.uk/e/flame-international-awards-charity-gala-showcase-london-uk-tickets-164762343605?aff=GUILD