From 11 to 13 October, the capital of Kazakhstan hosted an annual forum of photographers, which was attended by almost 50 photographers from the CIS countries.
Photography is one of the most exciting professions in the world. Today, the direction of photography has increased just like photographers themselves, for whom there are very few schools or universities teaching photography. Since 2012, the Kazakhstan Forum of Photographers has been helping budding photographers every year by teaching the correct technique for working with cameras, giving lectures on the selection of studio light, and also holding master classes to promote their work.
This year the Kazakhstan Forum of Photographers has risen to a higher level. Thanks to the organisers, who are themselves experienced photographers – Daniyar Shaimergenov, Andrey Kim, Saule Kemelova, the forum gathered about 50 photographers from different countries. The speakers were Konstantin Eremeev (Russia), Tim Osipov (Russia), Ksenia Zasetskaya (Russia), Ilya Dvoyakovsky (Ukraine), Arina Ratushnova (Kazakhstan), Aioni Haust (Kazakhstan), Andrey Kim (Kazakhstan), Evgeny Zadokhin (Belarus), Ablai Kairzhanov (Kazakhstan).
The general partner of the forum was Canon. Canon Consumer Sales and Marketing Director Igor Shchurov personally came from Russia and for the first time presented the flagship Canon EOS R3 camera in Kazakhstan, and the forum participants had a unique opportunity to test-drive this camera. According to Igor Shchurov, despite the fact that Canon has been on the market for almost 100 years, it is still famous for quality, thanks to the technologies and innovations that they use, and as the director of the department of consumer sales and marketing, he added that the preferences and demand of the audience are also important.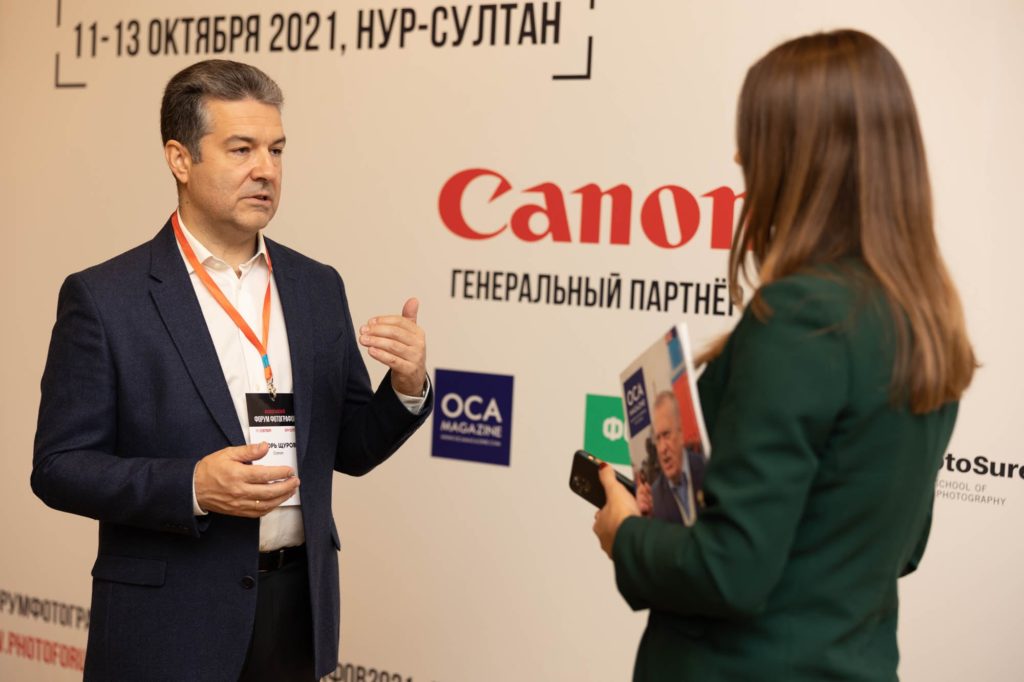 Also this year, the forum included nominations such as "Best Photographer" and "Best Photo", whereas a prize was an impressive gift from the general partner.
Ospankhan Aubakirov became the "Photographer of the Year", who received a certificate for the amount of 1,200,000 tenge from Canon as a prize. Diana Nazmutdinova became the winner in the "Photo of the Year" nomination, and also received a certificate from Canon for the amount of 1,200,000 tenge. Photographers who received second places were also awarded certificates worth 180,000 tenge.
The Kazakhstan Annual Forum of Photographers is undoubtedly one of the most important events for photographers. This is a place where both novice photographers and professionals communicate for acquaintance and exchange of experience. Event where you can listen to lectures from leading experts in the photography industry, watch workshops from top photographers, take part in master classes on studio lighting, photo processing and promotion of your own brand, as well as take part in outdoor photography to consolidate the material in practice.
The OCA Magazine team also was pleased to attend such an event.