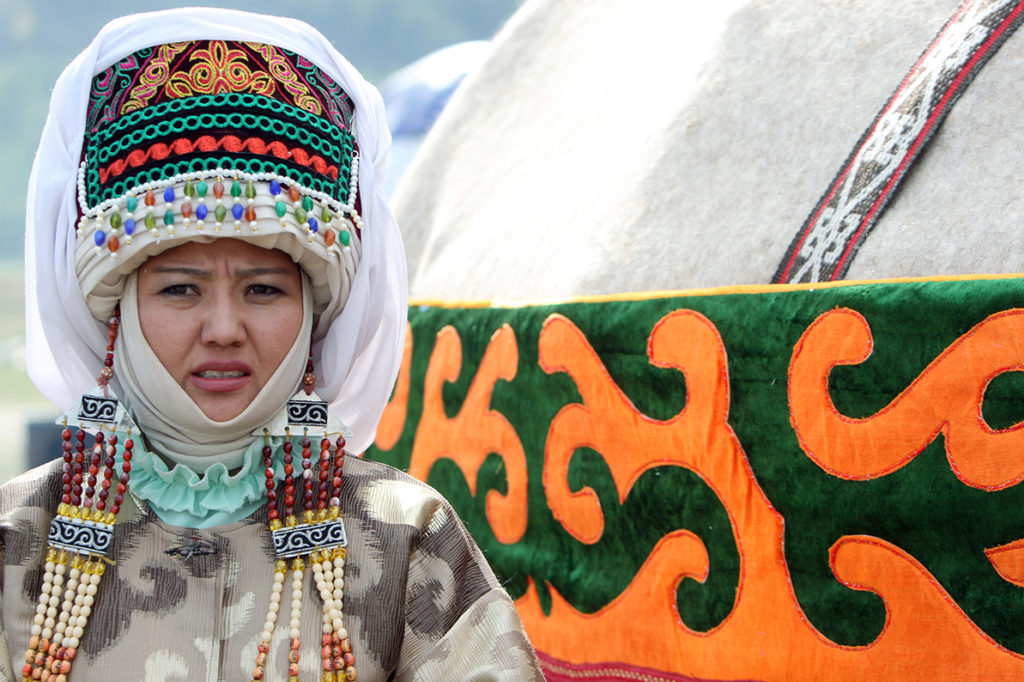 Being born a girl continues to be a considerable risk factor in many geographical regions, and Central Asia is one of the case examples where violence committed against women and girls is high. According to the latest data of OECD, 14 to 59% of women in Central Asia are subjected to beatings, sexually abused or otherwise ill-treated, given the region's existing traditionalism, socio-cultural factors and religious beliefs.
Historically, women have played a subordinate role to men in Central Asian societies. The daughters-in-law ("kelin", "gelin") were openly neglected in their husbands' families, in addition, bride kidnapping ("kyz alyp қashu", "ala kachuu"), arranged and early marriages were widely practised and considered revered traditions in parts of Central Asia. Later, the socialist system doubled the burden on the shoulders of women. Even though being endowed with relative freedom and certain rights, along with housekeeping, women from Soviet Central Asia had to carry out social and industrial duties. Yet, given the formal Soviet privileges, the patriarchal structure ingrained in Central Asian societies was challenging to overcome and completely erase from the consciousness of traditional societies.
The 1990s independence of the Central Asian states did not improve the countries' position in achieving gender equality and eliminating violence against women. All states still have a patriarchal social system with great respect for traditional and spiritual foundations, which in many respects still assigns a secondary role to women and does not allow them to control their own lives. In turn, religious overtones, to some extent, began to reap even more fuel on the fire, promptly shaking the position of women and girls. As a result, one may interpret traditions and customs differently, which can sometimes escalate into gender violence. Central Asian news feeds increasingly report domestic violence, bride kidnapping, "kelinism", early marriages and other forms of abuse. Although, presumably, this is because people begin to speak more openly, pay more attention, and understand that such cases are not a manifestation of respect for traditions or religion but a violation of women's rights.
For instance, Kyrgyzstan and Kazakhstan occupy some of the leading places in the practice of kidnapping girls for marriage. One of the most recent cases in Kyrgyzstan that strongly sparked civil society outcry was the bride-kidnapping of Aizada Kanatbekova. In April 2021, in Bishkek, a group of men abducted 26-year-old Kanatbekova. A local shepherd found the abducted woman's and kidnapper's bodies two days after in a car. The case caused a public resonance and outrageous protests with calls for layoffs and other official actions.
Likewise, arranged marriages are still not uncommon in Central Asian states. For instance, in Tajikistan, parents of young people can choose a spouse for their son or daughter. Sometimes it happens that families even forcibly marry their children without considering his/her opinion. Such marriages are nothing more than forced marriages, in which a forcedly married young woman may suffer more as a result of violence from her husband or his family.
Early marriage is another problem that violates the rights of underage girls and is closely related to the problems mentioned. Child marriage in Central Asian countries remains an acute problem, and girls from rural areas are the most vulnerable to cases of child marriage. They often get married directly after finalising or during high school, which negatively affects their education. These girls, as a rule, are forced to drop out of school, never having the opportunity to finish their education, and subsequently to have further career development.
All these forms of gender violence are intertwined, mutually causal and may, in some cases, bring on "kelinism" and domestic violence. A phenomenon of "kelinism" (new brides' forced subservience to their mothers-in-law in their husbands' households) exists in all Central Asian countries, which at worst is nothing more than slavery and institutionalised family violence. Such manifestation of "kelinism" can have tragic consequences. One of the striking examples took place in Kyrgyzstan in 2017: a young woman decapitated her mother-in-law after experiencing bullying and violence. Another example was the case of Mukhlisa Kadambaeva that has called attention to domestic violence in Uzbekistan. The young woman was found hanged after her parents said brutal abuse by her husband's family.
Unfortunately, violence against women and girls in Central Asian countries seems to be normalised, often viewed as a private affair of each family, and rarely prosecuted. A survey in Uzbekistan found that only about 10% of male respondents did not object to domestic violence, arguing that husbands were justified using force if provoked by their spouses. While in Tajik society, 97% of men and 72% of women believe that a woman must endure domestic violence in order to preserve the family. Parenthetically, domestic violence in Tajikistan is still not criminalised and is at the drafting stage.
Conclusion
Polarised foundations still exist in Central Asian societies with a patriarchal and traditionalist orientation, prescribing an active role for a man and a passive position for a woman. This aspect is the first and foremost aspect affecting gender policy and the regulation of gender-based violence in these states. The ideas of gender equality and non-discrimination are yet far from being deeply embedded in Central Asia's public consciousness and culture. As long as women are seen as belonging to men and not as individuals with equal rights, as long as forms of violence against women are justified by traditions and customs, Central Asian societies have a long way to eradicate violence against women and fully respect women's rights.
Asylai Akisheva
PhD Candidate – Public Intl Law
Law School
Koç University