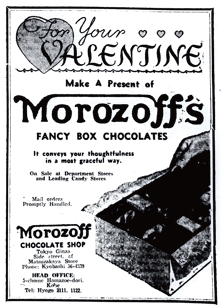 Japanese Valentine Chocolate
A Personal Co-incidence
Never as a British child and Canadian teenager, did I imagine that I might be working across Eurasia, let alone living in Central Asia; the heart of Eurasia.  I can honestly say, my life has been far richer as a result, though not due to any planning on my part.  My arrival here next to the Mountains of Heaven, the Tien Shan, was a surprise.  Being sent by Deutsche Morgan Grenfell investment bank from the financial City of London to Tokyo, Japan, set the context for my later fate working in Russia, Ukraine, and ultimately my arrival in Central Asia.  Those were fateful days, but I do not regret them.
It is often said by those with no experience of Central Asia that it has no history. This is most definitely not true for anyone who digs a bit deeper. Central Asia is exceptionally rich in history and culture. You can drown in it if you dig deeply enough, like finding a new well by accident. I have discovered so many countless gems of Eurasian history, of individual fascinating human experiences, sparkling for those watching carefully, criss crossing the ancient silk route paths from Europe to Asia and back again.
One key event leaving a deep impact on Eurasian history was the Russian revolution, of course. Often forgotten is that the Russian revolution was also a Central Asian revolution, "Vostok delo tonkoye". Its terrible impact across Eurasia was profound, wrenching families and people apart from where they grew up and from whom they loved. One of many stories that fascinate me, is the experience of the Czech Foreign Legion and their amazing and ultimately tragic attempt to return home via the Russian Far East after the Russian revolution. Many traumatic stories continued even again during recent times with the collapse of the Soviet Union. Often the pre-Soviet family, and particularly Central Asian clan-based system, was what kept society going, despite the severe economic collapse that followed the Soviet system implosion. Now, the region is making history again, whether through economic renaissance or increasing cultural expression. I am very much an active observer, if not a very occasional minor participant in this new Central Asian expression of character.
My wife's own family recently discovered a previously unknown Soviet twist to their history. Lidia is Belarussian, a champion of Russian culture, but gets very depressed at any sign of Soviet times. Every time I am away on business, she hides my Soviet souvenirs like pictures of a dead relative. To her family's total surprise, they recently discovered their descent from a Polish officer, one of the survivors of Poland's conflict with the Soviet Union. Consequently, my wife is eligible for Polish citizenship, so strong are her Polish roots. Yet with no previous knowledge of her Polish history and with her Belarussian culture so strong, she can't quite integrate her new history. At least, that's how it seems to me when I tease her about being Polish. Her Polish grandfather, once captured, totally converted from being Polish to becoming a complete Belarussian Soviet citizen hiding any of his Polish origins. The Soviet Union, and 20th century Communism, did this to many people.
Many curious and largely forgotten histories have popped up at me in Eurasia like summer grasshoppers during my 23 years in Central Asia. Whether it is the ancient history of the region or more recent stories entwined in the agonising birth and death of the Soviet Union. The history of the mysterious Tocharians – the Wu chi – linked to whisky, Teklamakan's buried cities, and the invention of the wheel. The Sacha and the Scythians, with their grand capital in Issyk (Issaac) and their misty links to the Old Testament and the origins of the Anglo-Saxons; the Angelic sons of the Sacha. Even the angels appear to have originated from Central Asia, with Herodotus based maps placing the Seraphim and Cherabim in control of tributaries of the Caspian in ancient times.
Several stories during the many internecine battles and civil conflicts that characterised the birth of Soviet Central Asia fascinate me. The various alliances made by survivors of the Khanates with the Czech Foreign Legion fighting together, against others, or alone and ultimately leading to the Legion to the Far East of Russian. The Siberian express and later the Amur, the Far East of Russia, was consequently run for several years by survivors of the Czech Legion. Once, visiting the Czech graves on a hill above Vladivostok, I was abandoned by my driver, who wrongly assumed I was gloating over the Soviet dead. I had to walk back to the port; there was no Yandex back then or taxi I could call. Vladivostok's economy was completely hammered with society hanging on by a thread at the time.
The story of the collapse of Russian aristocracy, the Romanov's and their aristocratic society in Russia, Central Asia, and the Far East, has so many acutely heroic and inevitably tragic storylines. Whether it is the Romanov family themselves, dying a public death in the House of Special Purposes near the British Consulate in Yekaterinburg, or the White Russian General, Von Ungern Sternberg, a dedicated Russian aristocratic officer leading a fanatical Central Asian Buddhist army. Von Ungern Sternberg and his budhist army often fought against overwhelming odds. Eventually, the odds caught up with him, burying his treasure in a secret location and then dying a tragically lonely death near Mongolia. Rumours of the two youngest Romanov children have largely been forgotten now, only remembered by a dwindling cadre of aristocratic descendants and the Russian Orthodox Church.
One story stands out through the years, though it is really one of my wife's stories. It is about the discovery of Morozov descendants in Japan while I was working in Tokyo. This particular branch of the famous Morozov family was thrown to the wolves during the Bolshevik justification for their revolution and sweeping seizure of industrial assets. They were lucky to escape Russia with their lives, leaving most of their wealth behind as they fled to America.
For those who may not remember the famous aristocratic industrial family of the Morozov's, where arguably one of Russia's biggest victims of the Bolshevik mob. Some senior post Soviet Russians sometimes wonder what happened to the various descendants of the Morozov family.
The Morozovs were one of the most famous, if not THE most famous, industrial families, patrons of the arts, and philanthropists of Russia prior to the October 1917 revolution. Now that Russians are free to appreciate their pre-communist heritage, they are beginning to recognise the huge cultural contribution of the Morozovs. Their founder, Savva Morozov, was a serf who started a Silk-weaving business. Savva's descendants went on to become the richest people in Russia, largely built on the textile trade and banking. A line of the family even moved into the cotton textile trade in pre-revolutionary USA. Many of Russia's famous theatres, dance schools, galleries, and bookstores, owe their origins to the Morozovs. After the 1917 October Revolution, the Morozov textile factories, banks, and related businesses were nationalised, and the family ruined – at least in Russia.
After fleeing to America, the 'Japanese' Morozovs travelled to Brazil and then Japan where they eventually started a fine chocolate business in the 1920's, founded by Fyodor Morozoff – the name now changed to look more anglicised. This venture was the foundation of today's famous Japanese Morozoff Chocolates. Their first store opened in 1931. The Morozoff's fine chocolate business defined Valentine's Day in Japan from the very beginning. By tradition, Japanese girls give their boyfriends Morozoff chocolates. Apparently, the more valuable the boyfriend, the more expensive the chocolates. Before this tradition, valentine's day was completely alien to Japan, as was chocolate. The Morozoffs eventually lost control of the business, starting another business of their own – Kobe and Ginza based Cosmopolitan Confectionary. Morozoff Chocolates Ltd went on to become a Nikkei 225 company – one of the biggest companies in Japan
This fascinating story came to us by chance. My wife moved with me to Tokyo and would often visit two cozy little Russian bookstores. One of the bookstores had a small cafe, where Lidia would often have tea before returning home to the other side of Tokyo in Jiyugaoka, where we lived. On one occasion, when drinking tea, Lidia was approached by an elderly European gentleman who asked where she was from. They started chatting, during which the elderly gentleman remarked on how familiar Lidia looked. As it turned out, someone who had once been very close to him looked exactly like Lidia. It turns out this person, though far older than Lidia, had been born only a few kilometers away from Lidia's birthplace, Povitya, on the Ukrainian side of the modern border. Lidia and the gentleman became good friends and occasionally met again for tea in the Russian bookstore cafe.
Eventually, we realised this elderly gentleman was Valentin Fedorovich Morozoff, 1911-1999, eldest son of Russian born founder of Morozoff Chocolates, Fedor Dimitrich Morozoff, 1880-1971. Valentin was President of Kobe based Cosmopolitan Confectionary and possibly the original inspiration for Morozoff Chocolates Valentine theme. Both Fedor and his son Valentine are buried in Kobe Municipal Foreigners Cemetery. Lidia met Valentin for chats in 1996 and 1997, but sadly Valentin died shortly after we moved back to Europe in 1998. Though Lidia realised that Valentin and Fedor were descendants of the famous Russian industrialist family, it was only when she told me who she met that I realised Valentin and his family were founders of the Nikkei 225 Morozoff listed company.
I took the time to find out more about Morozoff Chocolates, Cosmopolitan Confectionary, and the Morozoffs. The Morozoff family were close to two Soviet Ambassador's to Japan and met many Russian characters of note during their visits to Japan, including individuals such as Tolstoy's daughter. Upon his death, Valentin's private papers have been archived in a major US historical institute.
Sadly, we only found out that Valentin had died when I originally went to write this article. On a happier note, Japan enjoys possibly the finest chocolate covered confectionaries in the world. "When life is good, everything is covered in Chocolate".
written by Bruce Gaston
gastonbruce@gmail.com