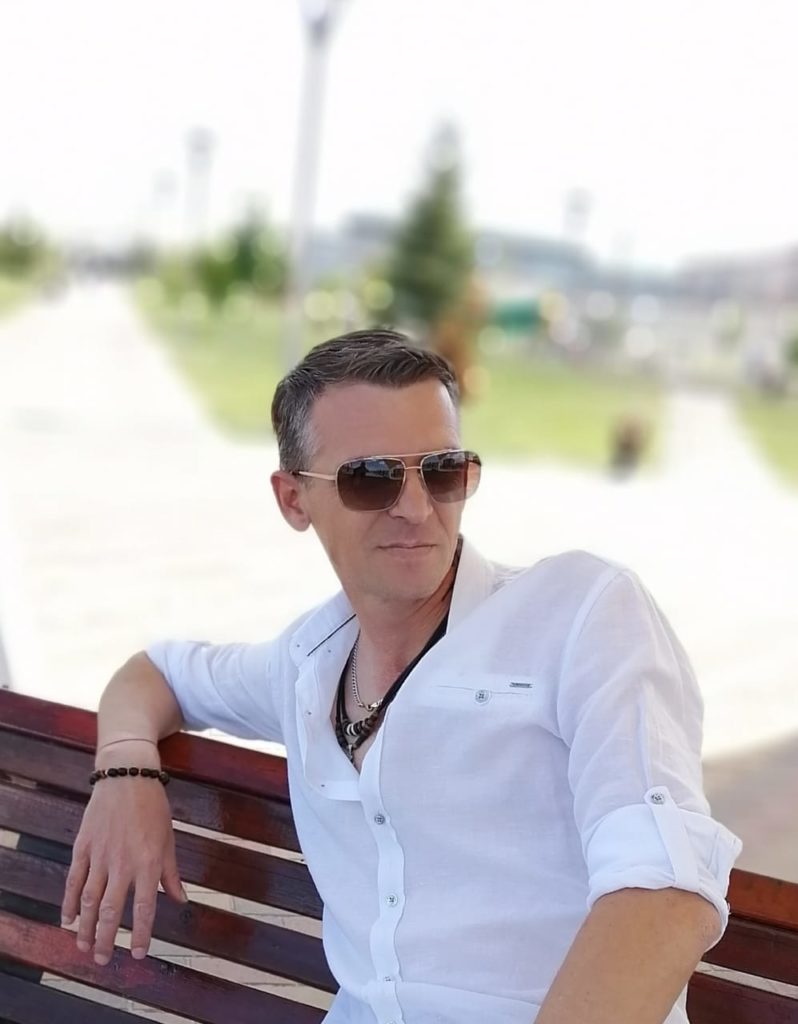 "I FINALLY FOUND AND DEFINED MY OWN STYLE.."
INTERVIEW: SERGEY BABYAKOV
OCA Magazine: Tell us, please, about yourself and your creative activity / work
Sergey Babyakov: I am Sergey Babyakov, an inclusive artist. Was born in 1978 in Taldykorga city. I have been painting for over 20 years. I began to comprehend the basics of art at the age of 11 by enrolling in a children's art school. Due to illness, the educational process had to be interrupted for two years. But I felt a real craving for art already as an adult, at the age of 20, and continued to independently comprehend the art of painting. I bought various art magazines studying and focusing on such famous artists as Rembrandt, Vangogh, Caravaggio, Leonardo Da Vinci. I tried myself in different directions in search of my style. Painted graphics, watercolor, pastel, also painted in oils in the directions of cubism, realism, impasta. There were also works on biblical themes, but later inspired by the works of Shishkin, I realized that I like to paint landscapes much more.
And in 2020 there was a new round in my work. I switched to a new direction for me – "Abstractionism" and drip painting, almost completely devoting myself to a new direction. Also, in parallel with this, I tried techniques that were interesting to me, such as watercolor, sauce and pastel.
OCA: What is your main achievement in 2021-2022?
SB: Perhaps the main achievement in the period from 2021 to 2022 is joining the Guild and the fact that I finally found and defined my own style for myself.
OCA: What is the main feature that makes you and your art/work unique?
SB: This question is not easy to answer, because I believe that each artist is unique in his own way, and the paintings are valuable in themselves as a layer or segment of a certain time in history during which they were painted. Likewise, my paintings bear a certain imprint of this time. Perhaps there is some similarity with the works of other authors, but at the same time they are not similar and individual in themselves, since abstractionism for me is a double freedom.There are no boundaries in this direction, there are no rules, and I can express on canvas my emotions, feelings, everything that was hidden deep in my soul and now tear it free. I write my works not with a brush, but with my heart, with my inner eye with its own special philosophical meaning.
OCA: Tell us, please, about the events of the Eurasian Creative Guild (London) and projects that you have already taken part in and how does ECG influence your creativity and success in your work?
SB: In December 2020, on the instructions of Marlan Nysanbayev, I joined the Eurasian Creative Guild(London) as the "Ambassador". There I met other artists and very interesting creative people. And already on February 20, 2021, in the new gallery "ZvagWard" I took part in the exhibition "The World of Colours of Eurasia".
On March 5, 2021, I exhibited my works at the Central State Museum of Kazakhstan, Almaty at the exhibition "Call of Eternity".
In August 2021, I became one of the top ten finalists of the "Voices of Friends: poetry & Art" contest, held in Shuchinsk, Borovoe.
In September 2021, was published in the glossy magazine "Bohemia" as one of the best artists of Kazakhstan.
In the fall of 2021, the painting "Fruit of Angels" was included in the first issue of the cultural and tourist guide to the Burabay National Park, published in London "Burabay 4Seasons". And it all happened thanks to the Guild. Before that, for more than 20 years, I seemed to have sat in a dark hole. And now I participate in exhibitions and competitions.
OCA: What is your motivation and the main aim of your creativity?
SB: For the past two years, my main motivation (and part-time muse) has been my wife, who supports me in every possible way, does not let me give up. She gives me faith in myself and that everything I do is not in vain. I would also like to see a gallery of contemporary art finally appear in my hometown, where creative people could gather, create and exhibit their works. Thus, to help young artists advance and raise the level of culture of the people of the city who will come to the exhibitions.
OCA: What would you wish for the members of the Guild and other creative people, just starting their career?
SB: I would like to wish the members of the Guild and creative people who are just starting their journey not to be afraid to try, not to give up and not to stop halfway. After all, what success is in creativity is when you fall over and over again, but even after falling for the tenth time, you still get up and move on. Believe in yourself and then all must succeed!