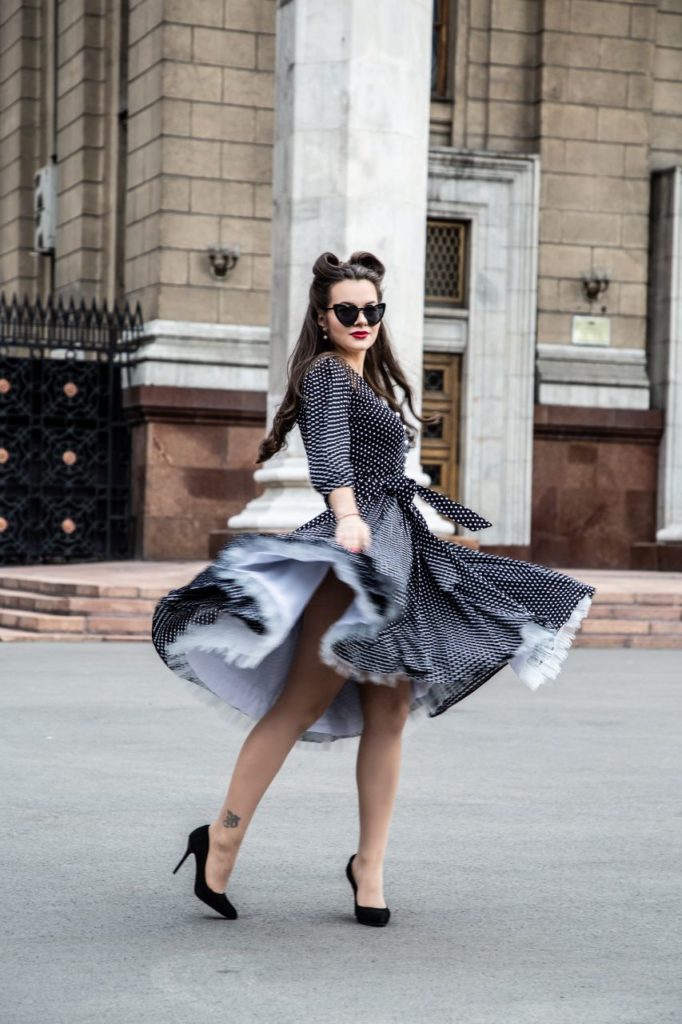 "I CAN DO IT"
INTERVIEW: VLADISLAVA BAIMAGANBETOVA
OCA Magazine: Tell us, please, about yourself and your creative activity / work
Vladislava Baimaganbetova: I am a married feminist, have a daughter, and waiting for a second child. At the moment, my main job is business coaching in the HoReCa industry. I love the restaurant business, the Kazakh history of hospitality and actively promote it. At the same time, I am studying social psychology at the St. Petersburg Humanitarian University of Trade Unions.
I consider Robert Heinlein's phrase as motto in life: "Any person should be able to change diapers, plan invasions, butcher pigs, design buildings, manage ships, write sonnets, keep accounts, build walls, set bones, ease death, follow orders, give orders, cooperate, act independently, solve equations, analyse new problems, fertilise, program computers, cook deliciously, fight well, die with dignity."
I consider the ability to be both here and everywhere to be unique at the same time: in various projects, in various trainings, working as a business coach, developing the restaurant business in Kazakhstan, raising children, sewing and embroidering, decorating children's holidays, taking an active social part in the life of our beloved city of Almaty and much more.
OCA: How did you choose your path and who is your role model in the creative space or life?
VB: My creativity originates from a young age. In whatever city I was, I always actively participated in the design of wall newspapers, thematic events, attended plein airs with ShIITD them. A. Kasteeva. The annual trips around the country happened thanks to my military parents. My mum is a mother of four children who always wanted to keep us busy. For example, my middle sister Dana played the piano, and my brother Alnur choreographed and played the saxophone. Now, however, Dana is studying on a grant with a specialisation in automation and control, but this does not prevent her from expressing herself in such an art form as digital painting. Genetics play an important role, I guess. My grandfather Anatoly Zhigalov – Honoured Artist of Kazakhstan, awarded the medal "For Valiant Labor ", artist, Laureate of the 1st degree competition for veteran teachers in Moscow. Together with his wife Galina Kononenko, he worked at the Palace of Creativity for Children and Youth (Russia) as a teacher and accompanist of additional education in a music and choir centre.
Of course, life is not complete without teachers, and today I had the opportunity to boast of those who in every possible way develop and accompany my work to this day.
Elena Vlasova is a dressmaker with tremendous experience. Acquaintance with her was not limited to my individual orders. Today Aunt Lena, as I call her, is my sewing teacher and I am very lucky to know her. We are neighbours and this facilitates our learning processes, given my busy schedule. Her most valuable advice and professionalism allowed me to prove myself in the international design competition.
Natalya Vanina is no less a professional dressmaker, and also my favourite mother-in-law. The only negative is the remoteness of her place of residence, but even this is not a problem for us. We call each other via video, discuss new items in the world of textiles, patterns, critical moments with customers, and so on.
OCA: What is your main achievement in 2021-2022?
VB: I find achievements in my various endeavours. I started working on the design of the author's methodological manual for the restaurant business; developing a monopoly game for waiters; began to embroider a panel dedicated to the 30th anniversary of the Independence of the Republic of Kazakhstan; sewed a lot of sweatshirts with various prints; the session is progressing well in parallel; my feminist content is gaining popularity on Instagram and even already has followers, and the opportunity to participate in OCA People.
OCA: Tell us, please, about the events of the Eurasian Creative Guild (London) and projects that you have already taken part in and how does ECG influence your creativity and success in your work?
VB: I became acquainted with the Guild in 2014 as part of the Third International Literary Festival "Open Central Asia Book Forum & Literature Festival". Then my young dream came true and I met my favourite writer Janusz Leon Wisniewski, and also received an autograph. Oh, how I was "treated" by his novels in adolescence. Years later, I myself joined the ranks of the Guild Members and took part in my first contest "The Heartbeat of Eurasia".
OCA: What is your motivation and the main aim of your creativity?
VB: First of all, I work for the sake of interest in the case. After all, any creativity is therapy, a way to understand yourself, to conduct an internal dialogue.
Moreover, it is pleasant to realise – "I can do it", and if it is also significant for others, it resonates in the heart, then in general it has an optimistic effect on the structure of the world around.
Now I have planned the purchase of industrial equipment, the expansion of the workshop and the training of some sewing techniques. My sister also draws sketches for a future collection of shoppers and sweatshirts. There is even a queue for them.
OCA: What would you wish for the members of the Guild and other creative people, just starting their career?
VB: The first is to believe in your abilities. Everyone has them, but not everyone, unfortunately, is able to identify and develop them. I wish each of us to look closely at others and try to be as open as possible.
Our task is to promote the Republic of Kazakhstan on various international platforms, involve local candidates and develop competitiveness.
With love and gratitude to my husbands Russian, family and teachers who support me in all endeavours.
Instagram: Vladiglazka
Photo: Elvira Kogay, Oxana Tarasova
Make-up artist: MUAH – Mitskevich Yevgeniya