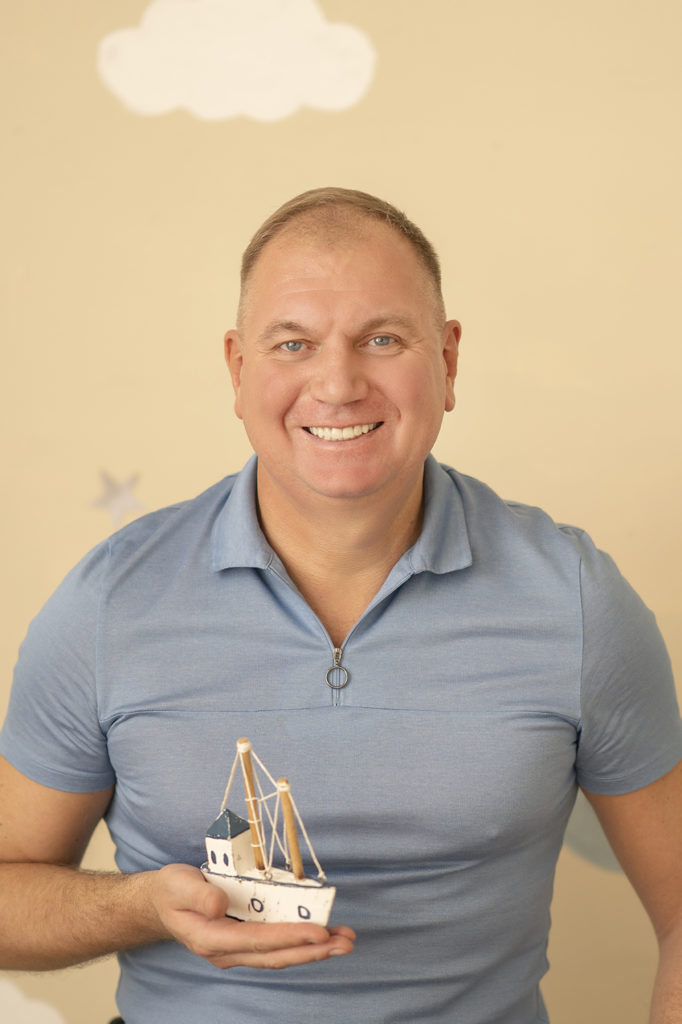 "MY BOOKS HELP CHILDREN SEE THE BEAUTY OF THE WORLD WE LIVE IN"
INTERVIEW: GRIGORE GACIKEVICI
OCA Magazine: Tell us, please, about yourself and your creative activity / work
Grigore Gacikevici: I am 49 years old, I write poetry for children in Russian, English and Romanian. I began my public literary activity a year ago, in March 2021. A few months after that became a member of the Eurasian Creative Guild (London).
Born in Moldova. In my youth I was professionally involved in athletics, a master of sports of the USSR in high jump, multiple winner and prize-winner of the junior championships of the Soviet Union.
In 1994 I graduated from the Moldovan Academy of Economics. I have been working in the financial sector for over 25 years. For my work I was awarded state awards of the Republic of Moldova: the Order of Glory to Labor and the Medal of Civil Merit.
At the moment I am the author of eight poetry books for children in Russian, including: "Merry Alphabet!", "What colour is a zebra?", "I swim in the blue sky!", "For pancakes!", "Simple joy" and others, as well as four poetry colouring books.
Also completed the illustration for three more books: a collection of children's poems in Russian about the sea and marine life called "The surf is calling us!", The Romanian version of my book "Merry Alphabet!", and also its English version – "The Funny Alphabet! I hope that all three books will be published in the first half of this year.
My works are regularly published by such Russian publications as the literary almanac "Hyperborea", the Moscow magazines "Light of the Capital", "New stained-glass windows", etc. My poems for children can also be found in numerous international poetry collections.
Also, I am currently studying by correspondence at the Higher Literary Courses (specialty "Poetry") at the Literary Institute. A.M. Gorky (Moscow).
OCA: How did you choose your path and who is your role model in the creative space or life?
GG: Since the birth of our daughter Polina, my wife Olga and I've tried to spoil her love for good fairy tales and poems. My daughter is already sixteen, but we still have a large library of wonderful and well-illustrated children's books at home. Therefore, I began writing my first poems for children about ten years ago for my daughter. And in March last year, I discovered that there were enough such works in paper form to start publishing them on various social networks.
That's how I came to children's poetry, which I do not regret at all and write with pleasure every day. I want to emphasize that among the many worthy and respected authors for children, for me since childhood, the unique Soviet poet Korney Ivanovich Chukovsky has been and remains number one. And my main source of inspiration, as before, is the love for my wife and daughter.
OCA: What is your main achievement in 2021-2022?
GG: My main achievement is the publication of eight of my books. I am also very happy with my victories last year at 12 international literary competitions.
OCA: What is the main feature that makes you and your art/work unique?
GG: My books can help children become kinder and more responsible, help them see the beauty of the world we live in. At the same time, I try to ensure that children, when reading my poems, always have the opportunity to choose: between god and evil, between bad and good, between honesty and lies. Nobody likes edification, so many of my poems have a question mark at the end. But at the same time, with the help of the storyline and poetic images, I try to make the child himself inclined towards those kind and bright values ​​​​on which our world is based. I try to convey in my works the belief that the world around us is beautiful, and there is a lot in it that is worthy of our love. In addition, I try to have humour and a good mood in all my poems, because a smile, as you know, is the best cure for all illnesses and hardships.
OCA: Tell us, please, about the events of the Eurasian Creative Guild (London) and projects that you have already taken part in and how does ECG influence your creativity and success in your work?
GG: Last year, I became one of the winners of the Open Eurasia-2021 Contest in the "The best children's work" category. This year I submitted my application for participation in the "Voices of Friends" contest, in which I really want to win. Undoubtedly, membership in the ECG has made my creative life more intense and interesting. I am very glad that the Guild holds a large number of competitions, and I try to take part in them as often as possible.
I also hope to publish my book "The Funny Alphabet!" with the help of the Guild. and hope for help in promoting this book in the UK.
OCA: What is your motivation and the main aim of your creativity?
GG: Motivation and my goal is the constant development of my versification. I really like to study online at the Moscow Literary Institute. We are taught by wonderful teachers in the theory of literature, stylistics of the language, etc. But the most useful classes for me are seminars on poetic mastery. I really hope that as a result of my studies, my poems will become more perfect.
OCA: What would you wish for the members of the Guild and other creative people, just starting their career? GG: Believe in yourself and understand that you need to engage in creativity regularly and constantly strive to improve your skill level.