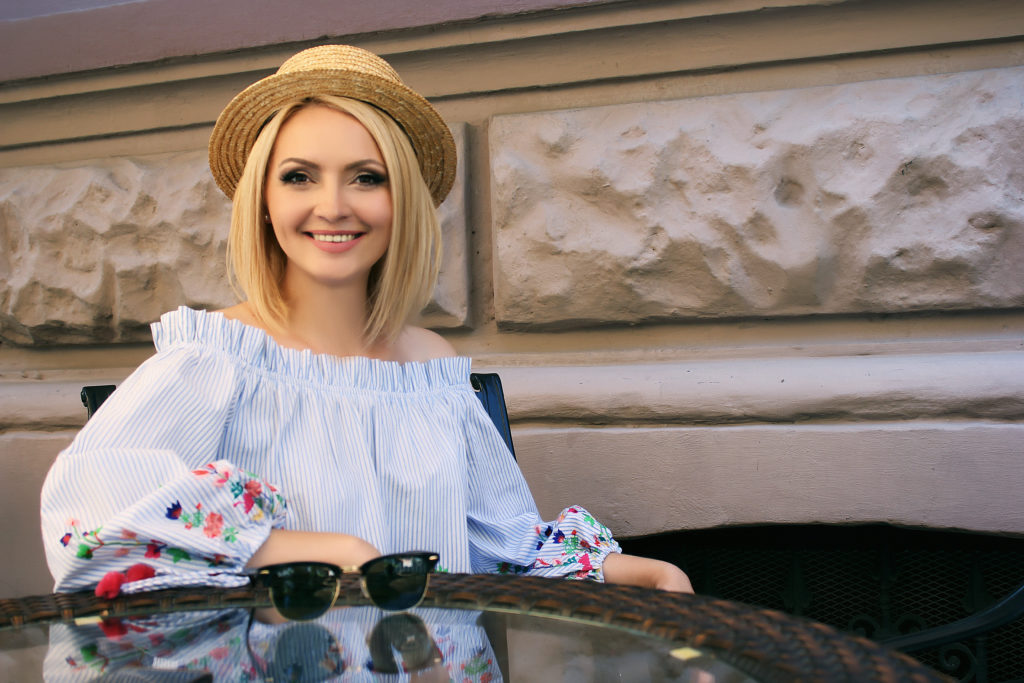 LET OTHER PEOPLE KNOW ABOUT YOU!
INTERVIEW: TATIANA ZHUKOVA
OCA Magazine: Tell us, please, about yourself and your creative activity / work
Tatiana Zhukova: I am Ukrainian, born and raised in Odessa. For the last 10 years I have been working in the field of personnel management. 
Since 2021, I am a PhD student in Odessa State Economical University, engaged in
scientific activities. Currently, in connection with the war in Ukraine, I am conducting
research in the field of personnel management in war conditions: Ukrainians working
remotely, hiding in basements from explosions, or moving to a new place, continue to perform business tasks. I am looking for international partners, universities or research foundations, who are interested in this topic, to conduct further joint research and find solutions to help people.
I dreamed of being a writer since my school days.
One day, I decided to experiment, not imagining what result it would bring. For 90 days, I wrote down gratitude:
– for happiness and pleasant moments of today,
– gratitude to God and to myself.
After 2 weeks of this practice, I noticed how many creative thoughts were in my head and I had an approximate plot for my first book.
After 4 weeks, I already had a clear understanding of what the plot would be and the confidence that I would write.
After 7 months, a book was born, which is called "The Power of Gratitude. The struggle between good and evil."
And after some time, the second book "The History of Neon" appeared.
OCA: How did you choose your path and who is your role model in the creative space or life?
TZ: My path is a mix of goals, achievements, trial and error, perseverance and constant work on myself. I admire people who know how to enjoy life, especially in difficult moments of life. Who knows how to make decisions quickly, be supportive and a true friend. First of all, I talk about my mother, knowing her life path, for me she is a symbol of fortitude and deepest wisdom.
OCA: What is your main achievement in 2021-2022?
TZ: In 2021, I had the honor to participate in the X International Literary Contest Open Eurasia, and I was among the winners in the prose category.
In 2022, life presents me with a new challenge – the war in Ukraine. Everything that we have been creating for years is disappearing before our eyes. I never thought that the war will be in my life. You know, when you watch on TV or read about military events in a foreign country, of course, it's scary. But these are incommensurable emotions when all this happens in your life: checkpoints throughout the city and on all roads of the country, air raid sirens several times a day, rocket attacks on residential areas, curfews and other horrors of war.
My 2022 achievement is yet to come. I know for sure that I will overcome the challenge of war and in the future, I will definitely share my story with you.
OCA: What is the main feature that makes you and your art/work unique?
TZ: Love for God. Everything I do, I pass through the love of God. And the older I get, the more I realize how balanced the laws of nature work and how natural everything is.
At present, life is testing me, however, I believe in God and believe in people, and I know that everything will be fine.
OCA: Tell us, please, about the events of the Eurasian Creative Guild (London) and projects that you have already taken part in and how does ECG influence your creativity and success in your work?
TZ: I am immensely happy to meet the organizers of the Eurasian Creative Guild (London). Exactly one year ago, in the spring of 2021, I purposefully searched for international literary competitions in order to submit my book The History of Neon for professional jury evaluation and found the Open Eurasia competition.
The message that the book "The History of Neon" carries is spelled out with wisdom and deep meaning. And my victory (3rd place in the prose category) is a testament to the fact that such literature is valuable and this is inspiring.
Now I am giving an interview for your magazine as one of the winners of the contest. This is a small step towards popularizing myself as an author and my work.
My country is at war, I don't know what my life will be like next. I believe that the sun will shine again on my way, I believe in kind people, and I know for sure that involvement with the ECG Creative Guild (London) will help me overcome this thorny path.
OCA: What is your motivation and the main aim of your creativity?
TZ: For me, the motivation is my son, who is 15 years old, to give him the opportunity to study and live in a peaceful country.
My goal is to develop my creativity further, write new books, continue my scientific activity (I plan to transfer to a university in the UK, I don't know yet how much this is possible). Find a new home, build my life and continue to contribute to the world.
OCA: What would you wish for the members of the Guild and other creative people, just starting their career?
TZ: State yourself. Someone hesitates or is afraid that he will be judged and not appreciated. Believe in yourself, in your creativity, in God. If your creativity is useful to the world, you should share it. Let other people know about you!