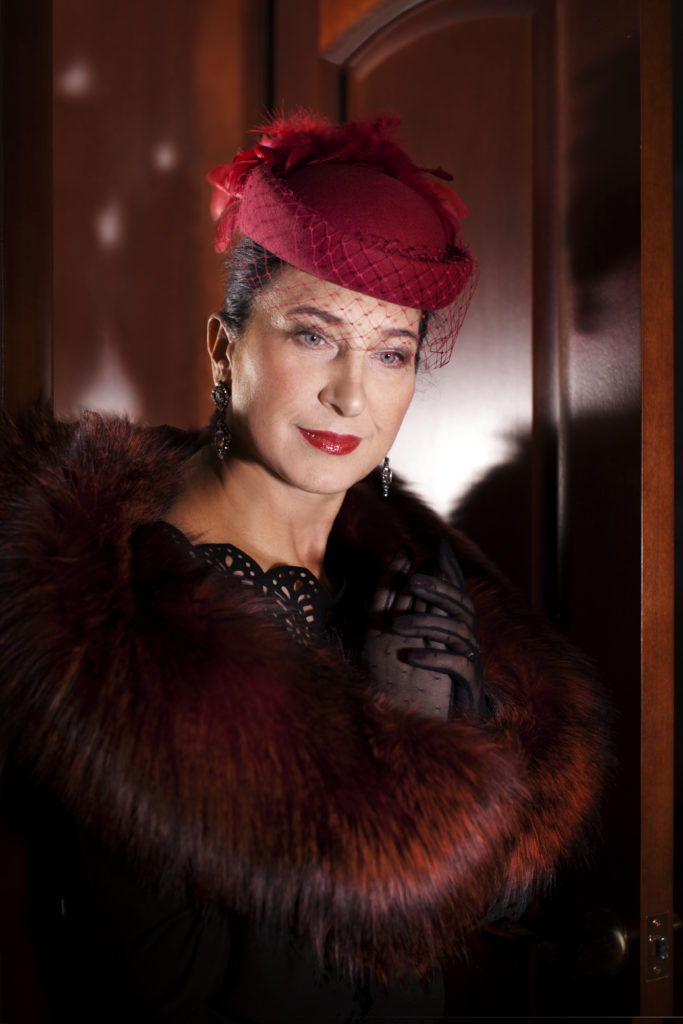 "POETRY IS MY UNIVERSAL LANGUAGE"
INTERVIEW: MARINA SHKROBOVA-VERNALIS
OCA Magazine: Tell us, please, about yourself and your creative activity / work
Marina Shkrobova-Vernalis: My name is Marina Shkrobova-Vernalis. I`m a poet, artist, actress, by first education-teacher, candidate of pedagogical sciences, holder of the gold badge "Knight of Humane Pedagogy", by second education – diplomat, graduate of the Diplomatic Academy of the Ministry of Foreign Affairs of the Russian Federation. Author of the international creative project "Marina Vernalis`s Poetry Salon" and the mistress of the Poetry Salon. Member of the Russian Writers' Union, author of five poetry books and three audiobooks. From 2022 an Ambassador of the Eurasian Creative Guild (London).
Marina VERNALIS is my stage name that combines the power of four female names: Faith, Hope, Love and Sophia (Wisdom) conveys the depth of those values that I bring to my audience. "MARINA VERNALIS`S POETRY SALON" is the author's musical and poetic compositions, that allow a Man to realize his spiritual height, to seek the grace of the soul through the perception of the Beautiful!
8 years ago painting became the second wing of my Creativity!
OCA: How did you choose your path and who is your role model in the creative space or life?
MV: Pedagogy and my students led me to my creative path. When I started work as a school teacher, I was looking for a universal language of communication that was understandable to everyone and went from the heart – to the heart! The language of poetry became that for me! I began to speak to children in verse, and their ears grew accustomed to the vibrations of high Poetry, even though it was often poetry not for their age – for growing up! M. Tsvetaeva said: "Children won't understand? Children understand too much!" I was convinced of this more than once.
My guides to the world of Poetry were the Silver Age poets I "discovered" myself: Anna Akhmatova, Marina Tsvetaeva, Boris Pasternak, Nikolai Gumilev, Igor Severyanin, Alexander Blok. In their works to this day I find high examples of the pattern of joining sounds, rhythms and meanings.
For me Poetry and Pedagogy exist together as forms of Art that bear people's values and a high order of the Soul! I consider Shalva Amonashvili, the world famous Pedagogue, Academic, the author of Humane Pedagogy, as my Teacher in Life. His philosophy of Love and care for the child and each other feeds my philosophical Poetry and allows me to express in verse what my soul and the souls of many people in the world seek.
The example of creative firmness, dedication and tireless work for me is the Russian ballerina Anna Pavlova. In difficult moments I turn to the strength of her soul and re-watch my favorite film by Emil Lautyanu "Anna Pavlova".
OCA: What is your main achievement in 2021-2022?
MV: My main achievements in the recent period are related to poetry and painting:
-I became a member of the International Academy of Russian Philology and received from the Academy the Diploma "Honoured Art Worker of Russia";
-I received I.A. Bunin Medal from the Union of Writers of Russia;
– Silver Medal of the International Academy of Contemporary Arts for the creative project "Marina Vernalis's Poetry Salon";
-Received a 2nd degree diploma laureate of the X International Festival "Open Eurasia" in the category "Illustration";
– Became an Ambassador of the Eurasian Creative Guild (London).
OCA: What is the main feature that makes you and your art/work unique?
MV: Sincerity, filled with the energy of Love and Harmony, my style combines: rhythm and lace of words in poems, colours and strokes in painting. Creative wisdom and Light, giving the mood for high vibrations and Beauty!
Also, my Voice! I've been "raising" it all my life, even though I know that God "put" this gift in my cradle at birth. My voice can bring the deepest meanings straight to the heart of my audience!
OCA: Tell us, please, about the events of the Eurasian Creative Guild (London) and projects that you have already taken part in and how does ECG influence your creativity and success in your work?
MV: In December 2021 I took part in the Jubilee X International Festival "Open Eurasia" and received a laureate diploma (2nd place) in the category "Illustration". This is the first international award for my art and it gives me an incredible support and desire to create new masterpieces, to reveal my uniqueness! Now I dream to perform my poetry concerts with my new friends: in Kirgizia, Kazakhstan, Italy, England and many other countries!
OCA: What is your motivation and the main aim of your creativity?
MV: Motivation for me is the desire to feel myself as a "soul" (more than a body), to "cut the precious stone of my soul", turning it into a diamond, to refine my sense of the Beautiful, to inspire people by my creativity!
I consider the goal of my life is to discover my uniqueness, my divine essence and to find my own human face. I want the voice of my Poetry to be heard by as many people in the world as possible.
OCA: What would you wish for the members of the Guild and other creative people, just starting their career?
MV: Don't wait for all conditions and circumstances to be favourable, take small steps that reveal your unique talent!
Appreciate each of your successes and in this state of Joy, dare to dream and imagine your new Height to take a new step!
Photo: Tatyana Molotova