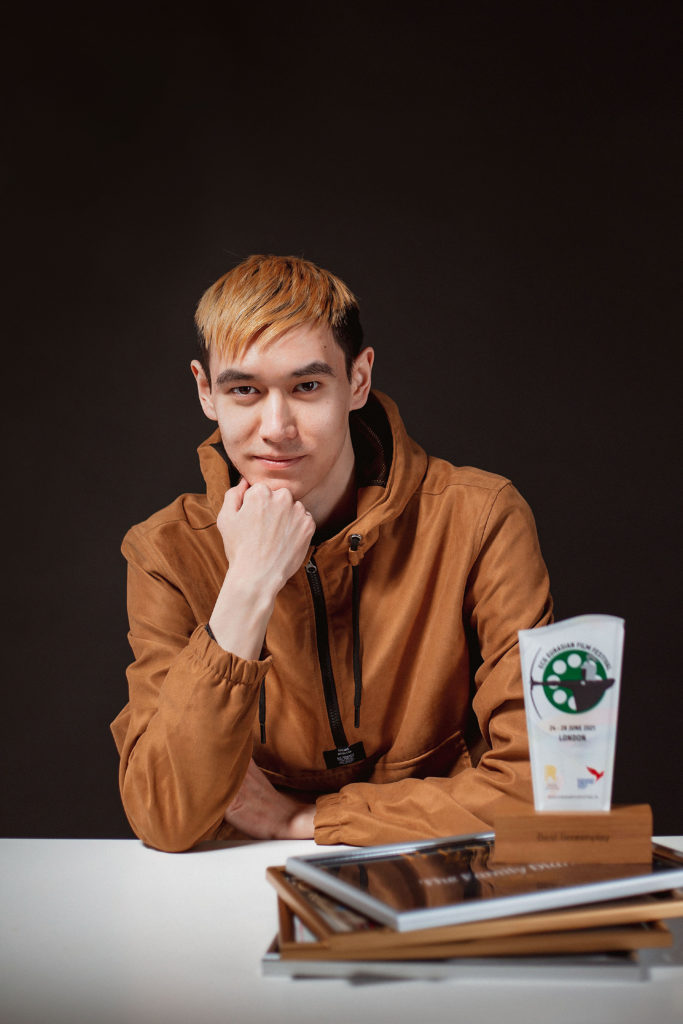 THE GOAL IS SELF-REALIZATION
INTERVIEW: MANSUR SARSEMBAYEV
OCA Magazine: Tell us, please, about yourself and your creative activity / work
MS: I am Mansur Sarsembayev, a big fan of cinematography and everything related to it. I started my screenwriting career together with my co-writer Maxud Sarsembayev back in 2016. Since then, we've written over 20 full-length screenplays, in genres ranging from action movies to comedies. We have honed our skills, it was evident in the Black List platform where our scores have improved with each script, we end up getting a 7 out of 10 from foreign critics.
In 2018 we sat at the director's helm and made our debut short animated film, it has collected many awards and accolades from festivals such as: Peninsula Film Festival (Australia) – Best International Short Film; Calcutta International Cult Film Festival (India) – finalist; ARUFF Alemlere Rahmet (Turkey) – finalist.
In 2019, we made our first short feature film, "Поздний сеанс" (eng: Late Session), and although it didn't collect a ton of awards, we gained a tremendous amount of experience that will help us avoid making the same mistakes in the future. Still, we were finalists in one festival: 2019, Indie Short Fest (Los Angeles) – Certificate of Achievement Finalist
Screenwriting has also paid off over the years; 2020 was a good year for me and my co-writer. For our script of the action movie "Ночной призрак" (eng: Night Ghost) we took an award: Toronto International Nollywood Film Festival – Best Screenplay under 120 pages (USA). And also for the script of the drama "В шаге от самого себя" (eng: One Step from Myself: Golden Pen) (Kazakhstan) – Best Screenplay and Drama of the Year.
OCA: How did you choose your path and who is your role model in the creative space or life?
MS: I wouldn't lie if I said that our father is the one who instilled in us the right taste for movies. When I was a kid, my father had several boxes of cassettes, and we used to take them all and watch them over and over again. Especially "The Matrix" and "The Last Samurai". When I was in high school, my co-writer and I used to take all the new releases from the video store off the shelves. And after watching it together with my father we used to discuss the pluses and minuses of the picture from the point of view of the visual range and script structure. And so our passion was formed. It is not difficult to guess that my father was like Moses for us, who pushed the boundaries of our imagination with movies. These circumstances will lead us to screenwriting in the future.
OCA: What is your main achievement in 2021-2022?
MS: In 2021, the author and I also have no small distinction, most of it scriptural achievement:
– Best Script Award (London) – Best Asian Screenplay "The Family Dialect"
– Votkinsk International Film Festival (Russia) – Best Screenplay "The Family Dialect"
– Eurasian Creative Guild Film Festival (London) – Best Screenplay "Hacked Future"
– Finalist Diploma "Pitch Lab 2022" from CTC TV (Russia): "Puncher" series and "Hacked Future" feature animated film.
OCA: What is the main feature that makes you and your art/work unique?
MS: My uniqueness rests on two pillars of faith. The first is the background of the films I've seen, and the scriptwriting experience of more than 6 years, which is a huge advantage for young filmmakers, especially those like us who are aiming for auteur cinema. As Akira Kurosawa said, "If you want to be a great director, be a great screenwriter". Secondly, having a co-author makes up for the fact that I'm not an expert in certain aspects with more than one like-minded person.
OCA: Tell us, please, about the events of the Eurasian Creative Guild (London) and projects that you have already taken part in and how does ECG influence your creativity and success in your work?
MS: I have been a member of ECG since 2019. It's always exciting to compete at a festival for an award, it's like being in the ring, but instead of working your muscles, you're working your guts out. Especially at the ECG Film Festival where the competition is always tough.
This year I was a member of the jury at ECG Film Festival IV, and it was our responsibility to read a lot of work from different authors. It was very enlightening and somewhat of an innovation to judge with an open mind. To abstract one's preferences and favorite genres for the sake of fairness. This experiment makes it clear that judging is not that easy. There are so many factors to consider, whether it's the author's delivery, the dialogue, the characters, or the structure of the script. A huge plus is that you're remembering all the basics of storytelling, and reinforcing your old knowledge.
OCA: What is your motivation and the main aim of your creativity?
MS: Every day we see more and more young directors conquering prestigious festivals like Sundance or Cannes, and you realize that a director in his 30s is no longer considered a prodigy. You don't need more motivation than that. The goal is self-realization. If you want to go deeper, you have to make a feature film as an author, with the support of financing or with your own money.
OCA: What would you wish for the members of the Guild and other creative people, just starting their career?
MS: I wish Eurasia Guild members and all creative people to achieve the heights. Our dreams and interests define us as individuals, so it makes no sense to give them up.