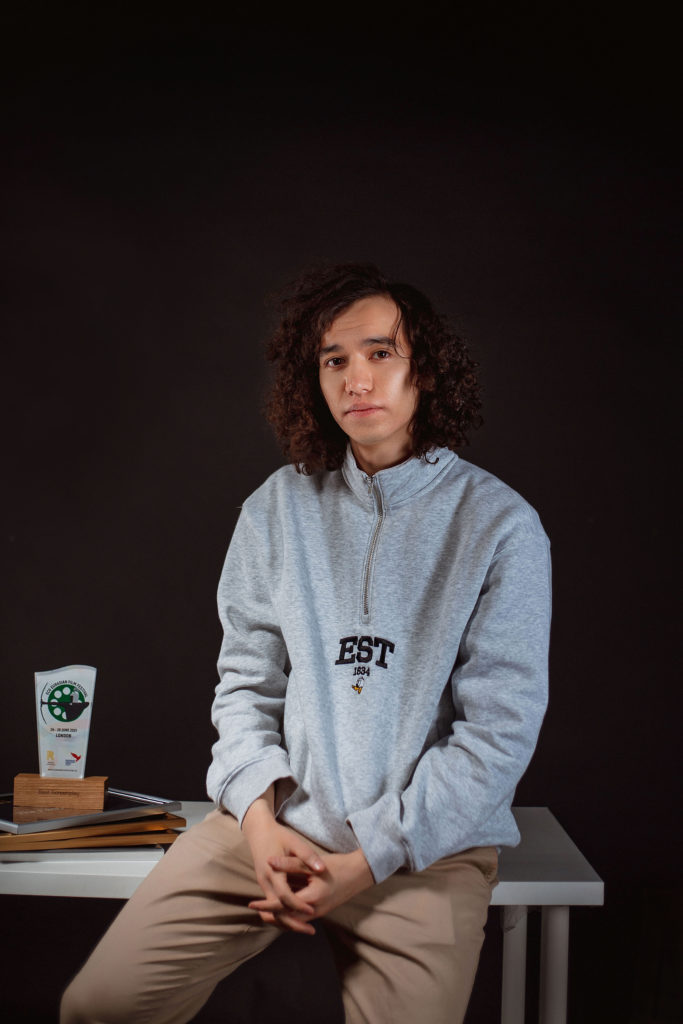 "I WAS NOT INTERESTED IN ANYTHING BUT MOVIES.."
INTERVIEW: MAXUD SARSEMBAYEV
OCA Magazine: Tell us, please, about yourself and your creative activity / work
Maxud Sarsembayev: My name is Maxud Sarsembayev. I am a director, screenwriter, video editor and photographer.
I've been writing scripts with my co-writer and co-director Mansur Sarsembayev, for six years. The average score of our scripts on the American film platform of the best unreleased scripts "The Black List" is 7 out of 10.
We translate all our scripts into English and send them to American and European film competitions.
OCA: How did you choose your path and who is your role model in the creative space or life?
MS: It was easy to choose my path, because I was not interested in anything but movies, I would even say more: I am not interested to this day.
I started writing feature scripts with my co-writer in 2016. And, making short films in 2019.
OCA: What is your main achievement in 2021-2022?
MS: The major victories in 2021 are:
– Eurasian Creative Guild Film Festival 2021 – Best Screenplay ("Hacked Future")
– Votkinsk International Film Festival 2021 (Russia) – Best Screenplay ("The Family Dialect")
– Best Script Awards 2021 (London) – Best Asian Screenplay ("The Family Dialect")
– Finalist Diploma "Pitch Lab 2022" from CTC TV (Russia): "Puncher" series and "Hacked Future" feature animated film. (*Here two of our projects made it to the finals, where we defended them at a pitching session in front of the leaders of the Russian film industry. A total of 1186 applications were submitted from 160 cities in 23 countries.
I participated in the Carl Schoenfeld film workshop organized by the Goethe Institute and the State Center for National Film Support in Kazakhstan. The selection process took place among thousands of young filmmakers and producers in Kazakhstan.
Also, I participated in workshops by American experts: director Hugo Perez, festival agent Kathleen McInnis, and producer Justin Feltman, organized by the American Film Showcase, the U.S. Consulate General in Kazakhstan and the 48HFR Online Film Academy. The selection was made among filmmakers from the CIS countries.
This year I am on the Jury in the English and Russian screenplay category at the 4th Eurasian Film Festival in London 2022.
OCA: What is the main feature that makes you and your art/work unique?
MS: What makes our work unique? Personally, from my point of view, it's the originality of the ideas, as well as the meticulous approach to working on projects. For example, after we write a feature screenplay, we translate it into English by ourselves, but we don't send it immediately to competitions. First, we send it to be evaluated for reviews on such popular American film platform as "The Black List" (where have been found such scripts as "Imitation game" and "King's speech"). And once we get enough reviews with reasoned criticism, we make changes to the script, and already confident in the quality of the project, we send the script to competitions around the world.
OCA: Tell us, please, about the events of the Eurasian Creative Guild (London) and projects that you have already taken part in and how does ECG influence your creativity and success in your work?
MS: Since 2020, I have been a member of the "Film Industry Expert Council ECG" in the Eurasian Creative Guild.
In addition, I am a member of the jury in the upcoming contests from the "Expert Council": "Best Video Content" (*video blog/travel video/podcast). 2nd contest "Best video clip or commercial".
OCA: What is your motivation and the main aim of your creativity?
MS: Our goal is to break into Hollywood and "become part of the crowd", but at the same time to represent Kazakhstan's cinema on the world stage in the category "Foreign Language Film".
OCA: What would you wish for the members of the Guild and other creative people, just starting their career?
MS: I wish to all people in the creative industries, "Create, create, create again! Do not retreat from difficulties and do not fear criticism or condemnation of the work".