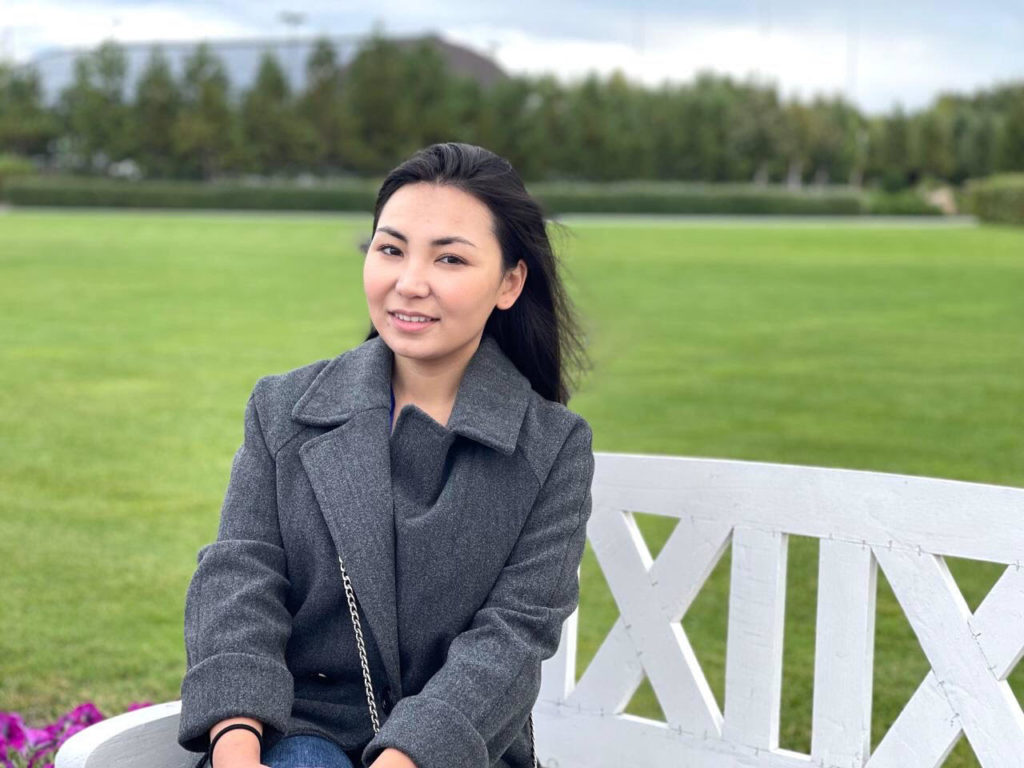 WE ARE ALL UNIQUE
INTERVIEW: AKNUR NURTAZA
OCA Magazine: Tell us, please, about yourself and your creative activity / work
Aknur Nurtaza: I was born and live in Kazakhstan. Kazakh people have many traditions and customs, but since childhood I have been interested in other countries, languages ​​and peoples. Also, as you know, we were part of the USSR and some cultures from the Slavic countries still remain in our country. Therefore, I can say that many Kazakhs, like me, have a contrast. And I always wanted to complement the contrast with traveling, learning languages ​​and meeting different people. And at the age of 25, I found the perfect job for me, a job that combines different cultures, languages, creativity and unique people. A year ago, when I first learned about the Eurasian Creative Guild and Hertfordshire Press, I really wanted to be a part of it all. And now I am manager of the Hertfordshire Press book project, and I am wildly satisfied with my work, glad that I help creative people achieve their dreams.
OCA: How did you choose your path and who is your role model in the creative space or life?
AN: To be honest, there is not a single person who has greatly influenced me, or rather, this is not one person. All the people that I have come across in one way or another have brought me something, I get some knowledge and experience from each person. Well, of course, first of all, these are my parents, who showed me the world, who did not limit me in anything and gave me complete freedom to explore the world myself. Thanks to this freedom, I was able to understand what I really like.
OCA: What is your main achievement in 2021-2022?
AN: Well, the most important achievement is my work. These are ECG, Hertfordshire Press, creative festivals where I helped. Thanks to this work, I realized that if a person really wants something, then he will definitely succeed.
OCA: What is the main feature that makes you and your art/work unique?
AN: Probably diligence … And not a small important thing, I learned not to give up, but to try again and again, this applies not only to work …
OCA: Tell us, please, about the events of the Eurasian Creative Guild (London) and projects that you have already taken part in and how does ECG influence your creativity and success in your work?
AN: During the year I participated in two festivals. My first festival was Voices of Friends, which took place in the fall of 2021 in Kazakhstan, in Borovoe. I remember how we prepared for this event for several months, there were even sleepless nights)) But when the festival days came, I realized that it was all worth it. I had such different, in a good way, impressions that I will remember these days forever, because it was all new to me.
But the second festival in which I participated – this is the 10th OEBF Literary Festival – was held in Tashkent. It was my first trip to work in another country. The first thing I remember was the weather, since it was the month of December, there was snow and snowstorms in Kazakhstan, and when we arrived in Tashkent, the warm weather just hugged us. I remember this festival with its warmth. Tashkent, the inhabitants of this city and the guests of the festival, all became so dear to me during the festival. I am glad that I was part of such events, I will always remember …
OCA: What is your motivation and the main aim of your creativity?
AN: Since I am currently working on book projects and at the Hertfordshire Press, I would really like and even say my goal for the future is to show our books to the whole world. After all, we have such unusual books, such different authors, and I can confidently say that there is no such publishing house as ours in the world. And I wish everyone knew about it…
OCA: What would you wish for the members of the Guild and other creative people, just starting their career?
AN: Don't be afraid… If you have something to say to the whole world, if you want to share your creativity, then don't be afraid, we are all unique. There are a lot of different people in the world, if everyone was afraid or doubted themselves, then there would be no such outstanding people, so do not be afraid, who knows, maybe you are the next outstanding person who will remain in history