I cannot believe that she left us at the age of 37 in the last week of May 2022. I met her at Kitapfest in Almaty city in September 2019. It was our first meeting. I had already heard about her Facebook stories, some of them I found very thoughtful. Her stories were full of life and optimism. There she made a speech in front of her fans. She replied easily to the audience's questions. She had a desire to write big things. I recommended she apply immediately for the "Culture in motion" grant from the Goethe-Institute to attend Frankfurter Buchmesse 2019. It was a big surprise for her. My goal was to show her the real atmosphere of the biggest book fair in Germany and let her see with her own eyes the best book industry giants in the world. Fortunately, we both won the grants and she went there assisted by the ever loyal Aigerim Nukpayeva.

I had understood her disease might stop her existence at any time, but I wanted her to leave only good books full of Torgyn's love to the world. It became my mission to let Torgyn be heard by the Universe. The eighth Open Eurasian Book Forum and Literature Festival in Brussels announced Torgyn as the first place winner on "Short stories" nomination and it was a fantastic victory for us. My intuition worked very well, when we recollected that happiest of moments when her name was mentioned on the stage as the winner. I was sitting on the chair and could not move from my place while crying.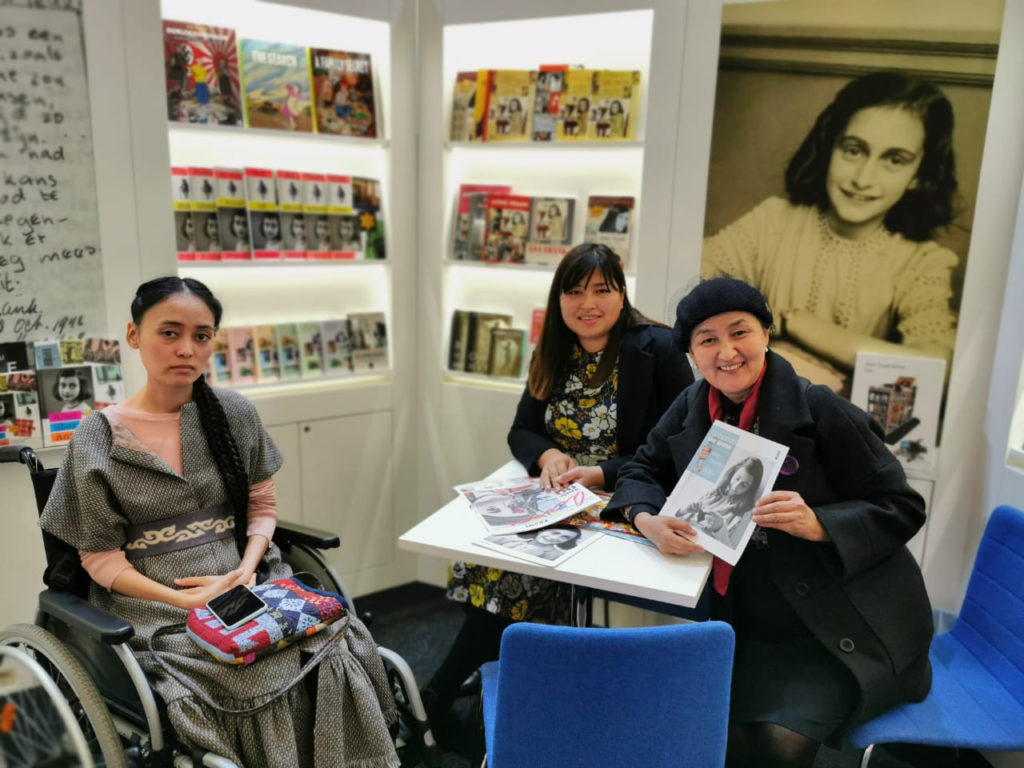 She worked hard to bring joy and emotion to her readers. After reading her books, even strong men burst into tears. She was a big motivator and a kind person. She published three books, the first and second book she could have published twice, and she was ready with the fourth book, but her sudden death did not let her do it.
The Pandemic period was also very problematic for Torgyn, but she shared her energy and optimism with people, and sent her kindness and love to them via her stories. They helped many people to value their existences in the life.
Before her passing, she had a lovely week in Burabay at the invitation of the ECG Administration to take part in the international art festival "The voices of friends" in May2022. It was her last trip and last meeting with the members of the ECG. She was very thankful to the ECG, especially to Marat Akhmedjanov. In order to remember her name, her friends and relatives are planning to publish a memory book called "Torgyn Bolmysy" in 2022 and one popular foundation in Kazakhstan "Otbasy hrestomatiasy" (Family Anthology) is planning to assist with it financially and publish her fourth book, too. ECG Vice- President Marat Akhmedjanov is planning to prepare a memorial plaque on the wall of the ECG Art Residence in Burabay. I was one of Torgyn's close friends and her literary agent. I am very sorry for her loss as many of you will also be. We will remember you deep in our hearts! Al – Fatihah to you!
by Bakhtygul Makhanbetova