So much of the detail and truth of what the Soviet Union was is absent from discourse in the West and in the FSU countries. There are many reasons for this but first and foremost is the sheer weight of the political, military, economic, technological and sporting history in relation to the wider world and the West in particular. There are few examples of something cutting through all of that and providing a glimpse into the deeply personal and enchantingly human history of life in the USSR. 'Raisa -What Hurts My Heart' is a highly informative and unusually intimate account of perhaps the most famous woman of the USSR – Mrs. Raisa Maksimovna Gorbachaeva, the wife of the most famous president of the USSR, Mr. Mikhail Sergeyevich Gorbachev.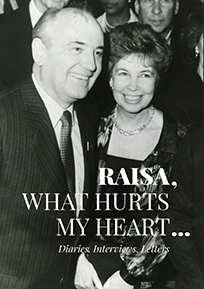 BUY THIS BOOK ON DISCOVERY-BOOKSHOP.COM
This book is a collection of transcribed interviews, with frequent commentary from the interviewer; and interspersed with letters and published interviews. It is extraordinarily direct, charming and compelling. The nature of life in the USSR is brought out in graphic detail; the hardships, the challenges, the distance between the Party and needs of the people – especially the provincial residents who, despite being regarded as the essence of what it is to be Russian were left short again and again.
Raisa charts her own childhood, her schooling, her university life, including travelling without paying for tickets on the Moscow Metro. She lays out the birth of her romance with fellow student and later husband, Mikhail – he even worked in the summer holidays driving a harvester to pay for their wedding, she borrowed shoes for that auspicious day, and so much more showing the human fragility and endearing nature of people. Raisa's words are replete with references to great literature – she was a polyglot scholar who taught philosophy – the description of her in the writings of Margaret Thatcher is sublime.
The life and experience of Gorbachev himself is presented with so many insightful anecdotes. Perhaps for the first time we can learn about the man himself, his preparation over decades to eventually become General Secretary. We learn about the uniqueness, modernity and humanity with which he approached his service to the USSR and finally as President.
This book is remarkable in a great many ways; it is a succinct overview of aspects of the history of the USSR, it is a first-hand account of events major and minor from an intimate companion and confidante of the man behind nuclear disarmament agreements, Glasnost and Perestroika. And it is a love story between two people who are revealed as kind and thoughtful to all whilst they meet with the notables of many nations and international entities of every kind. It is a unique book, wonderfully uplifting to read and one through which a deeper appreciation of who the Gorbachevs were and what they meant to so many in so many regions of the USSR and wider world can be achieved.
— Afzal R. Amin,
Researcher International Relations: USSR,
Russian and Central Asian Affairs