The city of Jizzakh has become a symbol for the prestigious London Film Festival.
On May 30th, 2023, at the fifth ECG Film Festival in London there was an award ceremony dedicated to the 80th anniversary of Maria Akhmedjanova – Shevel – an outstanding architect and creative artist of Uzbekistan.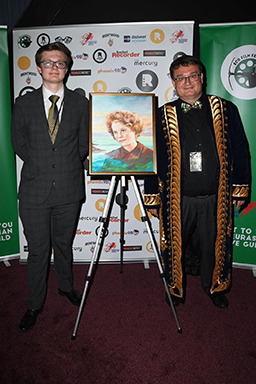 Maria Akhmedjanova – Shevel – was born in May 1943. Mother of five children and grandmother of 15 grandchildren. In 1965, under Sharaf Rashidov's personal guidance, she worked on the development of the Hungry Steppe and the architectural appearance of Jizzakh, the homeland of the President of Uzbekistan, Shavkat Mirziyoyev. She was a holder of a number of state awards: Hero of Labor, Veteran of Labor, Medal of Maternity and many others.
Since 2014, there is a prize named after Maria Shevel, which is awarded annually for the best children's work within the framework of the oldest international literary competition "Open Eurasia". Her name has become a symbol of outstanding creative achievements in children's literature.
"We decided to dedicate the award ceremony to the memory of Maria Akhmedjanova-Shevel, as a tribute to her achievements, her life experience, it is a symbol of the multinational city of Jizzakh, which gave the world talented writers such as  – Hamid Alimzhan, Zulfiya as well as many others. It also brought us the most outstanding leaders of Uzbekistan," – said one of the organisers of the ECG Film Festival, Alexandra Rey.
The Mayor of the London Borough of Havering, Stephanie Nunn, representatives of the embassies of Kyrgyzstan, Kazakhstan, Uzbekistan, Russia and Tajikistan and Belarus were all guests of honour at the award ceremony.
The festival included screenings of films from around the world: France, Kazakhstan, Russia, Sweden, Poland, Great Britain, and Iran, as well as exhibitions, presentations and performances by artists.
"It is so wonderful that the film festival ended with an award ceremony dedicated to an outstanding woman from Uzbekistan, because it is through such personalities that the world learns about Uzbekistan and its culture," said Gareth Stump, Chairman of the Eurasian Creative Guild (London).
Since 2019, the ECG Film Festival has attracted many talented and ambitious people who are eager to discover new facets of cinematography, and continues to do so to this day. The festival is organised by the Eurasian Creative Guild (London) in partnership with the Romford Film Festival.
Contact us:
+44 7903 837 823
ECG Film Festival