TAJIKISTAN – AN ANCIENT HISTORY AND BRIGHT FUTURE
Tajikistan has a long and rich history that dates back as early as the sixth century B.C. As a nation descended from Bactria and Sogdiana, its ancient culture and traditions set the groundwork for both ancient and modern civilization.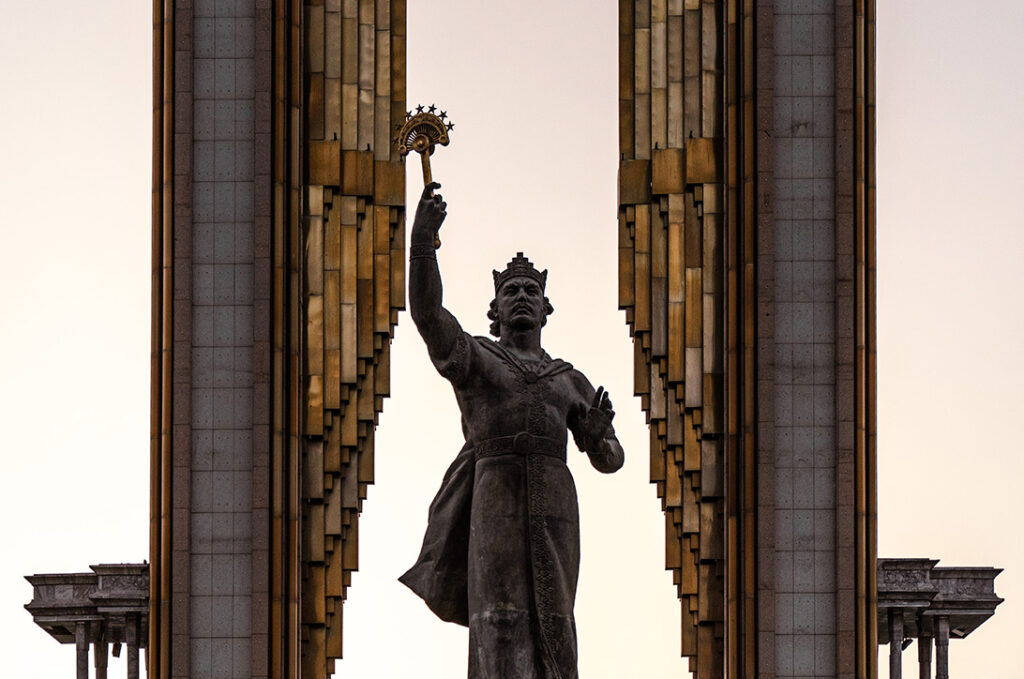 Tajikistan marked the 32nd anniversary of its independence this year. Notwithstanding Tajikistan's young age, its colourful history, language, culture, literature and customs have contributed significantly to the development of ancient civilization in Central Asia and beyond.
During the sixth to fourth centuries B.C., the territory of modern Tajikistan was inhabited by Eastern Iranian peoples, and Bactria and Sogdiana were the most ancient states within the Achaemenid Empire. At the end of the ninth century, the first Tajik state, known as the Samanid state, was formed independently from the Baghdad Caliphate. These were the brightest times and the period of highest prosperity for the Tajik people.
Today, Tajikistan is a sovereign, democratic, legal, secular, unitary state with a presidential form of governance. Since gaining its independence, Tajikistan has pursued policies aimed at preserving and enhancing state sovereignty, maintaining national security, and fostering friendships, collaboration, and trust with other nations of the globe based on shared interests.
The "Open Doors" policy and the multi-vector strategy are the cornerstones of Tajikistan's foreign policy. The country's President, H.E. Mr. Emomali Rahmon, stated in a recent speech to parliament that "the main principle of the Open-Doors policy, which we adhere to and implement in our foreign policy, is aimed at establishing and developing relations of friendship, good neighbourliness, partnership, and fruitful cooperation with foreign countries, international and regional organisations, and international financial structures."
Tajikistan is recognized by 192 countries of the world, and diplomatic relations have been established with more than 180 countries. Furthermore, the country is a full member of major international and regional organizations and is a party to more than 170 international and regional treaties.
With a population of over 10 million, the country shows tremendous potential in a variety of sectors, from energy and industry to tourism and transportation as well as many other areas of the economy. Boasting a 7.5% GDP growth rate for 2022, a stable political atmosphere, advantageous geo-strategic location, business-friendly environment, a population largely comprised of individuals under 35, and plentiful natural resources, Tajikistan is set to experience ongoing economic success in partnership with its European counterparts.
Bearing in mind its unique historical background, its mountainous surroundings, glaciers and thousands of rivers, the government is devoted to long-term sustainable tourism development. The nation takes great pleasure in being a premier destination for world-class adventure and eco-tourism. Opportunities for hiking and mountaineering are plentiful and exciting. The importance of community-based tourism initiatives cannot be overstated, since they make it possible to grow tourism in rural regions in a way that incorporates and benefits locals.
The government is improving Tajikistan's tourism appeal by giving infrastructure projects a higher priority, assuring services for human capital and making investments in the private sector.
There are over a thousand hotels in Tajikistan that cater to both domestic and international tourists as well as inhabitants of the country. Additionally, the country's cultural and recreational parks and its vibrant fountains have developed into gathering spots for locals and tourists. Today, visitors to Tajikistan delight in the country's sights, including its quaint and orderly streets, floral gardens built in a modern and traditional style, and, of course, the excellent Tajik hospitality.
The culture of the Tajik people goes back to antiquity. Most traditions and rituals that are being practised now and are still incorporated into Tajik culture have been preserved. Thanks to its lengthy history, Tajikistan has a lot to offer. Ancient Panjikent is arguably the most fascinating from a sightseeing perspective. Constructions for homes and cults, astounding murals, and exquisite sculptures from the seventh and eighth centuries A.D. have all been uncovered by archaeologists.
Tajikistan's stunning scenery and lofty mountains are a captivating mosaic of the beauties of nature. The Fann Mountains, with their pristine lakes and lush valleys, offer a surreal escape into untouched wilderness. The Badakhshan Mountains, known as the "Roof of the World," dominate the horizon with their imposing peaks and ancient glaciers.
Glaciers are the main source of drinking water in Central Asia, 60% of which form in Tajikistan's mountains. Since more than 13,000 of Tajikistan's glaciers have completely melted as a result of global warming up to this point, Tajikistan is committed to taking the necessary actions to draw attention from the international community to the preservation of glaciers.
In this regard, the global community has recognized the President of Tajikistan H.E. Mr Emomali Rahmon as the initiator of five great undertakings: «International Year of Fresh Water» (2003), International Decade for Action «Water for Life» (2005-2015), «The International Year of Water Cooperation» (2013) International Decade for Action «Water for Sustainable Development» (2018-2028), International Year of Glaciers' Preservation (2025) and the proclamation of 21 March as World Day for Glaciers'.
Since Tajikistan has a youthful population (more than 70% of the population is under 35), the government has made delivering quality education a top priority. Tajikistan is using education as a driver for its growth. The nation has achieved outstanding success in recent years in raising the standard of education, utilising it to propel socioeconomic development, and increasing access to school with a primary focus on females, particularly those from rural regions.
Within 32 years of Independence, Tajikistan has built and commissioned 3,430 new educational institutions accommodating nearly 1.5 million students. This is compared to just 3,229 during the 70 years prior to independence.
Through the implementation of effective social and economic reforms, taking a multi-faceted approach, and engaging in global activities to bolster international security and stability, Tajikistan and its people will be able to make their nation more prosperous and advanced in the foreseeable future.
by Gareth Stamp,
Chairman of Eurasian Creative Guild (London)