OCA #49 People edition Interview with MARAT FAIZULLIN
TREAT THEIR CULTURES CAREFULLY
OCA Magazine: Tell us, please, about yourself and your creative activity / work
Marat Faizullin: I'm a composer, musician, performer, producer and publisher. Now I live in Bashkortostan, but have worked in Moscow and Saint-Petersburg for a long time. Symphony and chamber music, theatrical performances, cinema, ethnic and electronic music, live performances and studio recordings. You can hear my works in Russia, Germany, Spain and the USA. I'm producing my music project Marat Tauras, and also musicians from different regions in Russia (from Tuva to Kalmykia) under my label Aera records, Afarin records and Cinemusic records. I work with Café De Anatolia, the leading global record label of modern ethnic music.

Cinema is one of my favourite fields of activity. I wrote my first music for a film in 1999. Since then I have written music for more than 150 movies, won a few international and local film awards for the best music. One of my latest works is the music for children's feature film "Chizhik-Pyzhik comes back" which was released on August 31, 2023. In addition to film music I'm producing films and music videos.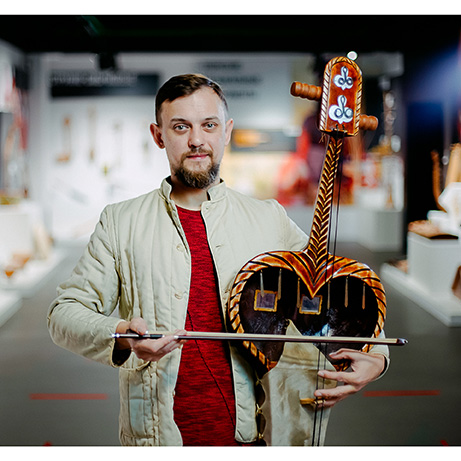 A big project I'm working on now is the autumn premiere of "Arctic Landscapes". It's the first symphonic work in the world that was made aboard an icebreaker. I wrote it during the Marine Integrated Arctic expedition. The project is multimedia and includes musical performance as well as video content that make an effect of being live in the Arctic spaces. Now we are preparing a photo exhibition that will be open before the "Arctic Landscapes" premiere. Besides, I've already published "Arctic Surrealist's Diary" which I've been writing during the expedition where I describe what happens with the creative person in the extreme weather conditions and in the confined space of a ship.
OCA: How did you choose your path and who is your role model in the creative space or life?
MF: Twenty years ago I saw a huge perspective in ethnic music and decided to learn to play folk instruments: Turkic, Russian, Asian. The same time I decided to spend most of my time working on academic music, and my spare time on ethnics. I have had academic music education, I've learned a lot and I continue studying folk music. It's an endless important gold mine of ancestral knowledge where all codes of our future lay.
OCA: What is your main achievement in 2022-2023?
MF: In November 2022 I held a big concert dedicated to the 25th anniversary of my creative activity where I performed the best works. In 2023 I launched a very prospective IT-project "Sounds.Music". It's a program for delivery of the music to video and audio editor programs by my own design. And recently I won a prestigious award as the best composer at the Film Awards "Golden plate".
OCA: What is the main feature that makes you and your art/work unique?
MF: Slavic and Turkic blood are mixed in me. According to the family legend, my paternal kind comes from one of the Gingiz Khan's warlords when his army reached the foothills of the Ural Mountains. My maternal ancestors moved to the Ural region from Central Russia. Maybe that's why a Bashkir quray sounds naturally in my soundtrack for a movie about the Russian North, and a Russian svirel in the orchestral score for a Bashkir folk melody.
OCA: Tell us, please, about the events of the Eurasian Creative Guild (London) and projects that you have already taken part in and how does ECG influence your creativity and success in your work?
MF: My Music video "Ufa", where I'm a producer, composer and performer, won the Audience Award in the ECG Film Festival 2020. The same year I became a member of the Guild. And then I was recommended for an Expert Council of Cinema and now I'm taking part in its activities and Guild's events. Cinema, as well as music, is the unique language that helps to build a cultural dialogue and convey to the audience your message.
OCA: What is your motivation and the main aim of your creativity?
MF: It's very important to me to keep a dialogue with the audience during performances and promote the culture of my nation. I play more than fifty various instruments. I'm dreaming of the creation of the Live Music Museum where visitors could not only listen to the sound of instruments, but also try to play by themselves. The museum is going to consist of the stationary part of the exhibition and "mobile" part that we can travel to any audience with.
I practise interactive communication with listeners within my philharmonic project "Tales About Mother". More than ten folk musical instruments are on the stage and after the performance anyone who wants can try to play these instruments. It always delights visitors, especially children. Seeing these emotions I've got an idea to create the Live Music Museum on a permanent basis. And also, I plan to actualise Slavic and Turkic ethnics in the years ahead.
OCA: What would you wish for the members of the Guild and other creative people, just starting their career?
MF: I'd like to wish all members of the Eurasian Creative Guild and all readers of the OCA Magazine to remember their roots, treat their cultures carefully and, of course, succeed in all endeavours!