OCA #49 People edition Interview with LIUDMILA LARKINA
EACH PERSON FOR ME IS NOT A WRITTEN BOOK
OCA Magazine: Please tell us about yourself and your creative work
Liudmila Larkina: I am writing about the fate of Russian-speaking emigrants living in Australia. In Australia, there is a most valuable layer of Russian history, completely unexplored, covered with the dust of oblivion. Many Russians scattered around the world after revolutions and wars settled on the 5th continent. I record interviews with representatives of the first waves of emigration, whom I still managed to catch, archive their memories, analyze, and study. In 2009, I created the magazine "Australian lampada" – a chronicle of Russians in Australia, which is published to this day. I have published 18 books in the 20 years of living in Australia. All my books are not fictitious stories, novellas. A series of my books is called "Non-Fictional Stories from the Life of Russian Emigrants in Australia''. My books are being translated into English at the State University of Queensland and in America. There are stories that have been translated into Italian and German. I also draw. In my paintings there are landscapes of Russia and Australia. There is a series of paintings "Temples of Russia", which is very popular with Australians, and they buy paintings for their interiors.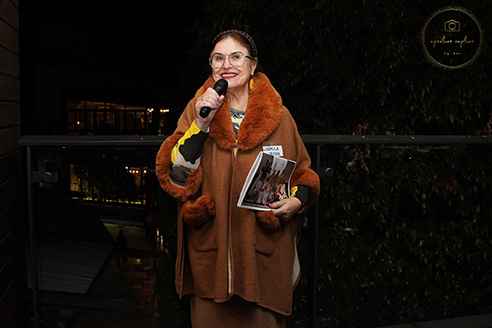 OCA: How did you choose your path and who is your example/teacher?
LL: As a child, I loved to participate in poetry reading competitions. After one such inter-district, children's competition, at which I read poems of my own composition, a correspondent from the local newspaper Svetly Put came to our school, and for the first time I gave him an interview about how I write poetry. My poems were published in the newspaper. I was very inspired by the attention of adults to my work, and I began to write more and more. My poems and stories were systematically published in local newspapers. During my student years, I was the editor of the student newspaper Juventus. Working as a researcher in Russian museums, by the nature of my activity, I had to write a lot of articles, reports, and describe scientific research about ethnography. Over time, I realized that I could not live without writing.
OCA: What do you consider your main achievement in 2022-2023?
LL: In 2023, I became a member of the International Eurasian Creative Guild and met many talented authors personally. I am very glad that the International Eurasian Creative Guild entered my life.
OCA: What do you think is the main feature that makes you and your art/work unique and valuable?
LL: I really like to communicate with people. Each person for me is not a written book that needs to be written in time, to learn from the experience of a person who can leave with his knowledge and experience tragedies. It is important to have time to write down and pass on their wisdom to others. The experience of people is the most valuable thing we have. Studying the life of one family, we study the life history of entire generations. Their experience can prevent troubles, wars, catastrophes.
OCA: Please tell us about the events of the Eurasian Creative Guild (London) in which you have already managed to participate and how ECG(London) has influenced your life?
LL: In December 2022, the International Conference of the Eurasian Creative Guild was held in the Australian city of Melbourne, where I attended as a delegate, speaker, and became one of the winners in the Heritage nomination. I met writers, poets, artists from Israel, America, England, Russia, Uzbekistan and many other countries. This expanded the boundaries of communication, gave new strength, set new goals. I am very grateful to the creators and leaders of the creative guild for their work, for the inspiration they inspire, for the way they treat authors, literature, history, and publishing.
OCA: What is your motivation and what is your goal?
LL: My goal is to record Russian history in Australia while there are still people alive who can tell about it first hand. In my books, the story is about how emigrants built Russian Orthodox churches on the 5th continent, nursing homes, Russian clubs, schools, libraries, how they preserved culture, passing on love for the Motherland from one generation to another. Much can be learned from these people who have suffered terrible hardships, forced to leave their native lands after revolutions and wars, but have forever preserved their love for their Motherland and built their little Russia on the 5th continent.
OCA: What would you wish to members of the Guild and other creative people who are just starting their journey?
LL: I wish prosperity to the Eurasian International Creative Guild and your magazine. To all authors, artists of new creative finds. As long as there are such guilds and authors who are willing and able to create beauty, the World will live.