On a crisp, sunny Sunday morning in the middle of a pleasant British summer, Afghan Association Paiwand opened the gates of its first ever independently-run Afghan Cultural Festival to scores of queuing families, anxious to get into Allianz Park before midday to witness the official opening of the Festival. Eight hours of musical performances, family activities and athletics demonstrations began with speeches from the Mayor of Barnet, a spokesperson from Stop the War Coalition and Afghan Association Paiwand's Chairman, who welcomed the public to enjoy the array of activities available at this year's event.
The Festival was the first of its kind in London: an inclusive event that succeeded in bringing together singers, actors, classical musicians, fine artists and photographers of different Afghan backgrounds to showcase their work – both amateur and professional, local and international – to 5,000 members of the UK's Afghan community.
Upon entering the Park, visitors were met with a dizzying variety of Afghan and Central Asian food stalls scrawled across the Piazza, and were wooed by enthusiastic restauranteurs into deciding which dish to consume, many of which reminded the elder attendees of their childhood meals taken with families back home in Afghanistan. After feeding the family, guests were invited to wander through the indoor portion of the Festival, a massive hall which housed nineteen charity and commercial information stalls, a children's storytelling and performance stage and a traditional Ghazal stage, complete with a rich afternoon of performances by renowned classical musicians, including Professor John Bailey and Veronica Doubleday, Milad Yusufi, Khair Muhammad Chavosh, Karim Haqdad, Clem Alford and Sirish Manji.
Across from the stage, three fine artists displayed and sold their works in an elegant exhibition space. Afghan illustrator, Sadaf Ahmadi and Afghan painter, Mr. Hadid, showcased their pieces alongside Iranian photographer, Shahriar Khonsari, whose work depicts the plight of Afghan refugees in Iran.
Meanwhile, throughout the rest of the park, children flew kites, played on fun fair rides and circus equipment, had their faces painted and watched falconry displays, while 350 Afghan footballers played an all-day, seven-a-side tournament.
As performances on the main stage progressed, the crowd on the pitch grew into a massive sea of dancing, eating and celebrating audience members. Three well-known presenters led the crowd through children's choir and theatre performances, and a number of opening acts, including Uzbek singer Khair Muhammad Chavosh, Scottish-born Clem Alford, Bahir Amiri, Arash Barez, London-based Elaha Sroor, Tawab Arash, rapper Bejan Zafarmel and Bashir Maidani. Finally, the beautiful Mozhdah Jamalzadeh, a Canadian-Afghan singer and activist waltzed onto the stage in a striking yellow dress before a cheering crowd of young girls and long-time fans, performing a number of her well-known favourites. As the sun began to set, headliner Sediq Shabab appeared onstage to close the festival with an hour-long performance of his best hits.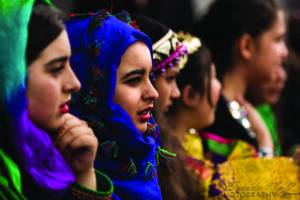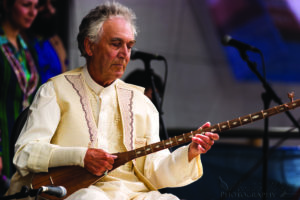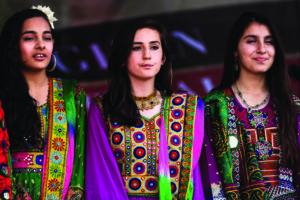 The cheery faces of children and adults alike beamed throughout the day as they enjoyed what was on offer at the event. One Festival-goer from the community said, 'The venue, the music, the food, the stalls, the security and overall the environment was very enjoyable. Thank you to the hard-working and responsible volunteers who did a great job. It was the first time that my children told me they had enjoyed an Afghan event in 20 years.'