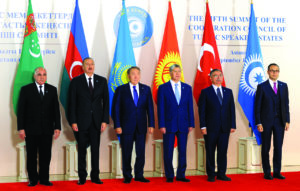 On 11th September 2015 Astana hosted the Fifth Summit of the Turkic Council. This was the second summit held in Kazakhstan and the fifth anniversary of the Summit.
The Summit of the Turkic Council is a unique event that brings together countries with a long history, which have common Turkic roots. The main purpose of the event is the development of comprehensive cooperation between Member States. The Cooperation Council of Turkic Speaking States was established with the signing of the Nakhchivan Agreement of 3rd October 2009, and the first summit was held on 20th – 21st October 2011 in Almaty.
The Fifth Summit was attended by the heads of states Ilham Aliyev (Azerbaijan), Almazbek Atambayev (Kyrgyzstan) and by the head of the Grand National Assembly of Turkey, Ismet Yilmaz. The Deputy Prime Minister of Turkmenistan Sapardurdy Toylyev also participated as a guest host.
The summit was also attended by the General Secretaries of the Turkic Council, TURKPA, TURKSOY and by the presidents of the International Turkic Academy and the Foundation of Turkic culture and heritage.
During the summit, chairmanship was handed over from Turkey to Kazakhstan.
The heads of member states have approved the report of the Secretary-General of the Turkic Council about its activity in the past year. There was also an agreement signed for the emplacement of the Deputy Secretary General of Turkic Council and President of the Turkish culture and heritage.
The heads of delegations have resumed the activities of the past period and set up perspectives and ways of future development for further strengthening cooperation in economic, cultural, educational, scientific, touristic and information fields. Much attention was paid to the issue of further institutional strengthening of the Turkic world and its role in regional and international security.
The conference, devoted to the 550th anniversary of the Kazakh Khanate, was held as a part of the Summit of the Turkic Council. The conference was opened by the President of the Republic of Kazakhstan, Nursultan Nazarbayev, in attendance of the Heads of States of the Turkic Council. The opening ceremony was held at the Ak Orda Presidential Palace, where Nursultan Nazarbaev made the welcome speech.
The President of Kazakhstan Nursultan Nazarbaev called the Fifth Summit of the Turkic Council "an important step towards the integration of the Turkic world". The Head of State stressed the need to accelerate the adoption of the concept of integration of the Turkic world as proposed by the Turkic Academy.
The President of Kazakhstan noted that obtaining future observer status at the UN and OIC by the Turkic Council will greatly help to meet the common interests of member states.
The participants of the summit came to a decision that the Sixth Summit of the Cooperation Council of Turkic-speaking states will be held in 2016 in Cholpon-Ata (Kyrgyzstan) and will be devoted to the subject of "National Sport".