On 12th September 2015, the "Soyuz TMA-16M" capsule landed back in Kazakhstan. There were 3 astronauts on board: a new space record-holder Gennady Padalka (Roscosmos), the first astronaut of independent Kazakhstan Aydin Aimbetova and the first Danish astronaut Andreas Mogensen.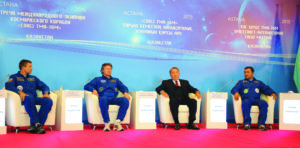 The crew of "Soyuz TMA – 16M" were taken to the Astana International Airport by helicopter, where the President of Kazakhstan, Nursultan Nazarbaev, personally met the astronauts and congratulated them on their successful landing.
The occasion marks a proud moment for the Kazakh people in celebrating their compatriot. The first cosmonaut of independent Kazakhstan, Aydin Aimbetov, went into space on the "Soyuz TMA-18M" spaceship on 2nd September 2015. On 4th of September the "Soyuz" docked with the International Space Station automatically.
Nursultan Nazarbaev noted that despite the large investments in the astronauts flight, he is confident that this will have a positive impact on the development of the space exploration programme.