Strangely enough, it is not the cold that hits me as I step out of Yakutsk airport onto the frozen snow trodden path to my taxi. The whole area is shrouded in a thick misty fog and the waiting row of cars all sit patiently with their engines humming and billowing exhausts. It doesn't feel to bad as i step out from the war safety of the terminal building having just landed that morning from Moscow.
Within seconds my coat starts to rustle like an empty crisp packet and it feels brittle. And then the stinging cold hits me. My nostrils freeze as I take a deep breath and I cough a little as it become difficult to inhale the frozen atmosphere. Then my cheeks begin to sting and my thin trousers feel like an icy blanket as they rigidly wrap themselves around my legs.
It is minus 42, but the locals seem almost unaware. My driver, Dmitry, meets me and takes my luggage so that I can put on my gloves and a hat. I start to shiver as I try to do so – my Moscow clothing is simply not up to the job. I can feel my cheeks burn and sting with cold and I am praying the car is not far but visibility is restricted to about 10 metres. I have been outside just 90 seconds and the cold is now very real. Its claws are wrapping themselves around me, constricting my movement and I am relieved that the car is cosily warm.
Moscow's balmy minus ten had felt refreshing and pleasant. I am used to walking in the park at this temperature and barely feeling cold. Here the only place that feels warm is my head, thanks to my fur hat – here fur is a necessity, not a nice to have fashion statement.
"It's colder today than in Omiyakon," Dmitry chimes as we set off into town. Two weeks earlier temperatures in the coldest village on earth had plummeted to below minus 63.
"Welcome to the coldest city on earth!" he says with a chuckle.
But today's temperature is nothing out of the ordinary. Only below minus 55 do schools and businesses start to stop. Today is warm in comparison to some winter days. Thank goodness for that, I think to myself.
My hotel is the hostel-like Hotel Bravo, up nine flights of stairs in an ageing and unkempt Soviet building built on stilts thanks to the permafrost making any other foundation unsafe. The welcome is also warm in every way and I am shown to my room.
I empty the contents of my suitcase onto my bed and start to don four days' worth of clothes all at once. I plan to rotate the two thermal trousers, two pairs of jeans, two thermal tops, two T-shirts and two jumpers during my stay. The suitcase is empty and I am quickly wearing everything I own. I wrap my scarf around my face and, like a Michelin man, I walk out to meet my guide, Piotr, ready to face the cold.
Piotr has been arranged to accompany me on my four days in Yakutia. He is from Yakutsk but has such an incredible command of English that I wonder if he has studied abroad. But no, it is all learnt from his mother (and English teacher), university and watching English-speaking films. He looks Yakutian, hailing from a Turkic origin, but is of a more modern generation, fully integrated into Russian society.
We drive to the Permafrost Institute that has been studying the geological conditions in the region for decades, trying to understand and live within its harsh climate. It is not a museum or tourist sight as such – but a working laboratory, and our guide is, herself, one of the scientists. She takes us 8 metres below the earth where it is "only" minus 5 and I am relieved. Walking just a few metres from the car to the entrance, my face had once again begun to sting, glowing red within a minute.
It is no secret that Russia is abundant with large, sparsely populated regions. We are already six hours ahead of Moscow in Eastern SIberia and almost (but not quite) at the end of the earth. Less than one million people inhabit the Yakutian region, mainly in large towns, but some survive in small villages, seemingly cut off from time and modernity. The region is surprisingly rich in natural resources, gold, diamonds and an abundance of minerals, as attested to in the Treasury museum that opens up just for us to tour. The bored security guards look almost disappointed that a tourist has come to disturb their peace today as I hand in my phone for safe keeping.
There is no railway to Yakutsk, only a road built by Gulag inmates known as the Road of Bones that travels on to Magadan. In summer, the Lena river provides suitable passageway for mainly Russian tourists. In winter it doubles up as a vital ice road connecting villages on both sides more easily. Piotr thinks that fewer than 10,000 people visit each year, but he is acutely aware that this type of adventure tourism is rapidly growing and likely to be enough to service the new tour company he is setting up with his friend, Mikhail, who he met during his time as a graduate working a lowly job at the Ministry of Economics.
Earnings in Yakutia are officially around 35,000 rubles per month (about 500 GBP), but I hear that many earn much less. After housing costs, much of the winter salary goes on warm clothes and food – frozen of course, though fortunately the freezer is simply a hole in the ground where the temperature stays below zero all year round. I am surprised that the region can be so full of mineral resources (after all that was why the Soviet Union put so much investment into the region and its people) and yet appears to be struggling so much – but it doesn't surprise me to learn that much of the wealth is carted off to Moscow.
Dmitry, who has been sitting outside, with his engine running for almost two hours, for fear that if he turns it off, it will never restart, collects us and takes us to the outdoor fish market. It is like no other market I have seen. The fog still oppressively clings to the ground, but through it I spy the first of bunches of frozen fish, their mouths open in the same expression as when they would have been caught. Row upon row of frozen fish and meat sits eerily still in the silent market. A few hardy, wrapped souls try to hawk produce to passers by but it is very hushed – conserving energy is important here.
I take some photographs on my phone but the battery lasts only a matter of minutes at this temperature and as I put it back in my pocket it is as though i have just put a lump of ice into my trouser pocket. I last ten minutes at the market before making a hasty retreat to my car. People don't hang around long here, that is for sure.
Piotr points me towards a local restaurant where I try local stroganino (frozen sushi is the best description i can muster), fermented samagon (mare's milk) and venison in a fruit-laden rich sauce. It was surprisingly nice and warming, before tackling the cold walk back to my hotel. I seemed able to now last thirty minutes in the cold – knowing what to expect and keeping moving helped.
The next day we drive to Sottinsay village – on the other side of the Lena river. Here, a museum to the ancient way of life in the Yakutian region remains neatly preserved in the snow. To get there we have to cross the frozen river on a makeshift ice road open about 5 months of the year only.
Yakutia has had Russian presence since the 17th century, though Yakutian people are a Turkic tribe with asiatic features speaking a throaty language more reminiscent of Central Asia.
"How has centuries of Russian rule influenced your culture?" I ask Piotr as a heavy truck passes us on the ice and I pray simultaneously that the ice holds.
"We didn't resist the Russians, you know," Piotr answers. "This is actually a very rich region of resources and so we welcomed their co-operation and they worked with us to exploit these."
It seems a bit too simple an explanation but he is genuine in his belief. Less than half of population today though are ethnic Yakutians. The Russian influence, especially during the years post the Russian Revolution of 1917, is strongly felt and few retain the nomadic way of life of their ancestors. The impact of the Russian revolution is noted in museums throughout the region as political prisoners were sent to work in the Gulags alongside ordinary criminals. Even today, Siberia brings haunting chills of those days to many a family who lost ancestors or relatives in these brutal death camps. Without them, however, the region may not have modernised or held any status in the USSR. They provided the roads and infrastructure that allowed socialism to penetrate through the ice to all corners of Russia's vast lands.
We are met in Sottinsay by the affectionate museum director, Elena. She takes one look at me and decides that I need more clothes and borrows a hardy duffel coat and felt valenki boots from her husband. I feel like I am in a space suit on the moon as I walk clumsily to visit the traditional houses and churches that once held residents of the villages. Summer in the open woodland with so much space for hunting must be marvellous for the residents who now live around the museum. In winter, nobody seems to venture outside and at, minus 45, the thought of an hour long visit is challenging.
We make it to lunch to defrost, where a special table has been set up with piles of food so high that for the four of us it seems like we will need a week to get through. Portions are generous and we speak in a mix of Russian and English with great humour and vigour. Foreigners are few and far between here – maybe a hundred or two a year and from the UK, only a handful each year. I am the first Brit since the winter snows arrived. We finish our meal with traditional songs – even I am asked to sing an English song. Flustered, and trying to find a song that she might have heard, I plump for the few lines of Vera Lynn's "We'll Meet Again". I am not sure why, but its words felt genuine towards a lady who had been so charming in her reception. And she did at least recognise the tune.
Before leaving I ask Elena whether I can carry out a science experiment. I had heard about and seen videos of people being able to turn boiling water into snow instantaneously and so I ask if she could bring a saucepan of boiling water instead of the coffee to try it out. She obliges without batting an eyelid.
"What am I supposed to do?" I ask inquisitively. The reply didn't start well.
"I don't know'" Elena says. "I have never done it before."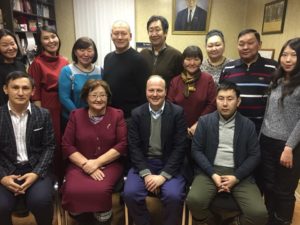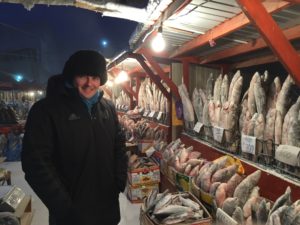 Piotr indicated I should throw the water up into the air and over myself. With trepidation I put my trust in science, knowing that if this failed, I would likely end up with some nasty burns. With as much force as I could muster I throw the liquid into the freezing air, draw as deep a breath as the freezing air allows, and watch as the liquid instantaneously transforms into tiny snow particles, catching the wind and showering down safely over us. Strange and surreal, but magical.
We head back to the village to have tea with a sporting family whose front entrance memorial has almost a thousand sporting medals dangling above it. Sadly, the lady who greets us, lost her husband five years previously and many of the medals are his in traditional Yakutian sports. Others are from her family's fifty or so close members, many of whom have moved away from the village. Nonetheless she keeps the heritage and culture of Yakutia through her art and her dancing and singing group who are renowned throughout Russia. While the style of music may not suit a Western audience, it is captivating to see how the history of Yakutia is still represented today.
The next day starts early for we are to drive to the Lena river to go ice fishing. It is a balmy minus 38, but even that sounds like a recipe for frostbite to be sitting waiting for fish to bite. I needn't have worried of course as ice fishing is is done in the comfort of a heated tent and a bottle of homemade vodka infused with herbs and spices to drown out the fact that this is probably well above the usual bottled strength available in the supermarket.
My teachers are Aleksandar (a seemingly part time police superintendent) and another Piotr (a part-time art film director). They have, of course, set everything up, so all that is required of me is to watch, learn and drink before then trying my hand at dropping a piece of thin nylon cord down a hole the size of a coke can that they have drilled through the two metre thick ice. It's slow fishing but the stories and jokes flow. Aleksandar has more luck catching a fish about every twenty minutes and finally I too have one biting on my line which I quickly pull up in excitement and find a seven inch fish that fills me with some beginner's pride. It is a very relaxing way to spend a morning, occasionally stepping outside the tent to cool down and admire the vast expanse of the snow-covered ice river. As I survey the scene it is clear that there is still great respect for nature here especially as its harshness in winter makes the locals appreciate more what it has to give during summer.
From the fishing we drive to the small town of Pokrovsk. In my desire to see life outside of the main city, i have asked to see how people live in a more rural setting. All the villages run close to the river but are dotted out in a long string. Space is most definitely not at a premium. Houses may not be that large but they are surrounded by large fenced-off gardens. Right in the centre there are a few high-ish rise flats, but nothing like Yakutsk. Gas pipes are above ground everywhere (they cant be buried in the permafrost). A solitary petrol station serves the whole town of about 8,000 people. Other heating fuels are heavily subsidised by the state in order to encourage people to stay.
By the time we arrive in Pokrovsk it is almost seven o'clock in the evening and the town is quiet. The only cafe is closing and I rush to a bare-looking shop to try and pick up supplies for the evening. It is dismal and grim – few people walk the streets and the shops are confined to a handful of shopping centres. For a Saturday night there is quite literally nothing open and nothing to do. Worse, alcohol sales in the whole town are banned in entirety for some reason – you can't even drown your sorrows. I manage only to find some stale bread, plastic cheese and a bottle of water for the night in the town's only hotel – the Sterkh.
I spend an hour walking outside along the streets, hunting for activity but, barring the odd car, I meet only two other people hurrying about their business. The fog has descended eerily again on the town and it is otherwise deadeningly still. My hat, eyelids and scarf that covers my face all have tiny frozen balls of moisture covering the.
The Sterkh provides no comfort. I am the only guest and the front desk is managed by a burly woman of little charm, totally disinterested in my stay. There is no internet, which provides a rare extraction from modern life for me and I settle for some reading in bed and an early night.
It turns out that there is life in Pokrovsk, but that life erupts underneath my floor boards at midnight as a large empty room under the hotel transforms itself into a night club for about two dozen youths. This appears to be their only chance to drink alcohol and mingle. As I try to find the hotel manager to complain, I come across a drunken couple making out on the stairs. Stillness has turned into a deafening racket of thudding Russian pop beats and shouting. Of all the places in Pokrovsk it so happens that the only hotel and nightclub are located right on top of each other. Sadly the hotel doesn't appear in any online forums so no reviews of my unhappy stay will appear anywhere else but here!
The next day, bleary eyed and with less enthusiasm to face the cold, Piotr had organised a visit to School No. 1 where his uncle, the wonderfully named Spiridon, is headmaster. The school had heard that I was a writer of sorts who had written about travelling the road and wanted to put on a big welcome for me. No less than a hundred children pile into the Saturday morning assembly. School here is six days a week in winter. After a wonderful opening ceremony of music, dancing and poetry I try to relay my experiences so far in Yakutia and add some similarities to other countries I have visited and written about. Questions follow, with the children wanting to know every single country I had ever been to – I suspected many had not yet stepped outside of Russian as they hung on every word, even if some of the more remote countries they had never heard of.
Brunch was taken in the headmaster's office where Spiridon serenades me with a rendition or two of local songs played on the oddly named (and even more strange sounding) "Jew's Harp" a metal curved instrument that is played by humming into the instrument clenched in one's teeth, the vibrations making the metal twang in high and low pitches. The origin of this instrument is somewhat debated and it also goes by the name Jaws Harp, so has little by way of Jewish origin per se, with Yakutians being especially keen to take credit for it.
We returned to Yakutsk later that afternoon. The Union of Book Writers was to hold the first Eurasian Creative Guild meeting in the office of famed poetess, Natalia Kharlampaeva. The meeting had moved from the National Library at the last minute, but in some ways, being inside the very office of this splendid organisation was more personable and memorable. I had mentioned Natalia's name throughout my trip and people knew of her work and efforts to promote literature in a post-Soviet space that had otherwise been left void in the region.
Twenty writers and journalists cramped into the office, surrounded by books. Each had brought more local delicacies to try, including dried venison and horse meat and more frozen fish accompanied by a semolina-like porridge called Samagon. I was plied with food from every corner as I tried to relay a few words about just what I was doing visiting this remote part of the world. Piotr had kindly agreed to help translate simultaneously which worked a treat as the meeting went at a pace that didn't allow me to stop to consider a translated phrase. The participants were passionate about bringing their ideas and thoughts to the fore. We discussed travel writing, local customs, how to bring Yakutian culture outside of Russia and the role of literature in modern society. This was exchange of ideas as I had envisioned them when I agreed to be on the ECG board, all done with the tradition of hospitality and openness I had already seen in Yakutia.
Returning to Moscow the next morning, after a jolly evening drinking with Piotr and his business partner, Mikhail, I felt it almost tropical as we landed into a temperature just below freezing. Yakutia had been an adventure and, although far too brief, had left me with memories more of warmth and friendship than the cold, at times eerie, landscape one might imagine (and indeed can all too easily experience).
Nick Rowan February 2018