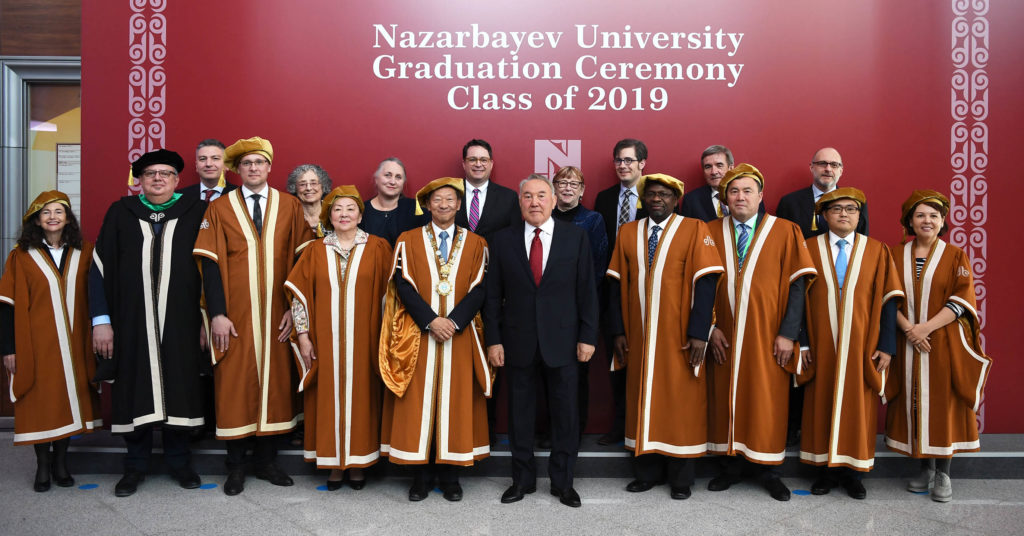 HOW DO UNIVERSITIES CREATE SOCIAL IMPACT?
THREE EXAMPLES FROM CENTRAL ASIA – THE HERITAGE ALLIANCE OF THE NEW SILK ROAD, CONSORTIUM OF GENDER SCHOLARS AND THE INTEGRITY PROJECT
The 2021 European University Association report "University Without Walls" reminds us that the role of universities is changing. Universities do not operate as single entities but increasingly are part of strong networks. The mission of universities is more multi-dimensional: the fundamental focus remains teaching and research, but, as the recent Times Higher Education Impact Ranking shows, universities are increasingly judged on their innovation and social impact, as well as on research and teaching.
Nazarbayev University (NU) is a clear example of these global changes. Established in Kazakhstan in 2010, its mission is to become a research-intensive university for Central Asia. NU collaborates with strategic partners: Duke University, National University of Singapore, Wisconsin University, University of Cambridge, Pennsylvania University, and University of Pittsburgh. With advice from these global universities, and with support from local university partners, NU creates impact at scientific, social, and economic levels. To illustrate, NU graduates are employed by competitive professional services firms such as: Google, Schlumberger, Microsoft and McKinsey. Our graduates have been accepted into full scholarship programs at Harvard, Oxford, MIT, Stanford, London School of Economics, University College London, Imperial College, Arizona, Cambridge and Illinois Urbana-Champaign, and many others.
Collaboration has always been the key to success in universities, just as it is in business, politics and diplomacy. To create sustainable social impact, NU and many other Central Asian universities are active in key networks, including the University Alliance of the Silk Road (UASR), a non-governmental and non-profit organization "aimed at openness and international cooperation in higher education". UASR facilitates collaborative research, student exchange, cultural, technological and economic development through a coalition of 150 global universities from 38 countries.
UASR Executive Council members illustrate the breadth of interest in Central Asia: Xi'an Jiaotong University (China; Harbin Institute of Technology (China); Hong Kong Polytechnic University (China); National Research University "Moscow Power Engineering Institute" (Russia); Bauman Moscow State Technical University (Russia); Al-Farabi Kazakh National University (Kazakhstan); Nazarbayev University (Kazakhstan); University of New South Wales (Australia); Centrale Supelec (France); University of Liverpool (UK); Politecnico di Milano (Italy); Benha University (Egypt); Sabanci University (Turkey); Issanov Kyrgyz State University of Construction, Transport and Architecture (Kyrgyzstan); National University of Sciences and Technology (Pakistan); Technic University of Berlin (Germany); National University of Singapore (Singapore) and Pusan National University (South Korea).
Within this context, the University of Liverpool in the UK worked with Central Asian universities to establish the Heritage Alliance of the New Silk Road, known as HANSR, an informal sub-alliance of University Alliance of the Silk Road (UASR). HANSR is highly collaborative group of universities with a specific interest in the heritage of the Silk Road.
When you think of Central Asian heritage, no doubt many vivid images come to mind: architecture, music, cuisine, dance, literature, history, poetry, scholarship, philosophy and economic opportunities. HANSR provides researchers, scholars, students, bureaucrats, politicians and administrators a forum to debate significant heritage themes. HANSR Roundtables, student competitions, and workshops explore all aspects of heritage: including the costs and benefits of development, heritage tourism, and sustainability practices relevant to heritage.
After its 2017 launch by Liverpool University, last year's HANSR Roundtable was hosted by Nazarbayev University. Top scholars presented their ideas, featuring Claudia Chang, Emerita Professor of Anthropology, Sweet Briar College, "The Why of Cultural Heritage: The DNA of Heritage in the Midst of Global Crisis". Other prominent HANSR Roundtable presenters include Peter Hommel, Lecturer in Archeomaterials, University of Liverpool; "Hearth and Home: Promoting the Identification, Investigation and Protection of Prehistoric Settlement Landscapes in Southern Siberia". Also prominent are researchers such as Gavin Slade, Associate Professor, Nazarbayev University, "In the Gulag's Shadow: Places and Practices of Remembering and Forgetting Penal Trauma in Kazakhstan" and from the tourism perspective, Guillaume Tiberghien, Lecturer in Tourism Management/Marketing, University of Glasgow, "Kazakhstani Heritage and Politics of Authenticity in Tourism: Opportunities and Challenges" and Paula Dupuy, Associate Professor, Nazarbayev University, "Trans-Eurasian Exchanges: A Look from Inside Kazakhstan". Urban development issues are explored in the work of researchers such as Lina Liu, Associate Professor, Law School, Xi'an Jiaotong University, "The Harmonization of Urban Development and Protection of Cultural Heritage from the Perspective of China"; and Nikolai Tsyrempilov, Associate Professor, Director of M.A. Program in Eurasian Studies, Nazarbayev University, "Visualizing Sacred Geography of Kazakhstan"; Binqing Zhai, Professor, Head, Department of Architecture and Director, Institute of Architecture, Xi 'an Jiaotong University, Conservation of Han Chang'an Capital Heritage Site and the Impact to Local Indigenous Lives"; Andrey Filchenko, Professor, Nazarbayev University, "Contemporary Practices of Language Documentation as Cultural Heritage Preservation" with US scholars such as: Gil Stein, Director, Chicago Center for Cultural Heritage Preservation and Professor of Archaeology, Oriental Institute, University of Chicago, "Preserving Cultural Heritage Along the Silk Road: University of Chicago Projects in Central Asia and Afghanistan" and Jeffrey Altschul, Founder, Statistical Research, Inc. and Co-President, Coalition for Archaeological Synthesis, "Building a Future without losing the Past: The Challenge of Cultural Heritage Management".
This year's HANSR Roundtable is promising to be exceptionally international and innovative. From 8-11 November 2021, Politecnico Milan is hosting the 2021 HANSR Roundtable on the concept of Heritage Management: Musealization or Use, including the themes: After Discovery and Preservation: Musealization or Use? Heritage Management International Case Studies; Enjoyment of the Historical Heritage, The Vision of the Young Generation; and the Heritage Management Project.
As always, HANSR creates opportunities for students to submit videos on their heritage related research topics, in order to receive feedback from the world's top scholars.
HANSR is just one of many illustrations of cross-university collaboration for social impact in Central Asia. Other examples include: The Consortium of Gender Scholars (GenCon), established by Assistant Professor Anna CohenMiller and Associate Professor Jenifer Lewis from Nazarbayev University. GenCon is a broad group of researchers, from STEM and non-STEM backgrounds, who explore gender related issues in their research, teaching and graduate supervision.
The final example of collaboration for social impact is the Integrity Project, with a focus on academic and professional integrity in university, high school and professional life. The goal is to encourage student- to-student debate on all aspects of integrity, via international, student-led integrity roundtables in Central Asia and beyond, an international student video competition for high school, undergraduate and graduate students, networking with the European Network for Academic Integrity and student research projects. The solution to integrity is not in the hands of professors, it is in the hands of students.
Not only in Central Asia, but all around the world, universities are working with students as key collaborators to create lasting social impact.
Dr. Loretta O'Donnell, Vice Provost Academic Affairs
Nazarbayev University, Kazakhstan