OCA #49 People edition Interview with MUKHAMEJAN ZEINELKHAN
TRADITIONAL KAZAKH EMBROIDERY "KESTE" AT THE INTERNATIONAL LEVEL
OCA Magazine: Tell us, please, about yourself and your creative activity / work
Mukhamejan Zeinelkhan: I'm Mukhamejan Zeinelkhan, an artist. Born in Batam-Ulgiy region, Mongolia. Before school , l grew up in the countryside with my parents. I graduated from high school in 1974 and entered the Fine Arts school in Ulaanbaatar, graduating in 1978. I was taught by very talented teachers. The teachers who taught me at that time are now the leaders and masters of the Mongolian fine arts. The conversations of my teachers with students about creativity and what they taught us left a deep mark on my creative path. D.Amgalan – National Artist of Mongolia, Honoured Worked of Mongolian Art Purevsuh, Olziihutag, and my class teacher Ya. Tuyaa. One of them is a teacher of compounds, the other of painting and practical plain-airs for artists. And my other teachers are, of course, the history, legends and epics of my Kazakh people. For more than 30 years as an artist, I have been reviewing the forgotten Kazakh Art "Keste '' in addition, l taught traditional art at the Academies of Arts and Art college. Many of my students are currently performing their art with the art of "Keste'' and participating in exhibitions. My students Zeinelkhan Botakoz, Assel Abilkhay are famous among young artists for their unique handwriting.
OCA: How did you choose your path and who is your role model in the creative space or life?
MZ: My creatime path began with the rich traditional crafts of the Kazakh people, including "Keste" embroidery, it was necessary to bring it closer to modern art. To adapt to a new direction, while retaining the features of the traditional embroidery art, which is almost lost. My first work, to the attention of an art critic.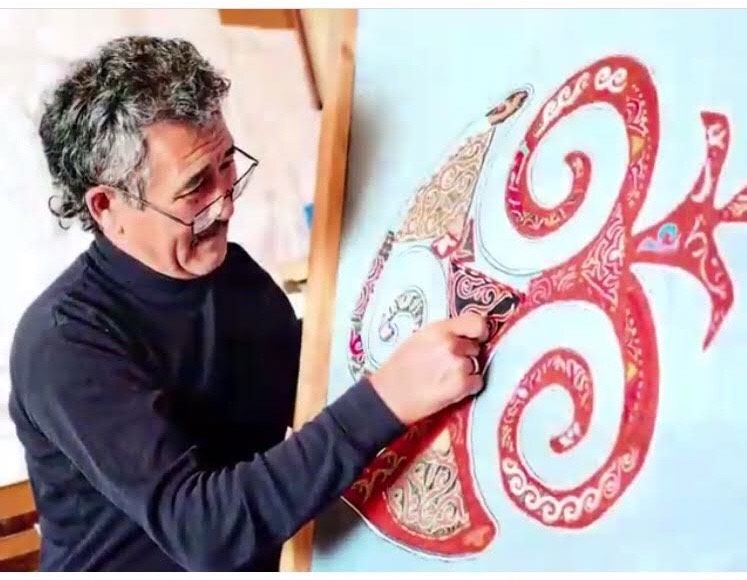 OCA: What is your main achievement in 2022-2023?
MZ: In 2022 years I became a "Diploma Winner " in the nomination of Decorative Applied Artist at the UMAI NATIONAL Prize.
In 2022, my work was published in the leading Art-Catalog "The Great Steppe Treasury" in London. In addition, I became the owner of the "KENSINGTON" diploma under the international program EAF Art REZIDENCE PROGRAM 2022-2023. I am also a member of the Eurasian Creative Guild.
OCA: What is the main feature that makes you and your art/work unique?
MZ: In 1992 I moved to my historical homeland, to Kazakhstan, where the most successful periods of my work began. The traditional art of "Keste" (embroidery) opened a new breath in me. Now "Keste" (embroidery) is a modern genre in Kazakh art. Raikhan Yergalieva, a well-known Art-science Kazakhstan doctor, says about creative path: "It's not simple in our temptations time after all research and delights of 20th century art to find your unique creative way among the many beaten tracks. To create a new art direction for modern culture especially seems almost unreal. However, it turns out that even now, when we often remember the words that "nothing new for the moon", there is still opportunity for unique artistic discoveries. And this, of course, pleases, This helped me to step on the new international and application of traditional Kazakh crochet embroidery techniques, and then create on this basis a new direction, or even a kind of fine art. Most likely, it is an open-minded approach to the tradition, the new brave and unexpected view of things, the painstaking hard work and certainly the "smallness " without which it is impressive – an artistic talent and taste.
OCA: Tell us, please, about the events of the Eurasian Creative Guild (London) and projects that you have already taken part in and how does ECG influence your creativity and success in your work?
MZ: The Eurasian Creative Guild came to us bringing together talented artists. This opened the way to a deep acquaintance with the art of England. The publication of my creative work in London leading Art Catalog has changed my creative life. We have a dream in the future to present our work to the care that our dream will come true.
OCA: What is your motivation and the main aim of your creativity?
MZ: My task is to raise the traditional Kazakh embroidery "Keste" at the international level.
OCA: What would you wish for the members of the Guild and other creative people, just starting their career?
MZ: I wish the members of the Guild and colleagues great creative success!